Instagram Star Crashes Lamborghini into Skoda During Illegal Street Race, Kills Driver
An Instagram star has been arrested for his involvement in an illegal car race which resulted in his Lamborghini crashing into a car and killing the driver, as reported by Bild.
The social media influencer—who goes by Navid Alpha and has more than a million Instagram followers—took part in a race between two Lamborghinis and a Porsche on Saturday.
The race resulted in a fatal accident on the A66 highway near the city of Hofheim in Germany, when Alpha's Lamborghini collided with a Skoda and the unidentified driver was killed.
A video of the incident filmed by a car that was traveling behind the three sports cars sees the two Lamborghinis and the Porsche racing on the highway before the crash. Another video shows a plume of smoke in the distance.
According to local media, the Lamborghini driver lost control and crashed into the guardrail before crashing into a Skoda and an Opel. Neither the Skoda nor Opel cars were involved in the race.
Both the Skoda and Lamborghini caught fire, and though the Lamborghini driver—Alpha—managed to escape, the Skoda driver died.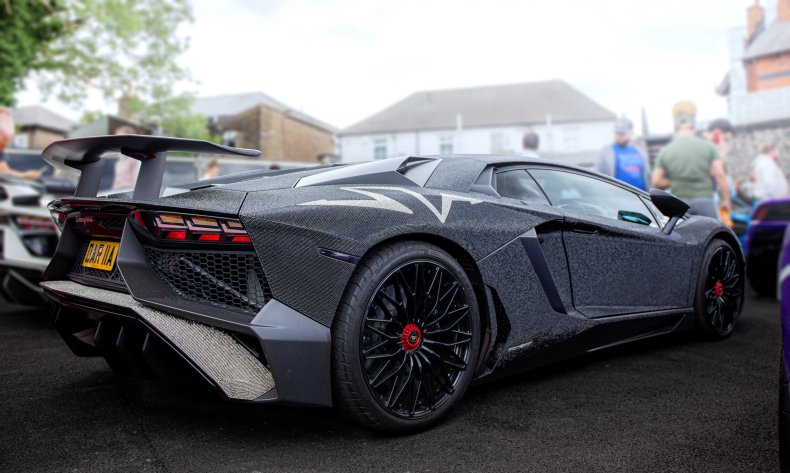 Alpha was taken to the hospital by rescue workers and is now in police custody, while the 26-year-old driver of the Porsche was arrested on Sunday. The suspects will be brought before a judge, while investigators are searching for the driver of the second Lamborghini involved in the race.
Alpha was driving a Lamborghini Aventador—a car that has been extensively featured on his Instagram page and stories, including in videos of him driving and apparently racing on public roads. He appears to have been filming himself while driving— sometimes at around 120 miles per hour—in many of the videos.
Other videos in his Aventador highlight on Instagram see him filming from behind the wheel while sports cars up ahead speed and swerve between lanes on the highway.
Despite only having nine posts on his Instagram, with his photos gaining around 10,000 likes each, Alpha has amassed more than a million Instagram followers. He typically posts about luxury cars and aside from the Lamborghini Aventador, had posted videos of him driving a Ranger Rover, Lamborghini Huracán, Bentley Mulsanne Speed, and a Tesla Model X.
Since the news of the car race, his Instagram photos have been flooded with critical comments, including some calling him a killer.