Instagram Story Filters: How to Find Out Which IKEA Icon You Are
Swedish furniture and homeware brand IKEA has launched its own Instagram story filter, to answer the question that nobody asked: "Which IKEA icon are you?"
Following in the footsteps of brands such as Disney, Harry Potter and Pokemon, the IKEA personality test will help users determine which cult item embodies them best. Whether someone is a total softie like a LUDDE rug, a saucy romantic like a SENSUELL pan or strong and dependable like IKEA's FRAKTA bag, there will be something for everyone.
To use the Instagram story filter, users only need to visit the IKEA UK Instagram account (@ikeauk) and click on its "filters" section. Select the personality test filter and press down the grey button as if to take a video. The filters automatically shuffle through the icons on top of the user's head as they're recording their Instagram story.
There are many personality options included in the "Which IKEA icon are you?" filter, including:
Swedish meatballs: Traditional and uncomplicated, you enjoy life's simple pleasures.
FRAKTA bag: Strong, dependable and love to make a bold statement.
BILLY Bookcase: Book lover with a timeless style.
Allen key: Goal achiever and peacekeeper, you bring everyone together and can turn anything around.
KALLAX shelves: Practical and organised.
STRANDMON armchair: Classy and cultured.
HEMNES bed: Calm and collected daydreamer.
FAMNIG HJÄRTA cushion: Extrovert socialite who also gives the best hugs.
SENSUELL pan: A romantic who likes things a little saucy, steamy and occasionally stirs up trouble.
BLÅHAJ shark: Big kid at heart, you're care-free, easy-going and yes, a little random.
LUDDE sheepskin rug: The softie who is fluffy on the inside.
GLIMMA tealights: Easily influences people, you set the mood wherever you go.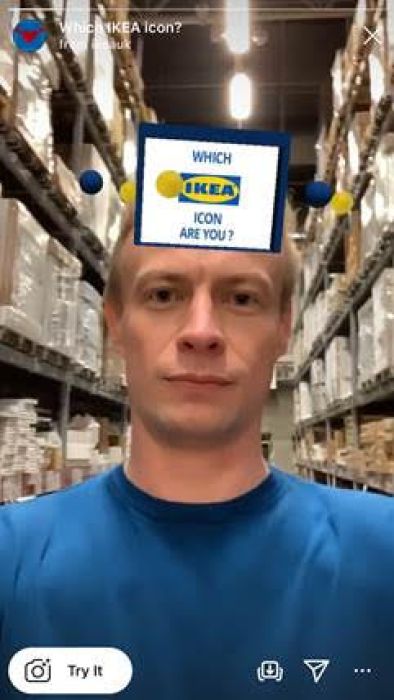 The generator is completely random, so no need to panic if you get a personality icon that doesn't resonate. It will usually give a different character each time you use it. To take a photo or video with the filters take the following steps:
Tap in the top left of the screen or swipe right from anywhere in feed.
Swipe left at the bottom of the screen and select an effect; to see effects from independent creators, swipe all the way to the left and tap.
Tap to take a photo or tap and hold to take a video. When using the front or back-facing camera, the effect you choose will automatically appear on the closest person's face.
Since launching the augmented reality (AR) story filters in August 2019, brands across the world have used them for marketing purposes. According to Instagram, 62 percent of people become more interested in a brand or product after seeing it in Stories.