Instagram Update: How to Get Verified, Use Safety Additions
Instagram announced a new set of features would be added to the photo-sharing platform in the coming weeks to make it safer for users. Those features include an "About This Account" feature, two-factor authentication through third-party apps and verification requests.
These three features were designed in the hopes of making the app safer for users as well as to help inform them about the accounts they follow.
"We've been focused on the safety of our platform since the very beginning, and today's updates build upon our existing tools, such as our spam and abusive content filters and the ability to report or block accounts. We know we have more work to do to keep bad actors off Instagram, and we are committed to continuing to build more tools to do just that," said Instagram co-founder and chief technology officer, Mike Krieger in a release.
The feature most users will likely be excited about is the ability to request verification in the app so they get the little blue check mark next to their name, and some added credibility on the platform.
How to Get Verified on Instagram?
This verification request will be available to users Tuesday and will allow those with large followings, who meet the terms and conditions of the platform along with the community guidelines, to apply for one of those coveted blue check marks.
Users can apply for the verification by updating their app and then heading to the menu, then settings followed by request verification under "account" on the page. Users will then be prompted to input information about themselves to complete the application. Once they submit it and it's reviewed users will get a notification about whether or not their request was approved.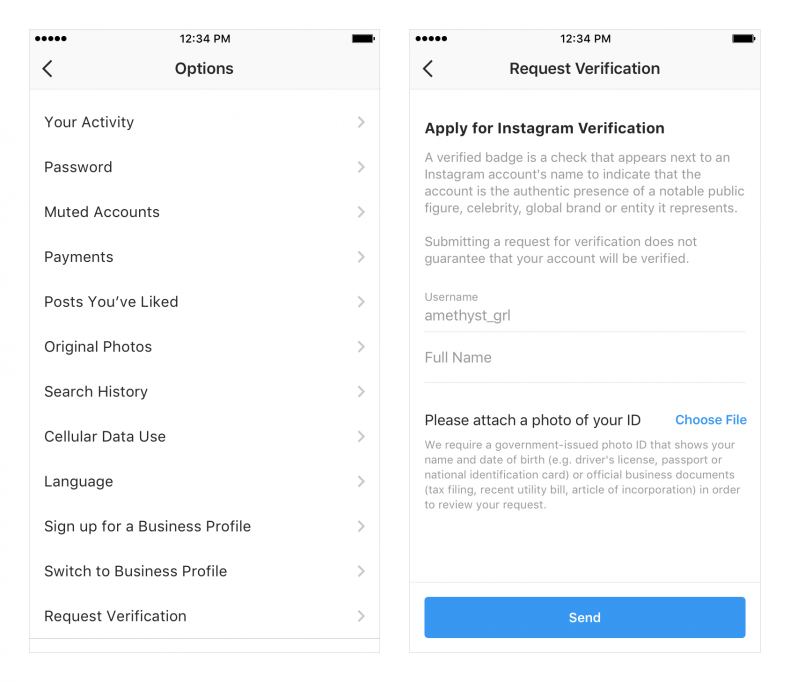 Users should note though, "Instagram will never request payment for verification or reach out to ask you to confirm your verification." Once an account has the check mark to indicate their verification, they will be considered a "public figure" on the platform.
The "about this account" feature was designed to help users figure out more about the accounts they're following that have a large number of followers, Krieger wrote. This will show users where the people the follow likely are based, what ads they have on their pages, what their username has been or how it's changed, when they joined Instagram and more.
The third-party authentication will allow users to easily log into Instagram through a third-party app and will become available to users in the coming weeks, according to the company.
​