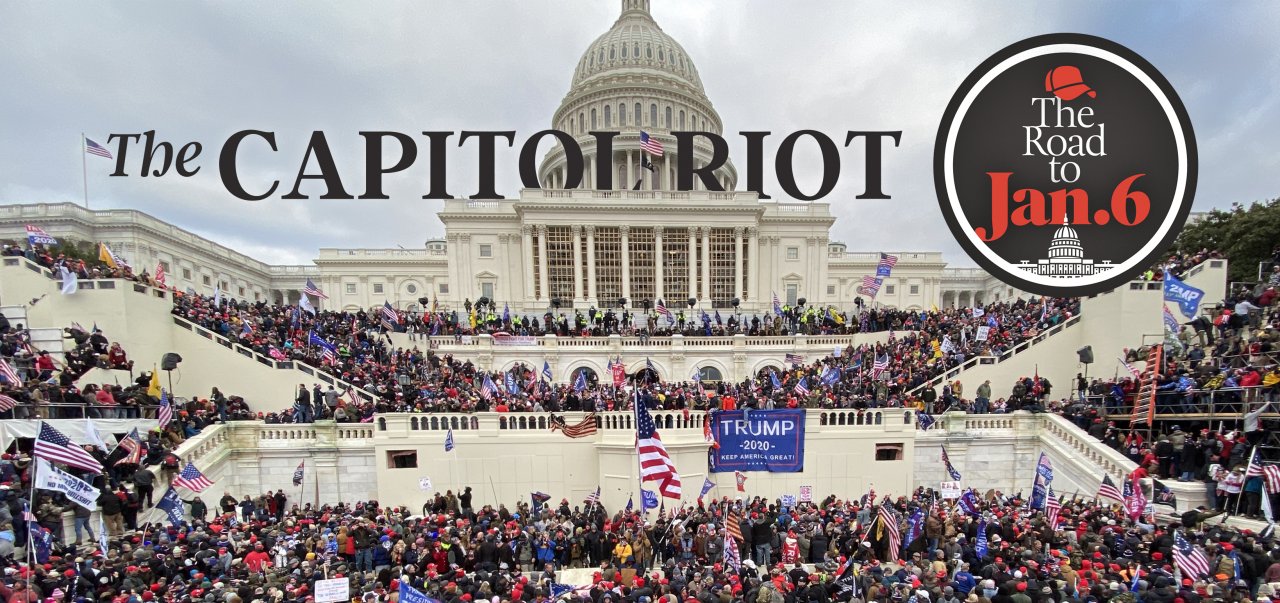 Insurrectionist Chic Is a 'Serious Growth Sector,' Analysts Say
In this daily series, Newsweek explores the steps that led to the January 6 Capitol Riot.
On January 1, Thomas Edward Caldwell of Berryville, Virginia, started organizing a group of pro-Trump protestors to assault the Capitol. A former naval intelligence officer and federal government contractor with the DEA, he worked with out-of-towners to come to Washington for the big protest, arranging accommodations and making plans to bring firearms.
"We're working on a Farm location ... Some are bringing long rifles," Caldwell wrote to one of his erstwhile soldiers on New Year's Day. Since the District of Columbia does not allow guns to cross into the District, Caldwell told his adherents that in addition to figuring out a place to stash rifles, he was planning on bringing a "sidearm" to the protests, one that could be more easily concealed.
"I swore to support and defend the Constitution of the United States against all enemies foreign and domestic," he wrote. He said he had done his duty while he was in the military but that now it was time to abandon peaceful protest and again come to the defense of the hallowed document. The election had "morphed into pure evil," he wrote. An unknown they was responsible for "blatantly rigging an election and paying off the political caste. We must smite them now and drive them down."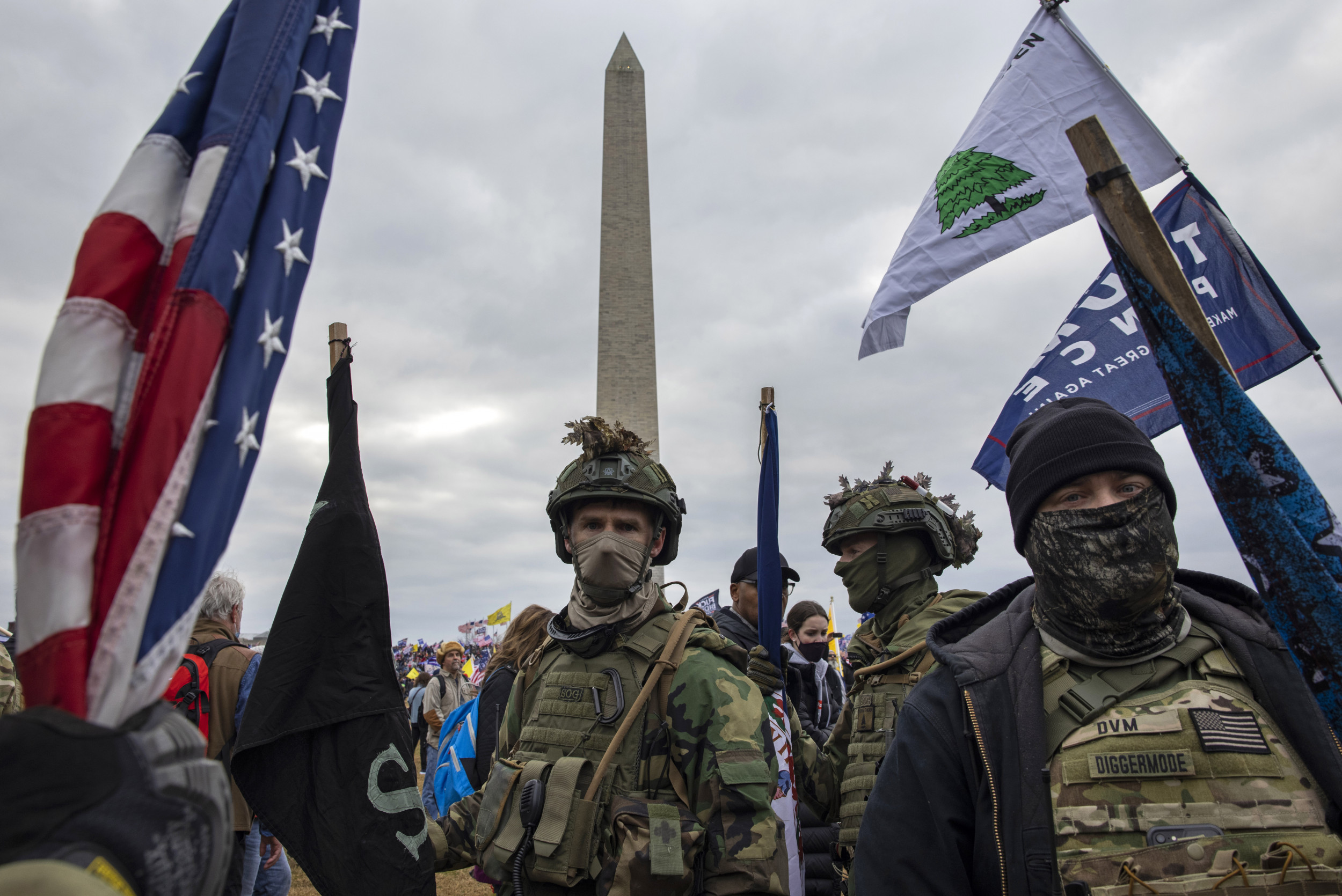 The FBI says that Caldwell also compiled a "death list" of targeted government officials, describing these alleged enemies of the Constitution as "cockroaches" and "maggots," saying that he would dispose of the traitors by "killing them, shooting them, and mutilating their corpses to use them as shields."
On January 1, Caldwell's band of dissenters awaited his instructions and his plan. One of those co-conspirators, the FBI says, is one Donovan Crowl, a 50-year-old former Marine from Ohio, who wrote on Facebook messenger: "Happy New year, to you Sir!! Guess I'll be seeing you soon. Will probably call you tomorrow ... mainly because ... I like to know wtf plan is. You are the man Commander."
Caldwell recommended an Arlington, Virginia, hotel for travelers. Surprisingly, they still had rooms available, he said, given the size of the crowd coming to Washington. He said other hotels were filling up because so many people were coming. He told Crowl that he was "setting up shop" there in the Ballston neighborhood, creating a "quick reaction force." He told Crowl that he would be doing "pre-strike" reconnaissance on the 5th.
"Maybe can do some night hunting," he said, referring to the earlier December 14 protest where pro-Trump protestors prowled the streets of Washington looking for members of Antifa and Black Lives Matter, attacking them.
The Arlington hotel "is a good location and would allow us to hunt at night if we wanted to," he wrote.
Caldwell also coordinated with a group of Oath Keeper friends from North Carolina, a group that he had hosted in November for the first post-election protest. They were taking a commercial bus to arrive early in the morning on the 6th. He told his troops that they would all be ready as hosts and as arms suppliers "in case things go bad and we need to get heavy," a military reference to escalating the fighting.
The FBI asserts that Crowell was one of the key leaders coordinating and planning an armed attack on the Capitol. The government indictment and statement of facts alleges that Caldwell used his military background to plan the attack in an "organized and practiced fashion"—including preparing possible snipers and contemplating stashing weapons on a pickup truck or a boat in the Potomac River, so that the quick reaction force could be armed if needed. Caldwell was charged after January 6 with counts of conspiracy, obstructing an official proceeding, trespassing, destruction of government property, and aiding and abetting.
Caldwell's planning, and his leadership of "trained fighters," prosecutors say, went back as early as November. "I am already working on the next D.C. op," Caldwell wrote after the first post-election protest, projecting "real violence" in the future.
Caldwell's background, the FBI later charged, gave him the operational experience that he used "to the detriment of the citizens he at one time swore to serve." Prosecutors also allege that, prior to January 6, Caldwell also searched online for a "Surgical Steel Tomahawk Axe" and a concealed gun built to look like a cellphone.
During the riots itself, the FBI says, based upon Caldwell's seized phone, the ring leader received a message that "All members [of Congress] are in the tunnels under the capital."
"Seal them in turn on gas," it said.
In addition to being linked to the Oath Keepers, prosecutors allege that Caldwell was connected to Proud Boys, and that he boasted of a local Virginia group of Vietnamese-American Trump supporters who were also planning to be part of his army.
Caldwell, 66, and suffering from chronic back pain, never entered the Capitol on January 6, though the FBI alleges that he served as a "coach on the sidelines" for those who did, directing the riot.
That included Donovan Crowl, who showed up in a mish-mash military uniform, along with combat helmet, tactical vest, ballistic goggles and a handheld radio. On his sleeve was a patch identifying him as a member of the Oath Keepers. Crowl later said that he was also a member of the Ohio State Regular Militia. He was later photographed shouting "we're the first wave" inside the Capitol Rotunda.
Caldwell's attorney David Fischer countered government charges of conspiracy to cause violence. He said his client's "locker room" talk was merely "male bravado ... and didn't result in him committing one act of violence—on January 6th or before."
Were Caldwell and Crowl armed insurrectionists or just play soldiers lost in a world of fantasy army?
Both, says David Pedersen, Associate Professor of Anthropology at the University of California San Diego. He points to the garb of the Capitol sackers as "aspirational and motivated": the protestors "want to be seen as" soldiers, as something honorable.
The prepper, survivalist and militia movements all have a "whole fashion component," says Pedersen, one that represents a set of norms and standards that already exists in society, "a grammar and a vocabulary" that is co-opted and inflected in their dress-up army.
"It's a wish for recognition, to be heard, based on the notion that they are less heard than they want to be," Pedersen tells Newsweek.
Groups like Proud Boys and Oath Keepers have some of the same "qualities as Greek fraternities and street gangs ... masculinized social networks that offer a lot of material and social resources to their members."
"They are support groups in a time when, at least for these guys, they feel that there aren't many others," Pedersen says. "The aggressiveness, the masculine qualities, the ritualized physicality, commitment to transcendent principles and ideals, the norm of loyalty, of lifelong membership, of brotherhood and connection, this sense of purpose."
The attack on the Capitol "is an insurrection because it's meant to say something significant. Their posted performances in front of their smart-phone cameras have as much meaning as a political speech does," Pedersen says. According to him, all insurrections are about saying something, producing meaning, not just destruction. "We have to figure out what they're saying, why they are saying it, and then how to peel them away from the more nefarious elite coalition that is essentially using them as foot-soldiers in an attempt to take and maintain control in the USA and elsewhere in the world.
"This rank-and-file is unhappy and has gripes that are worth hearing. We shouldn't just dismiss them as irrational crazies and deplorables to be locked up."
Finally, Pedersen says the military dress itself is worthy of closer examination. According to him, analysts say that insurrectionist clothing—from MAGA hats to t-shirts, to military uniforms and accoutrements, and all of the aftermarket modifications—is a "serious growth sector .. touted as rapidly growing in contrast to the rest of the U.S. garment-fashion sector."
"It may or may not be a movement, but it certainly is a market," Pedersen says. A big part of doing what they are doing is shopping, choosing this garb as consciously as others who wear their own identifying uniforms. "It is not just a statement of militarism but also a statement—that from Hurricane Katrina through COVID—that society is precarious enough to leave people without basic needs, what they literally need to survive."
"The way they dress, this larger language of patriotism, of societal protection, their allegiance to these ideals," is clinging to a language that everyone wants to own.