Integrity of Mueller Investigation Is in Peril, Says Nancy Pelosi
House Democratic leader Nancy Pelosi has called on acting Attorney General Matt Whitaker to recuse himself from any involvement in special counsel Robert Mueller's probe into Russian meddling in the 2016 election, warning the investigation is now in grave danger.
Speaking to CBS News's Margaret Brennan for the Face the Nation show aired Sunday, Pelosi said there is bipartisan opposition to Whitaker's appointment as the country's top law enforcement official, made last week after Jeff Sessions resigned from the position at the request of President Donald Trump.
Sessions had recused himself from overseeing the Mueller probe, but Whitaker will now replace Deputy Attorney General Rod Rosenstein and take responsibility for oversight of the investigation.
"It does violence to the Constitution and the vision of our founders to appoint such a person in such a manner to be the chief legal officer in our country," Pelosi argued. "And that's bipartisan."
Whitaker has echoed the president's concerns about the special counsel investigation. For example, he has suggested that the scope the probe is too wide and that investigating Trump's personal finances or those of his immediate family members would be inappropriate.
Asked whether she thought the Mueller probe was now "in peril" thanks to Whitaker's appointment, Pelosi answered, "Yes, I do. First of all, I think that [Whitaker] should recuse himself for any review of the investigation because of statements he has made already in the public domain."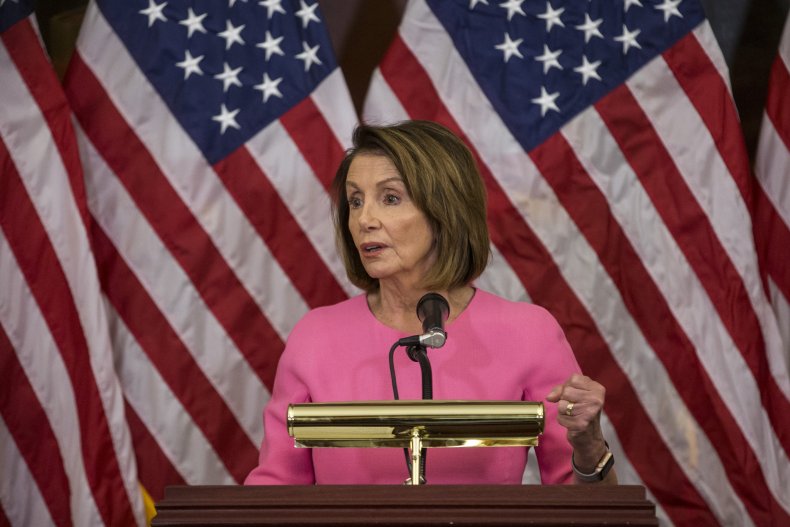 Whitaker has previously suggested that an attorney general could strangle the Mueller investigation by defunding it, making the special counsel unable to do the job while avoiding politically inflammatory firings. These comments have raised fears that Mueller's findings might never see the light of day.
"We don't know…what [Mueller] will decide and what will be made public. But we do want the truth," Pelosi told Brennan. She stressed the "public has a right to know and no one is above the law in terms of our having access to that information."
The Democrats secured control of the House in last week's midterm elections, giving the party control of key House committees and the power to demand testimony and documents from the Trump administration.
Pelosi—who is expected to once again be elected House majority leader—said the party would use its power to help release any of Mueller's findings suppressed by the White House. "The beauty of our constitution is the system of checks and balances and in doing so to have oversight responsibility, to be a check. So, in our oversight responsibilities, we would want that information," Pelosi said.
Despite Republican claims to the contrary, the 78-year-old warned the Democrats would not use their oversight to hamstring and harass the president for the sake of it. "We are not scattershot," she told Brennan. "We are not doing any investigation for a political purpose but to seek the truth. So, I think a word that you could describe about how Democrats will go forward in this regard is we will be very strategic."
Brennan suggested that Republicans would be skeptical about her supposed goals. Pelosi replied: "Well, if the Republicans would say that they're just projecting their own attitude toward investigations, which was very political.
"We are coming to do something that is very important for our country; a more open Congress with accountability to the public, with a seeking bipartisanship where we can find it, stand our ground where we can't," Pelosi said.