Intelligence Reports: Republicans Attack Obama Official Susan Rice without any Evidence to Back Up Their Claims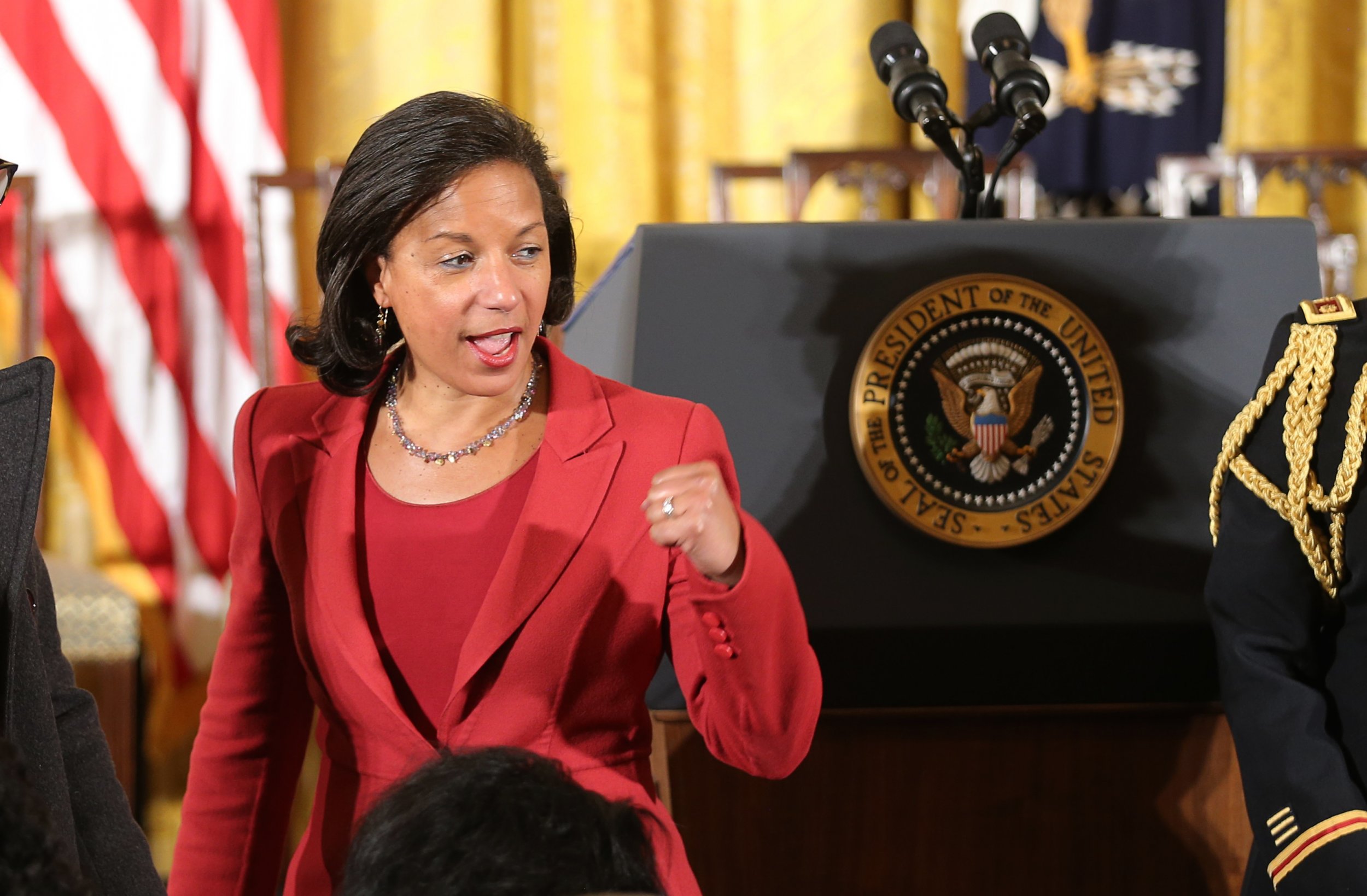 Update 4/5, 3:30 pm: Asked Wednesday if he thought former national security adviser Susan Rice committed a crime, allegedly by leaking the names of Trump associates surveilled by U.S. intelligence, President Donald Trump said, "Do I think? Yes, I think."
In the exclusive Oval Office interview conducted by The New York Times, the president said in reference to Rice's alleged leaking—which she has denied—"I think it's going to be the biggest story." Trump added, "It's such an important story for our country and the world. It is one of the big stories of our time."
He did not provide evidence when he made the original accusation and it remains unsubstantiated.
Original story: Republican Sen. Rand Paul called Monday on former national security adviser Susan Rice to testify under oath after she allegedly tried to unmask the identities of U.S. citizens connected with President Donald Trump who were cited in intelligence reports. Paul said Rice and the Obama administration were essentially using intelligence reports to spy on the Trump campaign ahead of the November election,the Hill reported.
"I don't think we should discount how big a deal it was that Susan Rice was looking at these, and she needs to be asked, did President Obama ask her to do this? Was this a directive from President Obama?" Paul told reporters about the unconfirmed report. "I think she ought to testify under oath on this... I think they were illegally basically using an espionage tool to eavesdrop or wiretap—if you want to use the word generally—on the Trump campaign."
"Is there a possibility that Susan Rice was politically motivated? Let's ask her why she was opening up all of the conversations with Trump transition figures," he added.
The attack comes after conservative news media outlets quoted anonymous sources this week describing Rice's request. The unverified story has since been widely covered by mainstream outlets such as The New York Times and The Washington Post and debated by political leaders on Twitter and news progams. The New York Times said in its report that it was normal for a national security adviser to want more information about reports from the nation's intelligence agencies.
"Clinging to the idea that the Obama administration unfairly monitored the Trump campaign only encourages further investigation of what could turn out to be one of the biggest scandals in American political history," a Washington Post columnist wrote.
But conservatives argue, without providing evidence to back up their claims, that Rice might have broken the law if she actually sought the names of people in the intelligence reports. Bloomberg View columnist Eli Lake first reported about Rice's request Monday, claiming that she asked for more information dozens of times.
White House Press Secretary Sean Spicer refused to discuss the reports about Rice during a Monday press conference. "There's a troubling direction that some of this is going in, but we're going to let this review go on before we jump to it," he said.
But Paul hinted that he discussed the controversy with the president while the two Republicans played golf over the weekend for seven hours. "He never said anything to me about it, but I may have given him my opinion on it," Paul said when asked by a reporter. "I think I told him that it's probably very explosive."
House Intelligence Committee Chairman Devin Nunes's (R-Calif.) has also claimed that Obama administration officials collected information on Trump associates from intelligence community reports. Nunes' statements came after Trump's unsubstantiated accusation that President Barack Obama wiretapped Trump Tower in New York City ahead of the presidential election.
Rice said last month she was confused by Nunes' claims. "I know nothing about this," she said on "PBS NewsHour." "I was surprised to see reports from Chairman Nunes on that account today."
On Monday, Rice retweeted a message from former Hillary Clinton aide Jennifer Palmieri that read: "Here's what's happening. Trump NSC staff cherry picks intel which appears to back up Trump and leaks it to Fox so Trump can tweet it."