Intentional Burning of Jewish Campus Community Center Under Investigation
Officials haven't found any evidence that the intentional burning of the University of Delaware Chabad Center was a hate crime, but an investigation is ongoing.
Firefighters responding to the scene on Tuesday found the Chabad Center ablaze and began an "aggressive interior attack." The unusual building layout and construction hazards made for a complicated firefighting battle that lasted three hours.
On Wednesday, the Delaware State Fire Marshal's Office determined the fire was intentionally set. While it's likely a case of arson, Assistant State Fire Marshal Michael Chionchio told The News Journal there's no indication it's a hate crime. But, the investigation is still in early stages and it's "very open-ended."
Rabbi Avremel Vogel, co-director of Chabad UD, posted on Facebook that he and his wife, Shulie Vogel, who is also a co-director, were "very shaken" by the fire. However, they found comfort in the immensity of emails, calls and messages being sent their way.
"It's no secret that we have outgrown our old Little Blue Chabad House and we knew that a bigger and better purpose built facility was needed," Vogel wrote. After the events of the past 15 hours, it seems that G-d is giving us a not-so-subtle kick in the pants to look after His kids properly and build them a better home.… "
Assistant State Fire Marshal Michael Chionchio told Newsweek it's unclear how long the investigation will take. However, they will continue to investigate until it's brought to a "successful conclusion."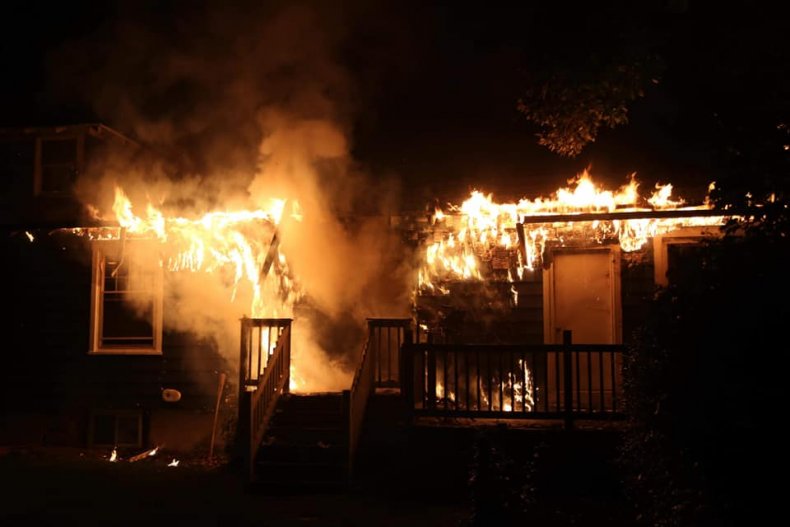 Chabad is on more than 260 campuses around the world and gives people a space to socialize, experience and learn more about the Jewish faith.
Newark, Delaware, Mayor Jerry Clifton called it "heartbreaking" to learn the fire was set intentionally in a statement. He added that the act of arson was a "sickening act of hostility" that threatens the safety and security of Newark's "inclusive, welcoming neighborhoods."
"My thoughts are with the Jewish community and those affected by this tragedy. I have faith that the Newark Police Department and partner agencies will work tirelessly to identify the individual or individuals responsible and bring them to justice," Clifton said.
The fire gained the attention of another prominent politician, former Vice President Joe Biden. On Thursday, Biden, whose home in Wilmington is about 15 miles from Newark, posted on Twitter that the news of the fire was "deeply disturbing." Biden called for a "full and swift investigation" into what happened and linked it to a rise in anti-Semitism in America.
Anti-Semitic incidents in the United States reached a record high in 2019, according to the Anti-Defamation League. The 2,100 acts of assault, vandalism and harassment was higher than its been since 1979, when the ADL started tracking incidents.
"We all have a moral obligation to speak out and give hate no safe harbor," Biden, an alumni of the University of Delaware, wrote in his tweet.
On Thursday, Students of Chabad UD created a GoFundMe page to help raise money to rebuild the Chabad House. As of Friday afternoon, it had raised more than $312,000 of its $500,000 goal.