The Intercept Wouldn't Reveal a Country the U.S. Is Spying On, So WikiLeaks Did Instead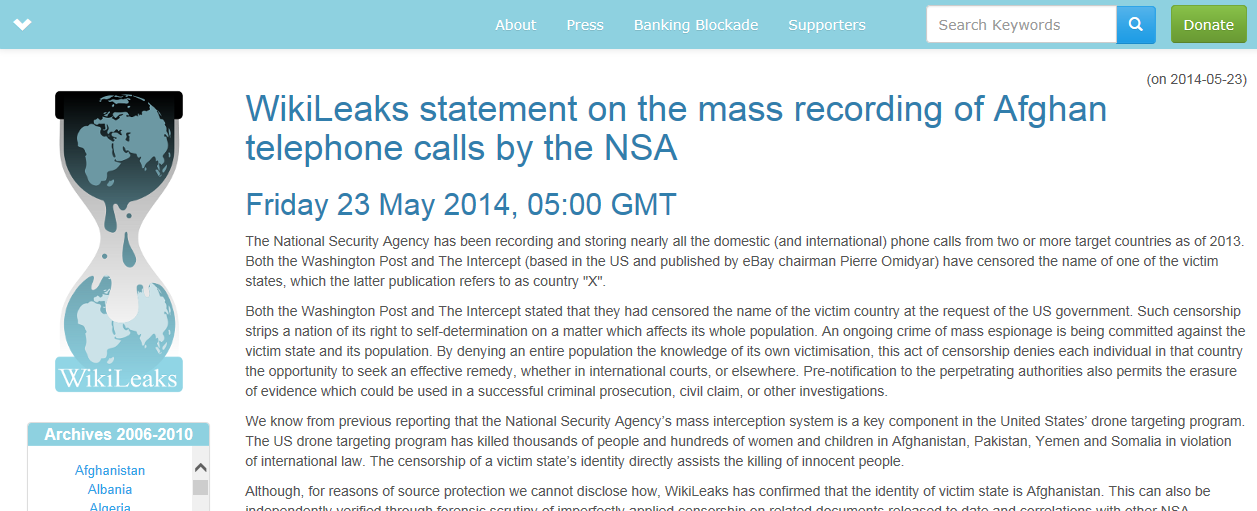 The Intercept, First Look Media's new national security publication founded by Guardian alum Glenn Greenwald, among others, landed a sizable scoop this week. It revealed that the National Security Agency (NSA) is secretly recording and archiving "virtually every cell phone conversation" made in the Bahamas.
According to the Intercept's report, the NSA uses a program called MYSTIC to archive cell phone metadata in five countries: the Bahamas, Mexico, Kenya, the Philippines and a fifth country The Intercept declined to name due to "credible concerns that doing so could lead to increased violence."
So WikiLeaks named it instead. Spoiler: It's Afghanistan, according to the news leak organization:
"Both The Washington Post and The Intercept stated that they had censored the name of the victim country at the request of the U.S. government," WikiLeaks Editor Julian Assange wrote in a statement. "Such censorship strips a nation of its right to self-determination on a matter which affects its whole population."
Reached via email, Intercept Editor-in-Chief John Cook declined to say more about the Intercept's safety concerns. Instead, he pointed to a lengthy Twitter debate where, in a public spat with WikiLeaks' Twitter feed, Greenwald pointed out that The Intercept revealed four countries that The Washington Post had earlier redacted and said he was "very convinced" the further information could harm innocent people or cause deaths. (He also said the NSA "aggressively urged" The Intercept not to reveal the names it did.)
That debate—over who gets to reveal confidential government documents and who should decide—has been ongoing since last June, when Greenwald worked with Edward Snowden in disclosing private documents revealing NSA surveillance programs.
But the debate has been especially heated over the past 48 hours, thanks in large part to Michael Kinsley's New York Times review of Greenwald's No Place to Hide, a nonfictional account of the Snowden disclosures. Kinsley, in brief, isn't much of a fan. The government, he writes—and not Greenwald or any media outlet—should decide which government documents are revealed:
It seems clear, at least to me, that the private companies that own newspapers, and their employees, should not have the final say over the release of government secrets, and a free pass to make them public with no legal consequences. In a democracy (which, pace Greenwald, we still are), that decision must ultimately be made by the government. No doubt the government will usually be overprotective of its secrets, and so the process of decision-making—whatever it turns out to be—should openly tilt in favor of publication with minimal delay. But ultimately you can't square this circle. Someone gets to decide, and that someone cannot be Glenn Greenwald.
In other words, Kinsley, a former New Republic and Slate editor, thinks the government should have "final say" over disclosures by journalists whose reporting, in some instances, is intended to expose governmental abuses.
That position has been roundly mocked, both by Gawker—"Michael Kinsley Comes Out Against Journalism," the blog announced—and Greenwald himself, who found himself "cackling" about his detractors in an airport. The Atlantic weighed in, too, reminding us that the press does have the right to release classified information, thanks to a Pentagon Papers-era ruling in New York Times Co. v. United States.
"The press was protected so that it could bare the secrets of government and inform the people," Supreme Court Justice Hugo Black wrote in his opinion on that case. "Only a free and unrestrained press can effectively expose deception in government."
The late Black, unfortunately, had nothing to say about how to "bare the secrets of government" when one such secret is seen, by one of the most prominent secret-barers, as risking innocent lives—or when Julian Assange is threatening to go ahead and bare it anyway.
He'd probably be glad the decision won't "ultimately be made by the government," though.