International Cat Day: Cat Cafes Near You in the U.S.
Today (August 8) is International Cat Day, so it's the purr-fect day to go down to your local cat cafe and make some new feline friends.
Newsweek has clawed together a list of cat cafes across the U.S. so you can sniff out one near you.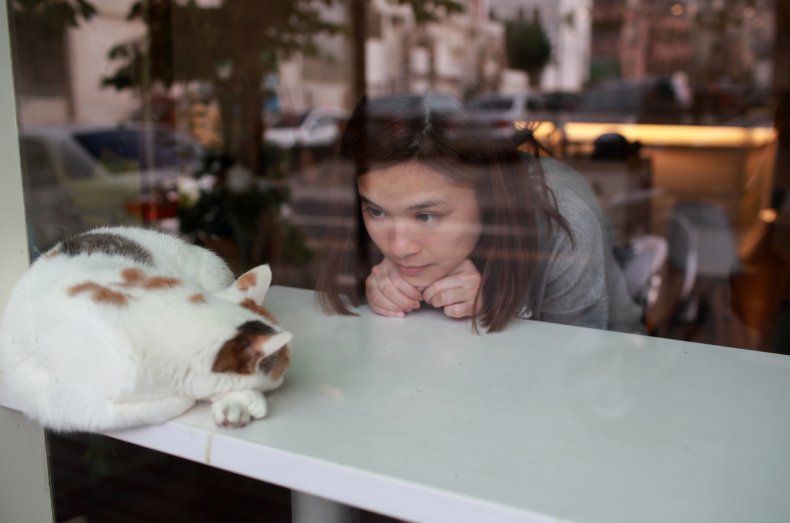 Pounce Cat Cafe + Wine Bar, 283 Meeting St, Charleston, South Carolina, 29401
Crooked Tail Cat Cafe, 604 S Elm Street, Greensboro, North Carolina, 27401
Crumbs & Whiskers D.C., 3211 O St. NW, Washington, D.C., 20007
All cats come from local rescues and are up for adoption, with all items on the menu delivered in real-time by local coffee shops.
Gem City Catfé, 1513 E 5th St, Dayton, Ohio, 45403
Eat, Purr, Love Cat Cafe, 3041 Indianola Ave, Columbus, Ohio, 43202
Featuring adoptable cats from The Capital Area Humane Society, A Purrfect Start Animal Rescue, Pets Without Parents and the Cat Welfare Association.
Meow Parlour, 46 Hester Street, Manhattan, New York, 10002
Meow Parlour was the first cat cafe to open in New York City. According to MeowAround.com, they have adoptable cats from KittyKind, a no-kill shelter in New York.
The Catio, 1603 Riverside Dr, Nashville, Tennessee, 37216
The Dancing Cat, 702 E Julian Street, San Jose, California, 95112
According to Meowaround.com, the Dancing Cat is "an awesome casual cat space in San Jose, California," where guests are welcome to bring their own food and drinks or purchase snacks.
Crumbs & Whiskers Los Angeles, 7924 Melrose Ave, Los Angeles, 90048
Seattle Meowtropolitan, 1225 N 45th St, Seattle, Washington, 98103
Mauhaus Cat Cafe and Lounge, 3101 Sutton Blvd, Maplewood, Missouri, 63143
The first cat cafe in St. Louis.
Cat Cafe Mad, 1925 Monroe St, Madison, Wisconsin, 53711
The Cat Cafe, 472 Third Ave, San Diego, California, 92101
Kawaii Kitty Cafe, 759 S 4th St, Philadelphia, Pennsylvania, 19147
This was the first cat cafe in Philadelphia, according to MeowAround.com. If you can't get down there, at least leave a comment with a name for this gorgeous kitten.
Catfe Lounge, 821 Livernois St, Ferndale, Michigan, United States, 48220
The Catfé Lounge is Michigan's first permanent cat cafe as part of the Ferndale Cat Shelter.
Brooklyn Cat Cafe, 149 Atlantic Ave, Brooklyn, New York, 11201
They have kitten parties. Enough said really.
Kitty Catfe, 9697 Firdale Ave, Edmonds, Washington, United States, 98020
The Kitty Catfe has three resident cats and adoptable cats from Motley Zoo Animal Rescue, according to MeowAround.com.
Tinker's Cat Cafe, 302 E 900 S, Salt Lake City, Utah, 84111
Animal Care Sanctuary Cat Cafe, 353 Sanctuary Hill Ln, East Smithfield, Pennysylvania, 18817
East Smithfield's Animal Care Sanctuary holds special event cat cafe pop-ups.
Koneko, 26 Clinton St, New York, 10002
An American-Japanese cat cafe. Koneko means "kitten" in Japanese, and Neko means "cat." You've guessed it, Ko means "Child" in Japanese.
Happy Tabby Cat Cafe, 527 Irwin Street N.E., Atlanta, Georgia, 30312
CatCafe Lounge, 1736 S. Sepulveda Blvd, Los Angeles, 90025
El Gato Coffeehouse, 504 Pecore Street, Houston, Texas, 77009
Catnip Cat Cafe, 2200 Colonial Ave., Norfolk, Virginia, 23517
Cat cafe in Ghent where $10 gets you one hour with the cats and a complimentary beverage.
While cat cafes are seen as cute and a tourist attraction, they also provide a service to help cats who need homes. Every year 3.2 million cats are moved into shelters, meaning that there is a constant demand for domesticated felines to be rehomed.
If you're interested in adopting a rescue cat, get in touch with your local animal shelter or visit your local cat cafe.
International Cat Day: Cat Cafes Near You in the U.S. | U.S.