International Community Must Not Abandon Jailed Peace Hero in Gaza | Opinion
Peace between Arabs and Israelis over the past half-century has been achieved by visionaries on both sides, but not without crucial support from the international community. Today, a peacemaker of great courage has arisen in Gaza, and yet it appears the world has abandoned him.
In 1977, Egyptian president Anwar Sadat broke decades of enmity by flying to Israel and addressing its parliament in Jerusalem. Only through the energetic involvement of U.S. President Jimmy Carter, however, did the former antagonists conclude a peace treaty that, despite numerous crises, has endured for decades.
Since early April, Rami Aman, the 38-year-old founder of a grassroots movement in Gaza that connects Palestinian and Israeli peace activists, has been languishing in Hamas prison, largely abandoned by the foreign ministers and activists that speak most about the plight of Palestinians.
Supporters of Middle East peace ought to know his story.
In 2010, Aman founded the Gaza Youth Committee, a forum for Gazans to connect with Israeli counterparts through regular video calls and social media. Aman, who journeyed to India to meet with the Dalai Lama, teaches Palestinians that people-to-people contact, not violence, is the solution to peace with their Israeli neighbors.
Ideas of coexistence are what inspire Aman, not the deep-seated identity politics that have long sowed division between Israelis and Palestinians. "Zionist, left, right, I don't care about the labels. I just care about meeting the people," said Aman in a 2019 interview.
Not surprisingly, Palestinian opponents of peace call him a traitor. Despite grave risks, however, Aman perseveres for peace at the cost of his freedom. In April 2019, he was held for three days after criticizing Hamas torture on social media. A month later, Aman was detained for two weeks after organizing a solidarity bike ride in which Israelis and Palestinians bicycled together along the Gaza border.
For most people, getting thrown into Hamas prison twice in one month would be enough to stand down. Not Rami Aman.
On Monday, April 6, 2020, Aman's team organized a Zoom video call with Israeli and Gaza peace activists. The Gaza Youth Committee drew one of its biggest crowds ever, more than 200 participants.
Two days later, Aman was denounced to Hamas in a series of vituperative Facebook posts by Hind Khoudary, a former research consultant with Amnesty International. Hours later, Hamas arrested him for the crime of pursuing "normalization" with Israelis.
How has the world reacted?
Initially in April, Aman's arrest was widely reported, including by The New York Times and The Guardian. But ever since, the media has ignored Aman's fate.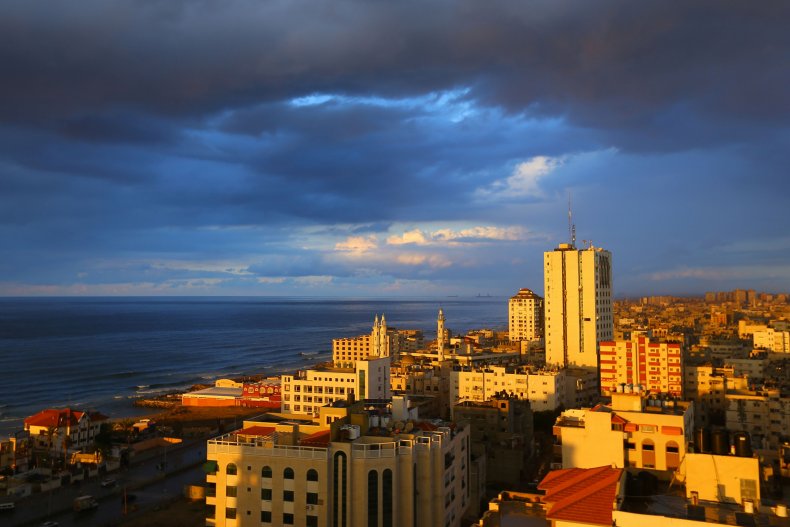 Pro-Palestinian activist groups have not fared much better. Despite the ignominious role played by one of its former colleagues, Amnesty International—the organization founded to defend prisoners of conscience who do not advocate violence—remained silent.
Only after four weeks of prodding and an open letter by UN Watch, a non-governmental organization in Geneva, did the iconic human rights group issue a muted call for Aman's release. Its disinterest was apparent.
By marked contrast, in January 2018, Amnesty dedicated its entire website to campaign for Ahed Tamimi, a young Palestinian detained for slapping and kicking two Israeli soldiers, and who has encouraged terrorism against Israelis. Tamimi grew up learning to hate: Her mother posts vile anti-Semitic caricatures, while her cousin brought a suicide bomber to attack Jerusalem's Sbarro pizzeria in 2001, killing 15 people and injuring 130 more. After Tamimi pled guilty to four criminal charges, including assault, Amnesty nevertheless promoted her with posters, petitions and graphics plastered all over social media. But, for non-violent Rami Aman, nothing.
Likewise, the United Nations, quick to condemn Israel on every occasion, has largely turned a blind eye to the plight of the Palestinian Gandhi. Take, for example, the U.N.'s office of the high commissioner for human rights. Apart from one non-condemnatory post—which didn't even mention Aman's name, and which was buried on the Facebook page of its Palestinian branch instead of going on the agency's main social media platforms, which have large followings—the U.N.'s human rights office has been silent. They refused to send out a press release, which would have generated global headlines for Aman's release, nor did they post a single tweet to their three million followers.
Some in the halls of power have spoken out. Challenged in parliament, Lord Ahmed on behalf of the British government issued a terse statement condemning Hamas' detention of Aman. Sadly, this has been the exception.
For now, the lesson for Palestinians is clear: If you participate in militant border confrontations and other forms of violence, the world will rally to your cause.
If the international community wishes instead to send the message that it supports dialogue and rapprochement, then it's time for both governments and campaign groups to finally speak out, with clear conviction, for the release from prison of the most courageous Palestinian peace advocate of our generation.
Hilary Miller is the Morris B. Abram fellow at UN Watch in Geneva.
The views expressed in this article are the writer's own.