The International Conspiracy Behind the Success of the San Antonio Spurs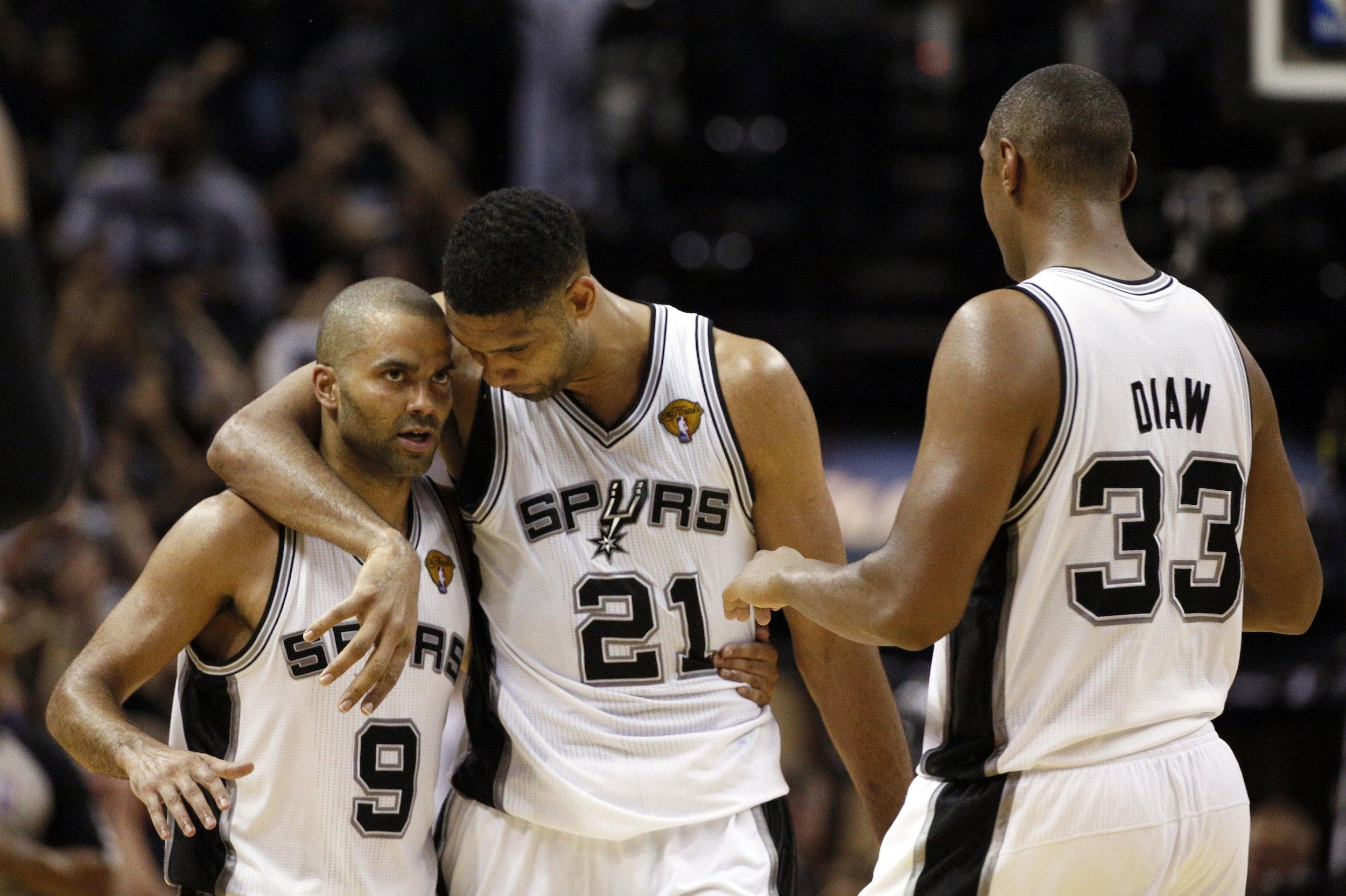 Argentina. Australia. Brazil. France. Italy.
These nations will be represented in the FIFA World Cup, which opens next Thursday in Sao Paulo, but they are also being represented in the NBA Finals, which began last night in another Latin-named city, San Antonio. The Spurs won Game 1, 110-95, as its top four scorers were all players who were born and reared outside the United States. In fact, San Antonio's roster is comprised of athletes from seven nations (add Canada and the United States), as well as a U.S. territory, the Virgin Islands. There are times when you wonder whether Gregg Popovich is the team's coach or its Secretary-General.
On opening night of the National Basketball Association season last October, the Spurs made history by having 10 foreign-born players on the roster. Meanwhile, San Antonio's opponent for the NBA Finals this season (and last), the world champion Miami Heat, are one of two NBA franchises (the Philadelphia 76ers are the other) that have no international players.
This is more than a tale of two continents, of a contrast in passports, visas and citizenship. "It goes beyond that," says Sports Illustrated senior writer Alexander Wolff, whose 2002 book Big Game, Small World somewhat presaged the massive influx of international hoops talent in the NBA. "The influence of international play shows up in the style of play, in the locker rooms, in practice. Everywhere."
The Spurs, for example, led the league this season in assists with 25.2 per game. No other team in the league passes the ball as deftly and spaces the half-court for one another more fluidly than do the Spurs. It's almost like watching...soccer.
In Spain, home of the reigning World Cup champions, they have even coined a term for such passing in their sport: "tiki-taka." While the Spurs trio of future Hall of Famers Tim Duncan (Virgin Islands), Manu Ginobili (Argentina) and Tony Parker (France) rarely posterize defenders or have ad campaigns built around their dunking prowess ("Griffin Force!"), they do demoralize opponents with five- and six-pass possessions that end in uncontested threes or layups (watch here at the :29 and :49 marks for premium vintage Spurs passing).
While the Heat no longer have a foreign-born player on their roster—last year's championship roster included Mike Miller, who hails from South Dakota, which may as well be a foreign country—they remain an offensively potent team. It's just that much of the offense relies less on five-man synergy and more on the athletic gifts of six-foot-eight LeBron James. If you were to compare the four-time league MVP's game to that of soccer, this dash by Gareth Bale of Real Madrid might come closest to approximating it:
Spectacular? Of course. The difference is the reliance on a style of play versus the elite, almost super-human skills of one virtuoso figure. In the other two championships being contested over the next five weeks—the Cups Stanley and World—spacing and passing are an absolute must. Whereas in basketball, it may not be as essential but to many eyes it is more aesthetic.
And that is where international players enter the conversation.
Foreign-born players infiltrated the NBA long before Wolff's book was published. In fact, an international player, Canadian Hank Biasatti (born in Italy), took the court in the inaugural contest in NBA history on November 1, 1946, a game that was played on foreign soil, in Toronto. And, lest you forget, the game itself was invented by a Canadian.
However, prior to 2002 foreign-born players had mostly been anomalies (remember Georgi Glouchkov?), seven-footers (Uwe Blab of Germany, Swen Nater and Rik Smits of the Netherlands, Manute Bol of Sudan) or products of U.S. colleges (Detlef Schrempf of Germany and the University of Washington and Hakeem Olajuwon of Nigeria and the University of Houston). Also, prior to 2002, only one international player, the sublimely gifted center Olajuwon, had ever been named the league's Most Valuable Player.
Since 2002 three different foreign-born NBA players have won five of the league MVP trophies (Duncan and point guard Steve Nash twice and Dirk Nowitzki once). And since 2002, six teams have won an NBA championship starting a foreign-born player who never played college basketball: the Spurs three times, with Ginobili and Parker, the Lakers twice, with Spaniard Pau Gasol, and the Dallas Mavericks, with Nowitzki.
Then again, LeBron, Kobe Bryant of the Lakers and Kevin Garnett of the Boston Celtics, who between them won five NBA titles in that dozen-year span, never played college basketball, either.
What was the tipping point of international players making it in the NBA? Olajuwon was the No. 1 overall pick in the 1984 NBA draft—two spots ahead of Michael Jordan—and he is an all-time NBA great, but as noted, he played college ball domestically. And, for clarity's sake, Bahamian Mychal Thompson (Klay's dad) had been the No. 1 overall pick six years earlier, out of the University of Minnesota.
If you had to choose an individual or event that changed the trend, says Wolff, you should mention two: the 1988 Seoul Olympics and Drazen Petrovic. "In 1988 [Georgetown] coach John Thompson took a college squad over to Seoul with center David Robinson as the hub of his offense," says Wolff, "and they lost to the Soviets in the semi-finals."
That Soviet gold-medal winning team featured two future NBA starters, swing man Sarunas Marciulionis and seven-foot-two center Arvydas Sabonis, the latter of whom was as skilled a passer as any center since Bill Walton. Perhaps not coincidentally, Sabonis would eventually migrate to the NBA to toil for Walton's former team, the Portland Trail Blazers.
"The first guy to succeed in the NBA on American terms, though," says Wolff, "was Drazen Petrovic. He was going to be fitter than you, a better shooter than you, whatever. He wasn't at all intimidated by American players."
Petrovic, a six-foot-five guard from Croatia, played four seasons in the NBA before perishing in a car accident in the summer of 1993. In his final two seasons he averaged 20.6 and 22.3 points per game for the New Jersey Nets, and he was on the cusp of becoming the first foreign-born player not educated on U.S. soil to make the NBA All-Star team. Alas, it was not to be.
No such foreign-born, foreign-schooled NBA All-Star would emerge until 1998, as seven-foot-four Rik Smits, a.k.a. "the dunking Dutchman," was named to the East squad. Five years later, seven-foot-six Yao Ming of the Houston Rockets became the first such player to be voted as a starter—certainly it helped to have the planet's largest national demographic, China, in his corner.
Concurrently with foreign-born players proving that they could stick in the NBA, high school-educated players demonstrated the same resilience. Within the span of two years when I was a young writer at Sports Illustrated, the magazine did features on two NBA-bound hopefuls: Toni Kukoc of Croatia and Kevin Garnett of Greenville, S.C. The angles of both stories were similar: Can these pioneers make it in the NBA? Both did and both won NBA titles.
Where the paths of foreign-born players, such as those who populate the Spurs, and high school-to-the-NBA stars such as LeBron and teammate Rashard Lewis diverge is literally a question of longitude. "Look around and notice that most teams that have embraced foreigners and that pass-first European style of play are out west," says Wolff. "Maybe it's as simple as teams that prefer spacing happen to exist in the land of wide-open spaces."
It may be anecdotally evident, but look at where some of the league's premier international players spent their prime years: Sabonis (Portland), Marciulionis (Golden State), Yao (Houston), Nowitzki (Dallas), Gasol (Los Angeles), Hedo Turkoglu, Peja Stojakovic and Vlade Divac (Sacramento), Olajuwon (Houston) and of course, Nash (Phoenix). Even Kobe Bryant of the Lakers spent much of his childhood in Italy, where his father's teammate was an American expat named Mike D'Antoni.
"You have to give D'Antoni a lot of credit," says Wolff, "and in Nash he found his perfect floor general."
Nash, a Canadian who spent parts of his childhood in South Africa, is an avowed soccer fan and hosts and plays in a charity soccer game in the Chinatown area of Manhattan each summer. He may be a future Hall of Fame point guard, but he's also a frustrated footballer—as this video that he directed demonstrates.
When Nash was in his prime, leading the Suns to the Western Conference finals regularly while being named league MVP twice, Phoenix resembled a forerunner to this current Spurs team. The Suns led the NBA in assists for three consecutive seasons (2006-2008) while their roster boasted a Canadian (Nash), a Virgin Islander (Raja Bell), a Brazilian (Leandro Barbosa) and a Frenchman (Boris Diaw, who is now a key component of this Spurs team). What the Suns lacked, and what they might have been, if only they had Duncan instead of the Spurs.
Another aspect of the foreign-born player, besides an inclination toward passing, is attitude. International players are not raised playing AAU ball or watching "Top 10 Plays" on ESPN's SportsCenter. They rarely if ever, be it due to the language barrier or cultural background, rock the boat. "I love Africans!" Louisville coach Rick Pitino once said after his center Gorgui Dieng (now with the Minnesota Timberwolves) of Senegal, had an outstanding NCAA tournament game. "I'd love to have an entire team of them. Why? Because they appreciate all of this so much more."
It was 76er point guard Allen Iverson, an American, who famously uttered, "Practice! We're talking about practice." It was the Miami Heat's All-Star trio who publicly promised, "Not one, not two, not three…" but six NBA championships. Give them credit: they're halfway there. It was Spurs point guard Tony Parker who declared… well, that's just the point. How often does an international player say anything quotable?
So there you have it: an NBA Finals that is red, white and blue… and green cards. The Heat versus the Spurs. America's most visible team versus its most Epcot Centric team. Enjoy the melting pot of hoops.