Kissing holds great importance within society. Whether its a friendly peck on the cheek or an intimate smooch between significant others, the act can signify a variety of sentiments across different cultures. Here's where International Kissing Day comes into play.
International Kissing Day, celebrated Friday, first surfaced in 2006. The holiday aims to honor the exchange of kisses between romantic partners. Over the years, some of the most jaw-dropping, memorable smooches have been between movie characters. While it's fair to say that honorable mentions can be awarded to Elle (Joey King) and Noah (Jacob Elordi) in The Kissing Booth or Harper (Zoey Deutch) and Charlie (Glen Powell) in Set It Up, its best to focus on recognizing the most timeless and noteworthy moments to surface in films over time.
In honor of the annual occasion, here are five of the most romantic movie kisses of all time. Grab a tissue—this one's a doozy.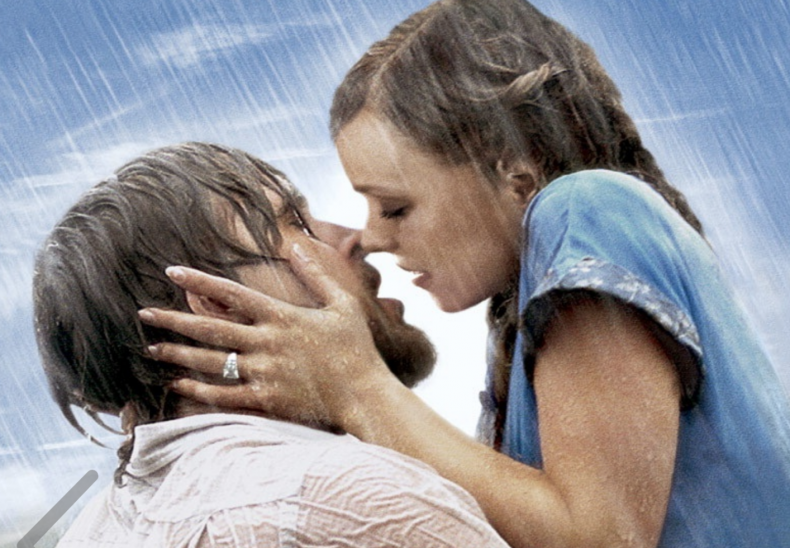 1. The Notebook (2004) — Noah (Ryan Gosling) and Allie (Rachel McAdams)
Nicholas Sparks's acclaimed novels and respective movies have succeeded in capturing the hearts of many due to the gut-wrenching tales, but The Notebook stands out among the pack (no shade to A Walk to Remember or The Last Song). In the film, there's an undeniable chemistry present between former real-life couple McAdams and Gosling's characters. This is particularly evident in the duo's explosive kissing-in-the-rain scene, where they passionately embrace after Gosling's Noah accurately states following their time apart: "It's still isn't over."
2. Never Been Kissed (1999) — Josie (Drew Barrymore) and Sam (Michael Vartan)
The late 1990s cult classic gives a whole new meaning to "teacher's pet." As Barrymore's Josie Geller poses as a high schooler to complete an investigative story for work, she falls madly in love with her handsome English teacher, Sam Coulson. At 25, Josie's never been kissed. Naturally, her true identity is revealed and she pens an account of her experience for her employer—ultimately asking for Sam's forgiveness and requesting he meet her in the middle of the baseball field during the school's upcoming game. Spoiler alert: Sam swoops in to lock lips with Josie just before the clock runs out, and it goes down as one of the most genuinely charming kisses in movie history.
3. Breakfast at Tiffany's (1961) — Holly (Audrey Hepburn) and Paul (George Peppard)
Based on Truman Capote's novel, Breakfast at Tiffany's has arguably become one of Hepburn's most memorable roles. In it, she plays Holly—a high-class escort searching for her place in high society. This changes, however, upon meeting Paul. She soon realizes she desires love most of all, and it's more than evident by the film's end when the pair finally gives into their feelings for each other. This moment, of course, intensifies with the gentle rain as "Moon River" plays in the background.
4. Bridget Jones's Diary (2001) — Bridget (Renée Zellweger) and Mark (Colin Firth)
Nothing says true love like running out in the snow pantsless to chase after one's soul mate, something Bridget Jones did for Marck Darcy in Bridget Jones's Diary. Based on Helen Fielding's book series, it's respective premier film—which has since spawned two subsequent sequels—follows a woman finding confidence within herself as she realizes she may have feelings for Mark after brushing him aside prior. That's what makes the pair's embrace within the movie franchises' debut flick so incredible, as it's still done in such a Bridget-esque way can't be replicated.
5. Sixteen Candles (1984) — Samantha (Molly Ringwald) and Jake (Michael Schoeffling)
Let's face it, nobody nailed the genre of teen films like the late John Hughes, who created iconic films like The Breakfast Club and Weird Science. Sixteen Candles, however, is a Hughes flick worth mentioning on this list because of the buildup that led to Samantha and Jake sharing their first kiss in the film's finale. A high school dance served as the perfect setting to progress a love story between the most popular male student and a relatively normal teenage girl angsty over her family's failure to remember her 16th birthday. The end product is a sweet, genuine kiss between two school-aged kids.