International Lawmakers Question Why U.S.-Canada Border Remains Closed Amid Vaccine Ramp-Ups
American and Canadian lawmakers are pressuring their governments to reopen the U.S.-Canada border as vaccination efforts ramp up in both nations.
Representative Brian Higgins, a New York Democrat, joined two members of Prime Minister Justin Trudeau's Liberal Party, MPs Wayne Easter and Nathaniel Erskine-Smith, to make an appeal for an evidence-based plan for reopening the international border. It has been closed to nonessential travel for nearly 15 months.
"Guidance from both the U.S. Centers for Disease Control and Prevention (CDC) and Canada's COVID-19 Testing and Screening Expert Advisory Panel is clear: individuals with proof of immunity can travel safely and should not be subject to quarantine requirements," a joint press release issued Wednesday says.
The lawmakers are urging leaders in both Ottawa and Washington to reconsider reopening the land border, as current restrictions are set to expire in upcoming weeks, on June 21. The closure, which began March 21, 2020, has been extended on a month-by-month basis since the early days of the coronavirus pandemic.
"For more than a year, Americans and Canadians have endured separation from their families, friends, and property in response to the public health crisis," the three politicians wrote.
"It is time for our governments to listen to the experts and together release an evidence-based plan to reunite families, safely resume normal border operations, and quickly restore our two countries' deeply interconnected economies," they added.
Higgins and Easter serve as co-chairs of the Canada-United States Inter-Parliamentary Group.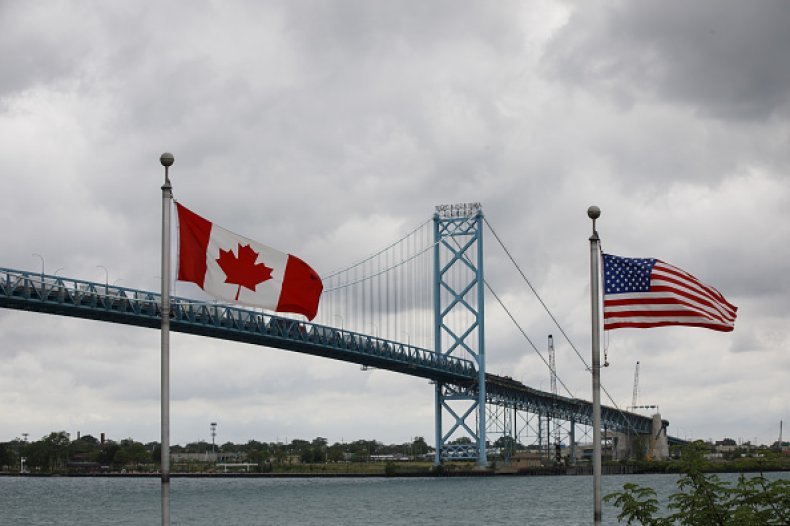 The push to open the border comes as both countries have ramped up their vaccination rollouts, which some officials have said should allow vaccinated individuals to safely travel back and forth between Canada and the U.S.
The Canadian government's dashboard shows that 51 percent of the population has received at least one dose of a COVID-19 vaccine and that 6 percent are fully vaccinated. In the U.S., 41 percent of the population has been fully vaccinated, according to the CDC.
But Trudeau has said he doesn't plan on easing public health restrictions until at least 75 percent of Canada's population has received at least one dose of a vaccine.
"We all want to reopen, we all want to go back to traveling to see friends, take vacations, go on trips," Trudeau said at a press conference Monday. "But we don't want to have to close again, tighten up again because there's another wave."
The U.S. and Canada share 5,525 miles of border, the longest land boundary between two countries.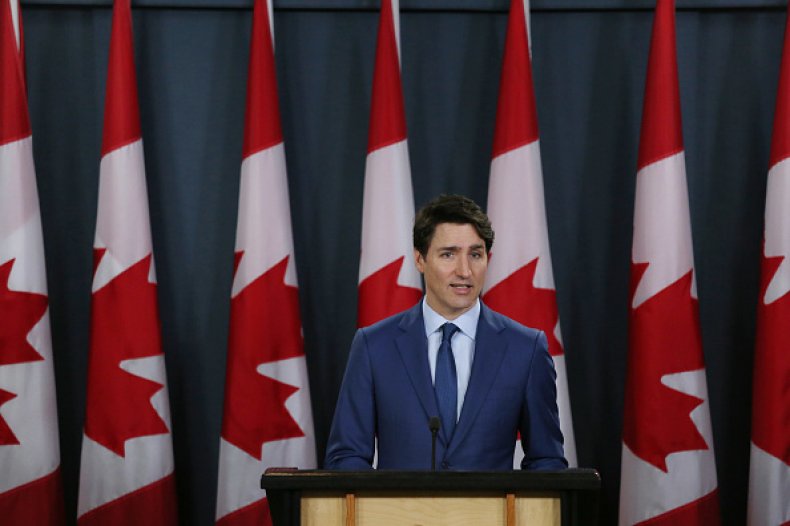 A poll released by the Angus Reid Institute last week found that 48 percent of Canadians supported keeping the border closed until September and that 76 percent of Canadians believe that proof of vaccination should be required to travel to the U.S.
Some provinces have pressured Trudeau's government to keep the border shut over fears that new variants may again cause a surge in coronavirus cases just as Canada's rocky vaccine rollout has begun to stabilize.
Higgins, Easter and Erskine-Smith aren't the only lawmakers pressuring their governments to reopen the border. Senate Majority Leader Chuck Schumer and Republican House Conference Chair Elise Stefanik have both said the closure should be reevaluated.
On Tuesday, Schumer said he called on Department of Homeland Security Secretary Alejandro Mayorkas to push his own proposal for reopening, which includes widening the definition of who is an essential worker to include fully vaccinated individuals with family or property on the other side of the border.
But Trudeau has pushed back on his American counterparts, telling reporters this week, "We're on the right path, but we'll make our decisions based on the interests of Canadians and not based on what other countries want."
Newsweek reached out to the White House and Trudeau's office for comment but did not hear back before publication.