The Search for 'Jihadi John,' Brutal Murderer of American Journalist James Foley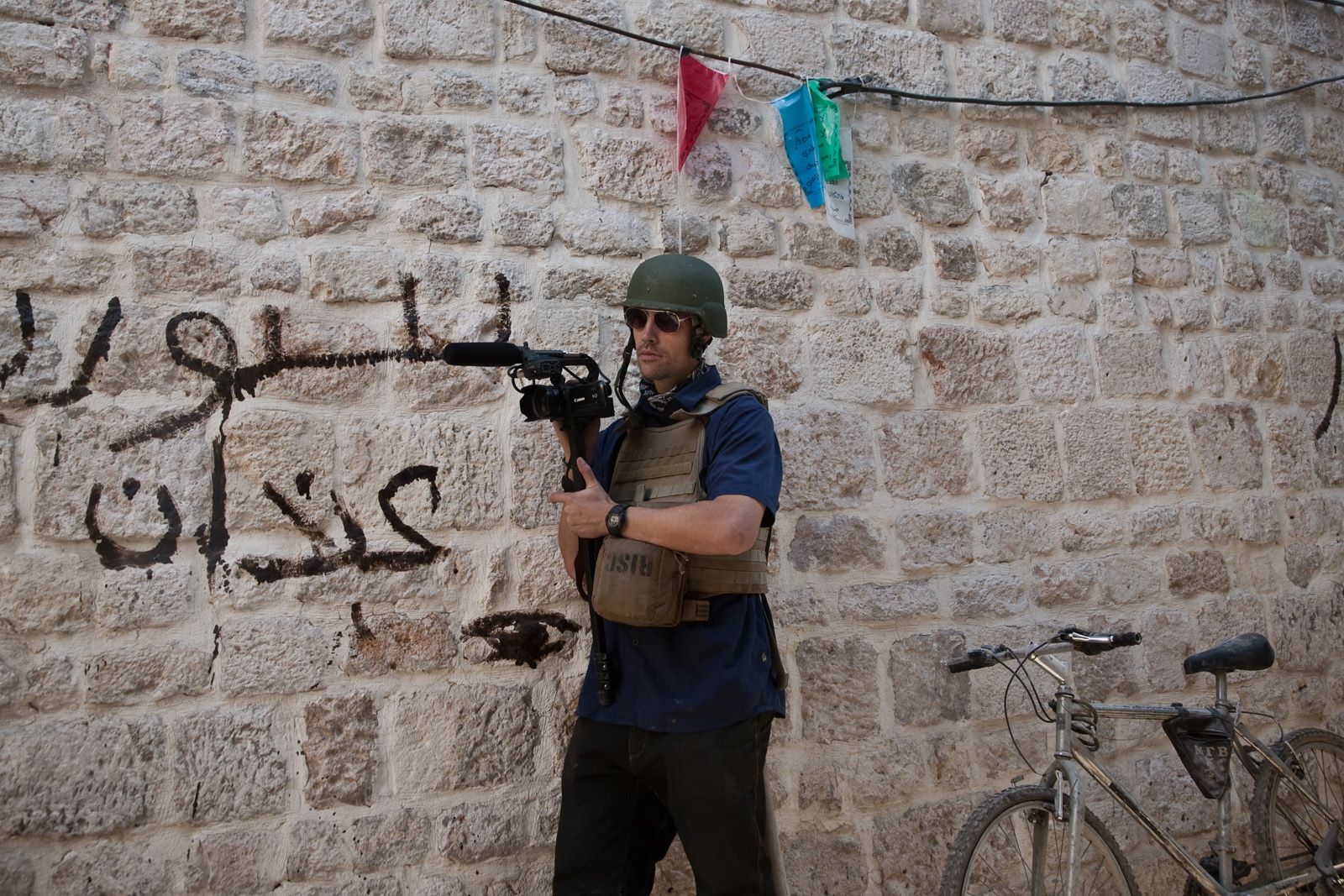 An international manhunt is underway for the British Islamic State (IS) jihadist who brutally beheaded American journalist James Foley in a gruesome video published by the group on Tuesday night.
The British jihadist already has a nickname in the British press: "Jihadi John." One of three jihadists who left the U.K. to fight for I.S. in Iraq and Syria, they were together dubbed "The Beatles" by jihadists because they were British, Frank Gardner, the BBC's security correspondent, told the BBC radio's World at One program on Thursday afternoon. The Times of London reports that "John" is one of four British-Pakistanis who, along with Saudi guards, are in charge of more than a dozen Western hostages.
Instead of being used on the IS frontline, "John," and fellow British Muslims nicknamed "Paul" and "Ringo," are tasked with guarding Western prisoners who are used as human shields, for ransom or as bargaining chips, Gardner said.
"There are reports that they have been pretty brutal to their hostages. James Foley got a pretty tough time because he's American," Gardner said.
"John" has also been given the moniker "Black Beatle" and is described as "well-educated, intelligent, but [a] highly committed member of the extremist terror group," The Telegraph reports. Sources told the Guardian that 'John' is the leader of the hostage-watchers and was the main negotiator in the ransom negotiations that led to the release of 11 IS hostages earlier this year.
U.K. and U.S. intelligence services are scrambling to find out more about "John." More than 500 British Muslims have left the U.K. to fight in Iraq and Syria and are believed to be some of the most "vicious and callous" fighters in the region, around half of which have returned to the U.K. and between 20 and 30 have been killed, The Telegraph reports.
Based on his accent and on in particular how he pronounces the word "Muslims" in the video, linguists believe "John" is from east or south London and has a knowledge of Arabic, The Times of London reports. His accent could also be called "multicultural London English," linguistic expert Prof. Paul Kerswill told the Guardian.
Two French hostages who were held with Foley in Syria but released in May have been speaking about their experiences for the first time. They said Foley was treated with particular scorn not only for being American, but because kidnappers found photos of his brother, John Foley, who serves in the U.S. Air Force, on his laptop, the Daily Mail reports.
Foley was also "crucified against a wall" and was the victim of mock executions, French journalist Didier François told Europe 1 radio. He said he has a "rough idea" of who "John" really is. "'Recognised' is a very big word; I see roughly who it is," François said.
Nicholas Henin, another French hostage held with Foley, told the BBC Foley was made a "whipping boy" by the jihadists. He said the hostages lived in "extremely narrow rooms" and allowed to use the bathroom, when they were closely guarded, only two to three times a day.
IS fighters demanded $132 million for Foley's release, but it is not the policy of either the U.S. or the U.K. to pay ransoms for hostages. Phil Balboni, CEO of GlobalPost, the Boston-based news website who employed Foley as a reporter at the time of his death, told NBC News the ransom demand was higher than other nationalities because Foley was American.
The Justice Department has launched a criminal investigation into Foley's murder, U.S. Attorney General Eric Holder said on Wednesday. A U.S. special forces mission to save Foley failed, the Pentagon revealed on Wednesday night.
U.S. airstrikes over Iraq continued on Thursday providing support for Kurdish and Iraqi government forces despite the IS threat to kill another American journalist, Steven Sotloff, if they didn't stop.