International Observers, Election Experts Are Worried About US Democracy
International observers and experts keeping an eye on the U.S. elections have shared with Newsweek their concerns about the future of the country's democracy as a result of divisive and unfounded rhetoric surrounding the vote and its legitimacy.
Just hours after his initial lead on Democratic candidate Joe Biden began to slip last week, President Donald Trump declared victory in the race, and has continued to do so even as major media outlets declared his rival the winner. Trump has alleged systematic abuses, especially involving the late influx of mail-in ballots he discouraged his followers from using.
While experts say every election has its fair share of hard feelings and irregularities, no mass effort to sway the vote has been unveiled. But what has transpired in the aftermath of Election Day could constitute something more sinister, especially if confidence in the system is fundamentally broken.
"This seems to have been the hallmark of the Trump administration all along—shattering democratic norms, encouraging divisions and conflict, and creating doubt in our institutions," Laura Thornton, director of global programs at the International Institute for Democracy and Electoral Assistance, told Newsweek.
She noted that trying to address these issues during an emerging crisis is a daunting task.
"This will be extremely difficult to repair," she said.
The International IDEA is an official United Nations observer tasked with strengthening and supporting democratic institutions across the globe. Thornton has worked on elections and democracy around the world for 25 years, and she summed up her quarter-century of experience in one crucial concept: "institutional trust in democracy."
"Even if, say, an election commission has done absolutely nothing wrong, is staffed by professionals, abides by a clear legislative framework that meets global standards," Thornton told Newsweek, "it means nothing if one of the competing political parties, or other stakeholders, does not have trust in the commission. No matter what, they will cast doubt on the election process, undermining its legitimacy. It's been the absolute hardest part of my job."
She said that's exactly what is happening in the U.S.
"We are not holding up well," Thornton said.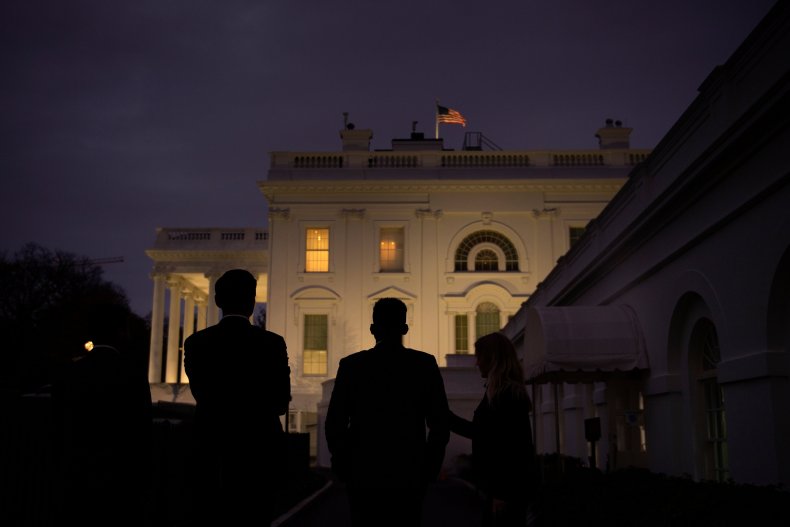 The ramifications, she warned, are far-reaching. She pointed to Secretary of State Mike Pompeo's reply on Tuesday when he was asked about a peaceful transfer of power, and answered with a promise of "a smooth transition to a second Trump administration."
Asked later that day by Fox News about what he meant, he continued to deny Biden's victory.
Thornton was concerned about the ramifications of Pompeo's statement.
"The self-declared model of democracy, the U.S., unable to conduct a smooth election in which both sides accept the results—as we preach others to do—and the secretary of state basically challenging the notion of a peaceful transfer of power," Thornton said. "How does the U.S. now maintain credibility in our democracy-promotion efforts when we want to encourage a losing side of the election somewhere else to accept defeat, when we talk about faith in poll workers and observers?"
She shared with Newsweek an International IDEA report that classified the U.S. last year as one of four countries—alongside Brazil, Philippines and Poland—"that have seen the largest democratic declines in the past five years."
The decline is unprecedented, she said.
"Never in the past four decades has the U.S. seen so many aspects of democracy
decline," the report found.
The charged climate surrounding this presidential election has not helped, and professionals elsewhere have taken note. Much like other countries, the U.S. invites international observers to monitor elections in order to avoid the exact kind of rhetoric being espoused by the Trump campaign.
Katya Andrusz, a spokesperson for the Organization for Security and Cooperation in Europe's Office for Democratic Institutions and Human Rights, told Newsweek that her organization is also concerned about the U.S. election.
"Public trust is absolutely crucial for a democratic election system to function," she said. "And if there's significant mistrust in any part of that it can weaken public confidence in the democratic process, and I don't think any of us would want that."
With 57 participating states including the United States, Canada, most of Europe, Russia, Turkey and parts of Central Asia, the OSCE covers nearly the entirety of the Northern Hemisphere. Member states select the observers, while Andrusz's office chooses a team of experts to analyze the findings.
This is the ninth U.S. election the OSCE ODIHR has observed since 2002. In many ways, Andrusz felt it was a success in spite of historic challenges, including widespread obstacles imposed due to the COVID-19 pandemic and a record voter turnout.
She emphasized that it was Trump's right to take up any allegations in court, but said that so far her organization could not corroborate any of his claims that the election was rigged against him.
"Errors are made, but our point was that there is nothing systematic that we've seen," Andrusz told Newsweek. "We've been on the ground since the end of September, and as far as our observation has gone so far, allegations of widespread deficiencies have been groundless, but you know, the election isn't over yet."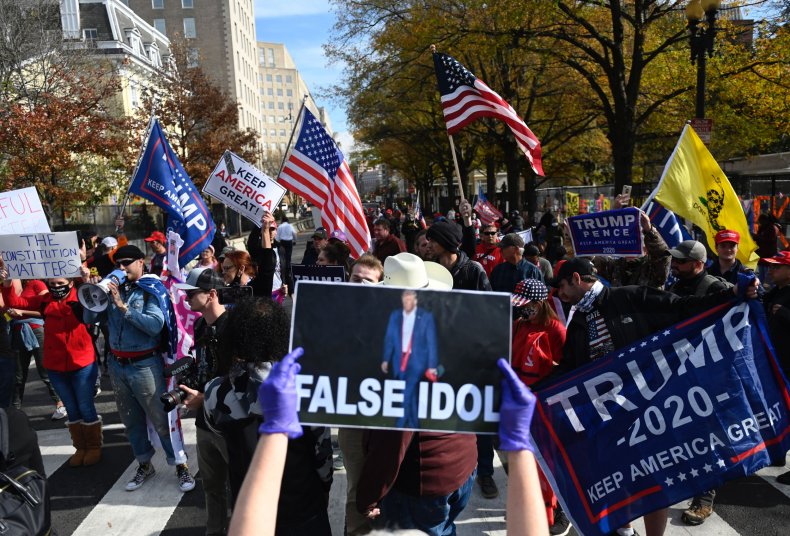 Similarly, her organization's preliminary report on the U.S. elections warned, "Baseless allegations of systematic deficiencies, notably by the incumbent president, including on election night, harm public trust in democratic institutions."
The OSCE ODIHR report also specifically called out Trump for harsh and discriminatory language, and for creating "an impression of refusing to commit to a peaceful transfer of power."
Another international group that observed the U.S. vote was the Organization of American States, a collection of 35 countries across the Western Hemisphere.
The OAS released a report sent to Newsweek in which it said its mission "has not directly observed any serious irregularities that call into question the results," and that it "supports the right of all contesting parties in an election, to seek redress before the competent legal authorities when they believe they have been wronged."
The OAS also warned against candidates issuing public accusations without merit.
"It is critical however, that candidates act responsibly by presenting and arguing legitimate claims before the courts, not unsubstantiated or harmful speculation in the public media," the report said.
Taking note of some of Trump's specific claims of electoral abuse, the report said its observers present at the counting of ballots in Michigan and Georgia "did not witness any of the aforementioned irregularities."
On a broader level, the OAS also recommended improvements to clarify, reform and improve the country's massive, decentralized electoral process, including efforts to address the gender imbalance, limit private campaign funding and impose restrictions on gerrymandering districts.
An OAS Electoral Observer Mission spokesperson declined Newsweek's request to discuss the matter beyond the report itself.
Echoing professional denials refuting Trump's allegations that millions of votes meant for him were somehow switched or deleted, the president's own Election Infrastructure Government Coordinating Council and Election Infrastructure Sector Coordinating Executive Committees released a joint statement Thursday describing the race as "the most secure in American history."
"There is no evidence that any voting system deleted or lost votes, changed votes, or was in any way compromised," the statement asserted.
Without mentioning the president by name, the statement noted his efforts to prove otherwise.
"While we know there are many unfounded claims and opportunities for misinformation about the process of our elections, we can assure you we have the utmost confidence in the security and integrity of our elections, and you should too," the statement said. "When you have questions, turn to elections officials as trusted voices as they administer elections."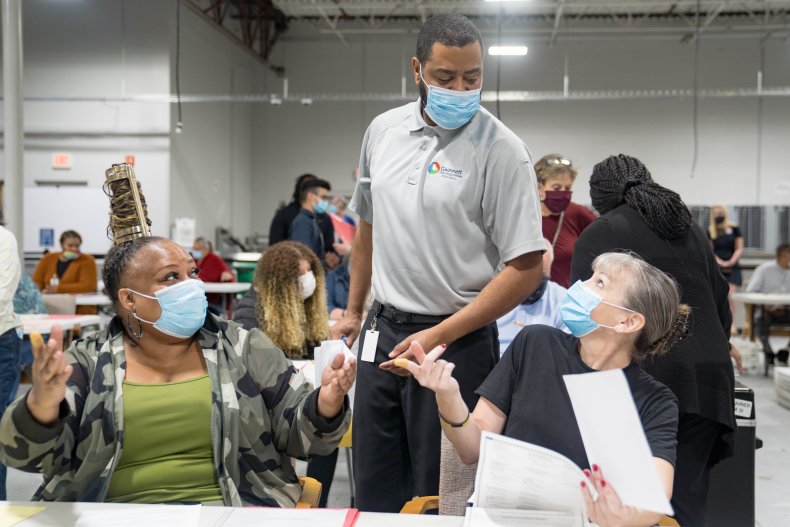 An eroding faith in the electoral process at home also makes things uncomfortable for those in Washington tasked with evaluating the state of elections in the rest of the world.
"From a global perspective, it looks like many cases we've seen around the world where an incumbent tries to hang on to power," Mike Abramowitz, president of the U.S.-government-funded, not-for-profit NGO Freedom House, told Newsweek.
Freedom House assesses the access to political rights and civil liberties in 210 countries and territories across the globe. In its latest annual report issued earlier this year, the U.S. scored an 86 out of 100 for 2019, an eight-point decline over the past decade. The U.S. isn't alone in sliding down the scale, but Trump's reaction is an anomaly among peers who are near on the list.
"What's really unusual about this situation is it's the sitting president, in a very established democracy with very solid electoral procedures, accusing the opposition of rigging an election—in a presidential election where the results are highly credible," Abramowitz said. "He's perfectly entitled to pursue the legal options available to him, but repeated allegations of widespread fraud without evidence, refusal to begin the normal transition process—these are very damaging actions."
Such accusations are being put forth by an administration that has nominally prioritized democratic ideals across the globe, pursuing aggressive measures against countries like China and Iran over allegations of authoritarianism, and has pressured others like Venezuela, Bolivia and Belarus over disputed votes.
But it's the burgeoning issue at home that has experts especially concerned.
"Let's be clear: what is happening right now isn't an 'over there' problem—it's a 'right here' problem," Abramowitz told Newsweek. "This is an American president and an American election, and that's what's so dangerous about it."