International Pressure Can Convince Iran-Backed Houthis to Accept Peace | Opinion
In response to Saudi Arabia's recent ceasefire proposal, the Houthis in Yemen have, unsurprisingly, only increased attacks against civilian targets. The Houthis are inclined to follow the lead of their Iranian puppeteers, who have a habit of mistaking good will and sincere attempts at reconciliation for weakness.
This, frankly, is a fact the international community seems to have missed. After the Houthis were removed from the terror list in February, the group has mistaken that gesture for a green light to continue its crimes, launching an attack on the civilian airport of Abha within days of the delisting.
The international community would be wrong to assume the Houthis only target Saudi Arabia. The group's slogan reads "Death to America, Death to Israel, Curse the Jews." In recent years, it has repeatedly attacked the U.S. Navy, and this month Human Rights Watch deemed the Houthis responsible for burning alive dozens of Ethiopian migrants.
There should be no doubt that delisting the militant group sent the wrong signal to the Houthis and their Iranian backers. The Houthis, after all, are an ideologically driven non-state actor that deliberately targets civilians—meeting all the criteria of a terrorist group, just like ISIS or Hezbollah.
Moreover, the humanitarian justification for the delisting—that it would enable aid to trickle into Yemen—makes little sense. As pointed out by Saudi Arabia's minister of state for foreign affairs, Adel Al-Jubeir, in an interview with Arab News, "the Taliban in Afghanistan are on the terrorism list; it doesn't stop aid from coming to Afghanistan." The same can be said about terror groups in Syria, Lebanon, Somalia, Nigeria and elsewhere. The terror list's inclusion of ISIS, Hezbollah, Boko Haram and others operating in these countries has never stopped aid from reaching any of them.
Rewarding the Houthis and their Iranian backers in spite of escalating aggression looks like appeasement. After all, if the U.S. refuses to delist Iran as a state sponsor of terror, why treat Tehran's proxies any differently?
While the U.S. is right to encourage parties to approach the negotiating table, and any reasonable observer would appreciate greater investment by the international community in resolving the conflict, this approach ought to be pursued through robust and extended consultation with America and Europe's longstanding allies in Saudi Arabia. Indeed, the U.S.-Saudi alliance is one of America's oldest and most durable partnerships—which too many readily forget.
To achieve peace, the international community must understand that outside pressure is vital when negotiating with a radical group, be it Hezbollah, Al-Qaeda or the Houthis. In the absence of pressure and an effective incentive structure, good luck winning over a militant group that recruits child soldiers and celebrates their death on the battlefield.
Unfortunately, international pressure is being applied—only in the wrong direction.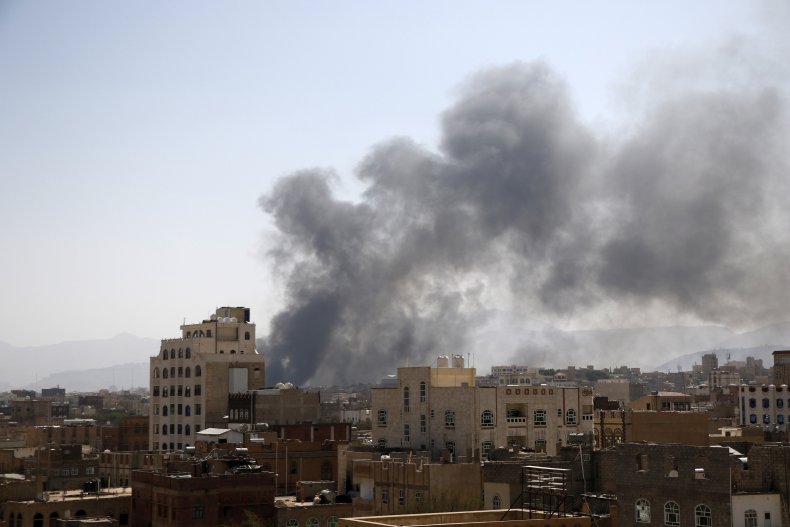 While the global community softens its stance towards the Houthis, the Houthis are increasing their leverage over the global community—by attacking crucial global energy supply infrastructure, including an oil refinery in Riyadh, a fuel depot in Jeddah and against the world's biggest oil-export terminal of Ras Tanoura.
Such targets are no coincidence. They embolden the Houthis' key benefactor: Iran. Tehran hopes to heighten international concern over energy supplies at a precarious moment for the global economy—granting it greater leverage in any future negotiations over its nuclear program.
So how should the international community respond?
First, we need more commitments from global leaders like that of U.K. prime minister Boris Johnson, who said his country would be prepared to send peacekeeping troops to Yemen under a potential peace deal and given appropriate circumstances. This sent an overt message that a major global power is still serious about committing substantial military resources to stabilize Yemen. Certainly, the Iranians and their Houthi proxies noticed.
There must also be a structured, incentivized approach to deescalating the conflict, based not on mere good will (which seldom works with terror groups), but on a stick-and-carrot approach. While Iran's Yemeni proxies have received plenty of carrots from the U.S., there has hardly been any stick—and we know by now that this approach does not work with terror groups. Pressure must be applied in the right areas. For instance, sanctioning Houthi leaders individually is pointless; they don't tend to travel abroad for spring break, nor do they have any assets that can be frozen.
Finally, it's imperative that we see this conflict as part of the larger effort to contain Iran's irredentist ambitions and supremacist ideology. Far more is at risk than just the immediate concerns of neighbors; a state sponsor of terror with nuclear ambitions should keep us all up at night.
Of course, like everyone in Saudi Arabia and the world, I am concerned by the humanitarian cost of the Yemen war—let alone that it is happening in a neighboring territory which has historical, family and religious ties to Saudi Arabia.
Civilians have suffered too long and too much. Like all Saudis, I want the road to peace to remain open; like all Saudis, I believe getting aid to the vulnerable is imperative. But I also want to rest assured that the world will not turn a blind eye to deliberate attacks on innocent men, women and children from my country—or introduce measures that embolden attackers.
The reality is that we can only achieve peace if the international community maintains a consistent and coherent approach. Concerted international pressure on Iran and its proxies will yield positive results.
Faisal Abbas is currently Editor-in-Chief of one of the Middle East's biggest English language publications, Arab News. He is former Managing Editor of the Dubai based Al Arabiya News Channel. Faisal is a renowned columnist on Arab-international affairs and has conducted interviews themed on geopolitics with several world leaders, including Pakistani Prime Minister Imran Khan.
The views expressed in this article are the writer's own.