On International Women's Day, A Plea for Afghan Women's Basic Rights | Opinion
Drought-ridden and war-torn Afghanistan was the story that caught the world's attention: The image of American military aircraft seemingly stuffed beyond capacity by military personnel and civilians alike followed by the horror of Afghans dropping to their deaths as their desperate attempts to cling to the aircraft failed. Even allies called it an escape that will forever tarnish U.S. policy. Yet, a rare moment evolved uniting a deeply divided America on the plight of the Afghan women—in particular, those under Taliban rule.
Months of small lights were shed on the horrific daily situation, typified by stories of women brutally attacked for violating the Taliban's version of Islam, the imprisonment of social activists like Tamana Zaryabi Paryani, who posted on social media that the Taliban had come to her house to take her away and the archaic laws the Taliban re-imposed, dragging educated and uneducated women back to the Dark Ages.
While Ukraine's plight and the Iranian deal have upstaged the story of post-pullout Afghanistan, it remains to be seen whether nations will turn a blind eye to basic violations of human rights as the Taliban maneuvers through international waters in its attempt to gain legitimacy.
The right to education is holding back a nation, almost half of whose population is female. There are huge discrepancies between educating men and women, segregation by sex in classes and the imposition of the wearing of the hijab. From the national government to local provinces, there has been systemic efforts to roll-back the rights of women across Afghanistan.
The Ministry of Women's Affairs was dissolved, and no women are in government. In the north, banning women from public baths removed what was often the only option for taking a warm bath and access to basic hygiene during winter, which is a dire situation among Afghan women, as more than half live in rural areas.
The Media Line (TML) and other journalists have heard countless stories of Afghan women who embodied 21st century progress, whose rights, platform and position in society were suddenly stripped away as Kabul fell to the Taliban.
One of these women who TML interviewed was Asra, a 24-year-old woman from Kabul (whose surname has been withheld due to concerns for her safety). She has been hiding in the shadows of a dystopian Afghanistan. Asra relayed over secure communication lines that she was a defense attorney when the Taliban took over the country, and lost her job and spent the last six months in stress. She said that her main concern was the safety and security of herself and her family because she had assisted many women who were victims of family violence.
After the Taliban came to Kabul, Asra was threatened and her aspirations of obtaining a master's degree and her dreams to help Afghan girls were destroyed.
With a population of over 33 million people, about 49 percent women, there is a huge gap between educated and non-educated women.
At the present time, the Taliban is beginning to open up education by allowing boys to attend school until the twelfth grade, while girls are permitted only to attend primary school.
Prior to the Taliban takeover, the youngest mayor in Afghanistan's Maidan Shar province, located just 25 miles southwest of Kabul, was the bold Zarifa Ghafari. Ghafari works tirelessly for the advancement of women's rights and escaped her home country following three assassination attempts and is now operating from Europe. She blamed "everybody" for the death of her father, Abdul Wasi Ghafari, a colonel in the Afghan National Army, and is tired of war and terror.
Ghafari has led public works projects and a "Green City Clean City" campaign. Although Asra has been threatened under the Taliban's rule, she feels that the world cannot abandon a population of 33 million people "for a few thousand Taliban."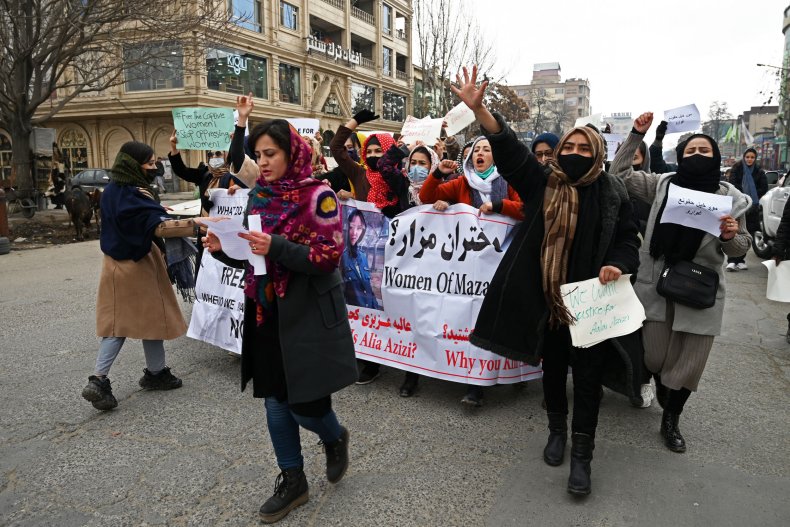 Emotional and in pain, Ghafari told us that although the United States was providing the security forces with salaries, they came to Afghanistan lacking any understanding of the Taliban.
"Please stop the U.S. from giving our assets to those who don't need it," she said. "President Biden signed a legal document directing half [of the $7 billion in frozen Afghan funds] goes to humanitarian aid and half to the victims of 9/11." Asked where the money should have gone, Ghafari said, "To the Afghan national bank to support Afghanistan's national currency."
Both Ghafari and Asra confirmed that the poverty level in Afghanistan has risen to the point that some families are selling their daughters for money. Asra relayed that the situation has become so dire that Afghans have even resorted to selling off their organs in order to support their children and family. "Most [people] sell their kidneys," as there is great need for them "inside the country and in neighboring countries like Iran and Pakistan ... they sell it at very cheap rates [costing from] $1,100 to $3,300," she said.
Each year, the U.N. dedicates a theme for International Women's Day. Asra pointed out that "this year, [while] climate change and sustainability" has been prioritized by the U.N., Afghanistan is no exception to these crises as it has "fallen into one of its worst droughts, but for the women in Afghanistan, their fight is more basic."
Asra continued, "The U.S. policy in Afghanistan cast a black eye in history but should be a time for reflection and a yearning to move the gender bar forward. The women of the world should find their voices and pens [a novel thought] and stand up for the plight of Afghan women who represent the very core of why International Women's Day was established." Asra said that "while most focus on women's rights, we are trying to focus on our primary [basic] rights."
Gender equality in the workplace—be it for a female journalist, teacher, or farmer—isn't sustainable without basic freedoms and rights.
One Central Asian country can unite women from the East and West. Zarifa Ghafari's petition stands for just that.
"If 1 million women would voice their opinion and gab for Afghan sisters in stress, we have put the conversation back on the table for change. It is the collective responsibility of women and men alike to do so, or we won't have a sustainable world," she said.
Felice Friedson is president and CEO of The Media Line news agency and founder of the Press and Policy Student Program, the Mideast Press Club and Women's Empowerment Program.
Ahdeya Ahmed Al-Sayed is a Bahraini journalist and the 2019 Journalist of the Year Award Winner, London Arabia Organisation. She is a past president of the Bahraini Journalist Association.
The views expressed in this article are the writers' own.