The internet is showing their love to an adorable puppy who was awarded guide dog status—even though he was falling asleep during his photoshoot.
A popular account on Twitter called @dog_rates shares adorable videos of pets and gives them ratings. Don't worry, it's all good ratings! The account has over 9 million followers on the social media platform.
"This is Benny. He fell asleep during his guide dog initiation photoshoot. 12/10 we still think he has what it takes," they wrote.
With over 138,000 likes and 11,000 retweets on the post, Twitter users shared their love for Benny.
"I've watched this 20 times in a row and my heart hasn't stopped smiling," one user wrote.
Another commenter was very encouraging to the pup, "It's ok lil' buddy! Hang in there! Those are big shoes to fill but we know you can do it!"
"Benny has so many responsibilities and duties. His little shoulders carry so much, he could barely hold himself up. But he will go on to become the best guide dog he can be, because guide dogs are amazing," a Twitter user replied.
"i'm gonna own up to the fact that this made me cry," another user admitted.
A user exclaimed, "What a good boy!"
"He's been working so hard, he deserves a nap," a Twitter user responded.
Another tweeted, "Demonstrating his puperfect mastery of waiting patiently for his person to need him."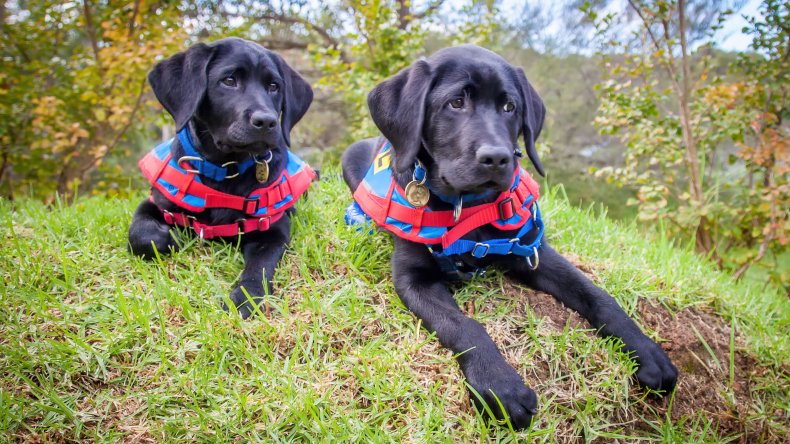 "We have found the best dog of the day. Work hard and nap heavy," said another Twitter user.
"OMG OMG, MY HEART IS MELTEDDDDDD," a user shared their feelings.
One Twitter user exclaimed, "Cutest. Thing. EVER!"
"And Benny will be the BESTEST GUIDE DOGGIE THERE EVER WAS," a user confirmed.
So what does it take for a dog to get a guide dog certification? Trainers look for a few qualities in a potential guide dog, including a good memory; health, intelligence and willingness to learn; ability to concentrate for long periods of time and if the pup can pay attention to touch and sound, per howstuffworks.com.
There are five stages in training a dog: foundations, basic, intermediate, advanced and class, per leaderdog.org.
Foundations: This is the first stage as the instructor gets to know their dog. The instructor teaches simple commands like sit, down and stay. They use treats in order to reinforce their demands. Here is where they are introduced to their guide harness.
Basic: Instructors train the dogs to stop at curbs, walk in a straight line, make turns and stop for cars ahead. They take the dogs to neighborhoods and a slightly busy area in town. They are also given a health check and blindfold the dog for an exam.
Intermediate: At this point, the dogs have had the right training for bigger areas like large urban areas and country travel. They learn about overhead obstacles and the responsibilities of traffic, like walking on the left side of the road when there is no sidewalk.
Advanced: This is known as the most "difficult" part of the training. Dogs are to learn what to do in complicated situations like many obstacles at once. They are also given another health exam and a blindfold test. They will also be partnered up with their "forever person."
Class: This stage is where the instructor pretends they're the guide dog with the client in order to teach them the specific phrases and commands that they will use with their dog. After that, the dogs are issued to their new owners and spend weeks practicing.
What are the skills that a guide dog can do? According to guidedogs.com, they can help a person get from one place to another, stopping in front of elevated paths like curbs and stairs, avoiding obstacles that are in the way and stopping for things that could hurt the person including tree limbs. Guide dogs cannot read signs, however, or find a new way to get somewhere.