Internet Applauds 11-Year-Old Girl's Idea for Mom's Out-of-Office Message
An 11-year-old girl has earned praise after coming up with what many think is the perfect solution for dealing with her mom's work emails sent while on vacation.
Switching off from work while on vacation can be difficult. In fact, for many in senior positions it's almost impossible, with a study published by the Harvard Business Review reporting that just 14 percent of managers and 7 percent of those in senior leadership roles unplug on vacation. Instead, the majority admit to checking in with work at least once a day.
Yet rest and relaxation is not just an important part of maintaining a healthy work/life it's also a key component of a healthy lifestyle in general with the World Health Organization (WHO) and International Labor Organization (ILO) estimating around 745,000 people die every year as a result of work-related stress from overwork.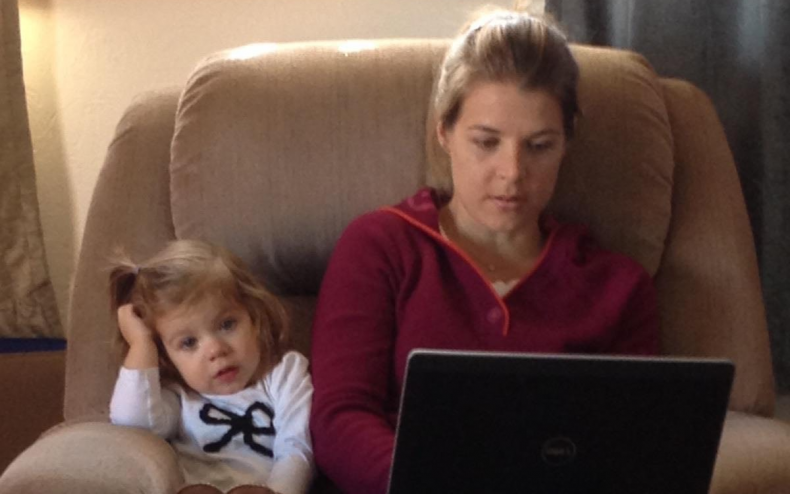 Vacation should be a time for family and making memories to cherish for a lifetime. Maybe that's why the 11-year-old daughter of Professor Kristen Bottema-Beutel decided to take action.
Bottema-Beutel's daughter has spent much of her life watching her mom working, with the academic even sharing a picture with Newsweek of her on vacation with her daughter 10 years ago, busily typing away on a laptop.
Bottema-Beutel told Newsweek she often struggles to leave work at work. "It usually takes me a few days to totally shut myself off from work," she said. "I am definitely guilty of thinking that some things are 'urgent' and need me to reply before I get back (even if they're probably not)."
This time around, however, the youngster was determined to do things differently. According to Bottema-Beutel, she was telling her daughter about "the amount of work it took to actually be able to go on vacation" and the fact she would need to set an out-of-office message when the 11-year-old suggested she help.
Her idea was so amusing to her mom, she decided to tweet it out to her 3,145 followers on Twitter. "I asked my 11 yo to help me write my vacation away message, and she suggested "I AM ON VACATION SO YOUR EMAIL WILL BE DELETED"' she wrote. The tweet quickly caught fire, earning over 282,000 likes and close to 18,000 retweets.
For many, the young girl's suggestion was an inspired one. One user called it "an exceptionally good idea and an option email providers should provide." Another said: "I've legit used this, with an auto-delete rule...coming back to an empty inbox is like a second holiday." A third agreed with the sentiment, adding: "If it's important enough, they'll email me again."
Elsewhere, another Twitter follower called the suggestion "so wholesome" and something they will definitely do in the future. "The worst feeling is coming back from leave to 1000's of emails you need to clear and catch up on work."
Bottema-Beutel and her daughter have been blown away by the reaction, with the academic putting it down to the fact her experience is an all-too-relatable one for millions out there.
"For people who do a lot of their work over email, vacations can be tough because if you don't answer your emails over a break, they're all there waiting for you when you get back," Bottema-Beutel said.
"I think a lot of people have the experience that truly taking time off isn't easy with the way online work is structured. The specter of accumulating emails is one example of that."
She added that her daughter was "pretty surprised" to see her idea go viral.
"She honestly thought it was a little strange that it got so much attention, she thought she was suggesting something that was a pretty obvious solution," she said. "All of the responses were really positive, and she felt pretty good about that."