Internet Applauds Bride Kicking Maid of Honor and Her Mom Out of Wedding
A bride has been praised online after she revealed how she kicked the maid of honor and her mom out of the wedding.
Reddit user u/Nice_Geologist_7238 shared the story on the popular r/AmITheA**hole forum where it has received thousands of upvotes and hundreds of comments.
The poster explained: "I recently got married. It was a big wedding and it was amazing. My best friend L was my maid of honor and she helped me with all of my wedding plans. She helped me make my wedding what it was and I was extremely grateful."
The bride had allowed her bridesmaids to pick their own dresses, just giving them a color scheme to match. But issues arose when the bride's 14-year-old niece came to the wedding in the same dress as L.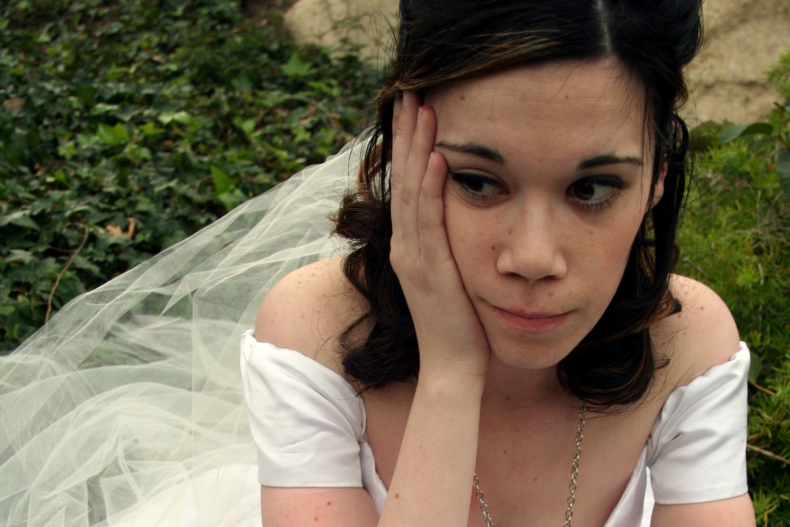 "I noticed and found it funny as they both had the same hair color and my niece looked like a mini L. The dress didn't look much like a bridesmaid dress and it looked amazing on both of them," she wrote.
But before long, L had pulled her friend aside and began ranting about the "bratty" teen niece wearing the same dress.
The bride tried to brush it off, but L was saying that the teenager needed to change her dress. "I asked why and she said that she looks better in it and her wearing it is going to take away from her shine," wrote the Redditor. "I told her that it shouldn't be about her shine, it's my wedding and if she's wearing that dress then I'm not gonna be the one to make her change."
Before long though, L's mom had arrived and started screaming at the bride, telling her she was "ruining her baby's day." In shock, the bride pointed out that it was not her friend's day, it was hers, and if she carried on they would be removed from the wedding.
"Not even minutes later my niece came to me crying because L's mother spilled red wine on her dress," said the bride. "I tried my best to get it off but it was no use and I had a couple of dresses in my car for if any bridesmaids had an issue with theirs and luckily one fit nicely. She thanked me and went back to the party."
Furious, the bride found L's mother and pulled her aside to yell at her. "She told me that she didn't want to [spill the wine], but L told her to," explained the bride. "I said I didn't believe her and told her to leave my wedding straight away."
The upset bride then turned her attention to her maid of honor, asking her if she did ask her mom to spill the wine. "She told me that she did because she knew I had spare dresses in the car so it wouldn't matter," she wrote. "I told her to leave and told her I need some time away from her. She refused and I ended up having to practically push her out of the venue."
Wedding planning site Zola surveyed over 500 couples in 2018 to ask what the worst thing a guest could do at their wedding was.
A quarter of respondents said that a guest making a major announcement like an engagement or a pregnancy at their wedding would be the biggest faux pas, while 19 percent said that getting too drunk was the worst thing a guest could do.
Some 13 percent of couples said they'd hate it if a guest gave an embarrassing toast and 6 percent listed wearing white as a big no.
Since the wedding, the bride's friend and her mother have been sending horrible text messages and so she took to the internet to ask if she was in the wrong.
Redditors were furious at the story and rushed to the comments to side with the bride. One commenter said: "She sounds so conceited it hurts. It's your day and as Maid of Honor, she should be doing everything she can to make sure your day runs smoothly, not be the one to cause you problems. Sounds like a bad friend."
"She bullied a child and added stress and bad memories to your wedding day. You don't have to forgive her," said another reply.
"Your friend is a walking red flag," said another reply. "If I were you I would kick her and her mom not only out of the wedding but out of my life too."
In a later update, the bride explained how hurt she was about the way her friend acted at her wedding and wrote: "I'm a complete wreck as I've known L since I was two and because my mother died when I was young her mom was my only mother figure and now they're both gone from my life completely."
Newsweek has reached out to u/Nice_Geologist_7238 for comment.
Has a wedding come between your relationship with a loved one? Let us know via life@newsweek.com. We can ask experts for advice, and your story could be featured on Newsweek.