Internet Backed Nurse Who Received 'Insulting' Gift From Employer
Thousands of commenters came to the defense of one nurse who shared a photo of a lackluster gift they received from their employer in a popular internet forum.
In a viral Reddit post published on r/antiwork, Redditor u/Personal-Pound-2260 posted a photo of the gift, which consisted of an assortment of items tucked into a small plastic bag. Titled, "Feeling the #appreciation my employer is showing to our dwindling, overworked nursing staff," the viral post has received nearly 16,000 votes and 1,900 comments.
Included within the photographed plastic bag are seven items, as well as a scrap of paper boasting a handful of quasi-inspirational messages.
Describing each of the items, the messages read: "A penny - so you'll never be broke. [A]rubber band - to stretch beyond your limit. Snickers - because laughter is the best medicine. String - to hold things together when everything falls apart. Confetti - when you feel like throwing something. Hugs & kisses - to remind you that you're loved. Tea - life is like a cup of tea, it's all in how you make it."
Despite the presumably-positive intentions behind the small gift bag, commenters responding to the viral Reddit post were appalled by the notion that the gesture was meant to appease a shorthanded nursing staff.
"Jesus," Redditor u/Right-Contestant5264 commented. "How insulting."
Although the Bureau of Labor Statistics projects a 9 percent growth in employment rates for registered nurses by 2030, the United States is in the midst of a massive nursing shortage.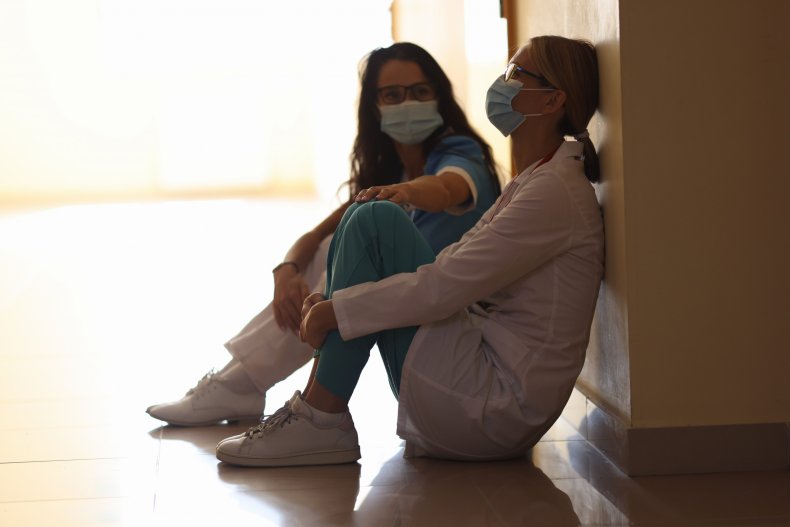 With 194,500 projected openings for registered nurses each year from now until the end of the decade, more than 1,000,000 new nurses would be required to meet the healthcare needs of aging Americans. And since the onset of COVID-19 in March 2020, the need for registered nurses has only intensified.
However, as the average age for registered nurses across the country continues to increase, a rapidly-growing number of nurses have left the workforce, via retirement or transition into another field.
For registered nurses who have remained in hospitals and other medical facilities throughout the pandemic, long hours and improper protection measures have created potential safety hazards, as well as many burned-out nurses.
Last December, a poll conducted by National Nurses United revealed that 83 percent of nurses nationwide reported that half of their shifts were understaffed. The poll also revealed that 68 percent of surveyed nurses have considered leaving their jobs in the last year.
Responding to the viral Reddit post by u/Personal-Pound-2260, many commenters said that halfhearted attempts at rewarding registered nurses for their work, instead of increased wages, are a major reason so many have thought about leaving the profession altogether.
In one of the post's top comments, which has received more than 2,100 votes, Redditor u/Equivalent_Health913 lamented over the various tokens of appreciation they received while working in childcare.
"I got these bullsh*t gifts working in daycare all the time," they wrote. "You know what I didn't get? More money."
"Literally take out the penny and call it a goodie bag," another commenter added. "Treats are nice but god damn, when they frame it as workplace appreciation packages it's just condescending."
Amid numerous comments referring to the gift shown in the viral post as "trash," one Redditor said this type of offering is fitting as a joke around the holidays, but does not show any actual appreciation for struggling medical professionals.
"This is more like some sort of gag gift for a holiday party, but organizational managers are just tone deaf enough to pull crap like this," they commented.
Newsweek reached out to National Nurses United for comment.