Internet Backs Chipotle Employees After Man Posts Video Blasting Working Conditions
One man's warning to restaurant-goers took a quick turn.
An eight-second video posted by TikToker @Jayothebarber on Dec. 21 included a message: "Please stop going to Port Saint Lucie West Chipotle! These people are disgusting!"
He said that the southern Florida-based Chipotle location "will one day" cause food poisoning.
The video consists of a zoomed-in shot of an employee cutting an unspecified type of meat, including remnants of cheese and corn on the stainless steel countertop.
Although the video has amassed over 3.1 views and over 126,000 "likes," the majority of more than 5,000 comments were overwhelmingly against the TikToker.
The top comment, "liked" by nearly 40,000 other users, referenced the employees and said, "They're obviously understaffed and overworked. If u got a problem fill out an application."
Another user encouraged the original poster to "clock in and help clean" if he believes it's "so easy to clean during a rush."
Other users said the video was just another reminder that everyone should work at a restaurant at least once in their lives, with many people saying that food strewn about is often the norm during periods of heavy traffic.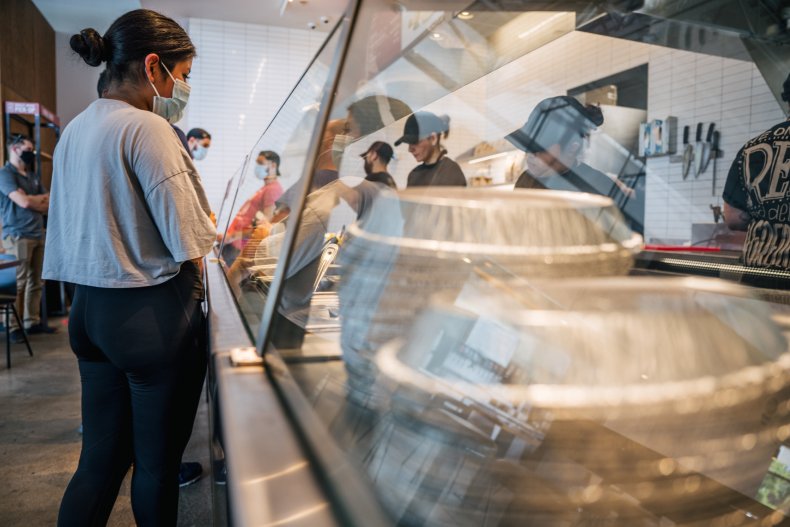 "People who never worked in the food industry would never understand," another person said. "You always have an option to go somewhere else as a consumer right?"
One user sarcastically mentioned how food was spilled on an antibacterial stainless surface, while another said, "Oh no, there's food at a restaurant."
"Everyone whos ever worked in any type of restaurant sees nothing wrong," one user said. "Theyll clean up after their rush."
Chipotle's website states that every location's kitchen includes a 3-foot-by-2-foot poster with seven safety reminders for employees. They are: work healthy; work clean; keep produce safe; reheat and cook food to correct temperatures; hold hot and cold foods at specified temperatures; maintain sanitary conditions; and call for help when needed.
The company's food safety is supported by suppliers, farmer support and training, advanced technology, food safety certifications, restaurant inspections, and enhanced restaurant procedures.
The COVID-19 pandemic spurred additional safety precautions for employees, the company stated, including required face masks and handwashing every 30 minutes. Daily wellness checks for symptoms, along with cooking food in small batches, are part of the protocols.
When asked if he still ordered food at the location, the individual who took and posted the video said he did and then immediately left.