Internet Backs Couple Not Taking 18-Month-Old Daughter on Vacation: 'Enjoy'
The internet has urged a mom to go on vacation without her 18-month-old daughter despite her concerns.
In a Mumsnet post with more than 140 responses, the parent who uses the handle MumChats explained that she and her husband had a trip booked without their young daughter to celebrate his birthday.
In 2018, a YouGov survey asked 6,839 U.S. adults if they would consider taking a vacation without their children and 54 percent said that parents of young children should take vacations without their kids, although many said that this should only be for special occasions. Some 23 percent agreed that separate vacations on a regular basis were fair and 12 percent said that parents of young children should never go away without them.
Respondents aged 18 to 24 were slightly more likely than those in older age groups to say that parents should never travel without their kids, despite this age group being the least likely to have children themselves.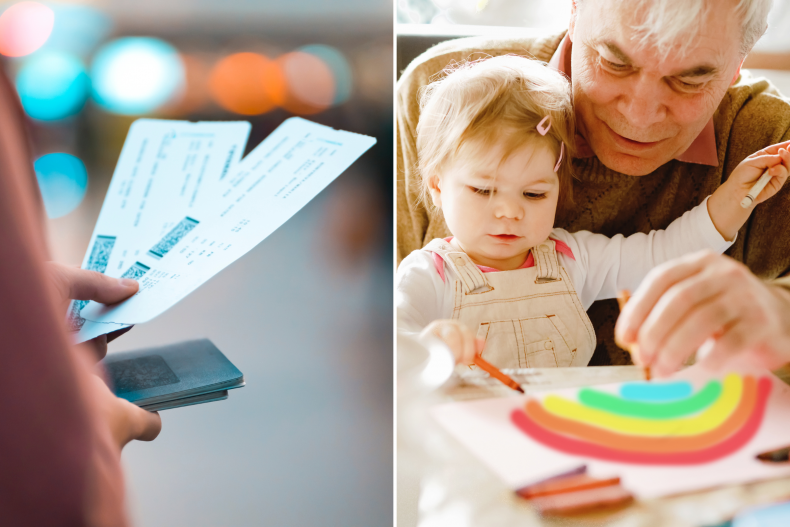 But as the time of the trip approached, the mom was uncertain about their decision. She wrote: "I am feeling really bad about leaving our daughter. [My] in-laws are great and she knows and likes them. However, we have left her twice recently where it hasn't gone so well and it's niggling me about leaving her again."
She explained how the couple had recently left their daughter with her grandparents for nine hours and although she was well when they left, became ill and had to go to the emergency room. She also recalled a second time when they left her overnight and despite having a great time, the grandparents reported that she had seemed out of sorts, crying at bedtime.
"Because of those two things, particularly the second where she wasn't herself, I'm worried that leaving her for two nights is the wrong thing to do," said the mom.
She continued to explain that she had even considered taking her daughter on the trip. "She's only 18 months I assume I could ring the airline and get her added to my seat," she said. "The problem is it's not a toddler-friendly trip. Quite a lot of travel, one full day in the country and then traveling home again."
Concerned about the trip, she asked Mumsnet users if she was being "selfish" to leave her daughter, or if it would be more selfish to take her on a trip she would not enjoy when she could be with her grandparents.
"Cancelling isn't an option," she clarified. "It was a lot of money and was meant to be a big exciting treat for my husband. He isn't worried about leaving her but does agree she was a bit upset last time we collected her."
After sharing her concerns and explaining the context, Mumsnet users headed to the comments to share their thoughts and reactions with the mom—with the majority telling her they must go on their planned vacation.
"Go without her," said one comment. "Honestly she will be with people who love and care about her."
"I would go! Enjoy!" said another reply.
Another Mumsnet user wrote: "Of course it's ok to leave a toddler for two nights with grandparents. She won't even remember."
"Go! She has a great relationship with her grandparents it seems," said another. "She may have been upset to be leaving Grandmaland rather than crying because she hadn't coped."
Despite the voices of comfort, some Mumsnet users did feel that leaving the 18-month-old was unreasonable.
"Yes, I think it would be selfish to leave her," said one comment. While another user wrote: "Motherhood is not about pandering to your own selfish wants."
But others were unimpressed with those suggesting the vacation was selfish, as one commenter wrote: "Becoming a parent does not require you to be attached to your child 24 hours a day and failing to provide your child with experiences away from home." While a grandmother on the forum said: "I had all of my grandchildren for overnights and several days many times almost from birth. All of them survived it and were and are absolutely fine."
Newsweek was not able to verify the details of the case.
If you have a similar family dilemma, let us know via life@newsweek.com. We can ask experts for advice, and your story could be featured on Newsweek.