A viral video of an Ottawa resident slamming trucker protesters is being praised by TikTok users for "saying what we all feel."
A video posted to the social media platform shows a man in a blue jacket telling the protester, who is filming, that they're in the wrong city if they want to protest mask and vaccine mandates implemented by the province of Ontario.
The clip captures the frustrations of many Ottawa residents, who have reported an upsetting and dangerous state in the city over the last ten days that demonstrators have set up camp in the downtown core.
"You f--king idiot! The mandates are provincial! Not federal!" the unidentified man is heard screaming. "The mandates—If you're mad about wearing a mask or getting a f--king vaccine, go talk to [Premier] Doug Ford! The f--king prime minister has nothing to do with this!"
"Do you know anything about civics?!" he yells at the protester.
Thousands of people descended onto Ottawa's Parliament Hill on January 29, demanding that all COVID restrictions in the country be lifted.
While the "Freedom Convoy" was initially prompted by the federal government's vaccine mandate for cross-border truck drivers, the ongoing demonstrations have spurred into a larger battle about mask and vaccine mandates required at all indoor, public spaces.
However, those requirements are dictated on a provincial level.
In Ontario, where Ottawa is located, those directives are set by Ford's provincial administration, which is headquartered in Toronto—280 miles away from the protests.
On Tik Tok, more than 4,500 users liked a comment reading, "I'm with him 100%! He's completely right," while another 1,000 liked one that said, "Get this man a medal. This is what we all feel."
Another user who wrote, "I am trucker and I am vaccinated and going to work every day," garnered another 2,600 likes.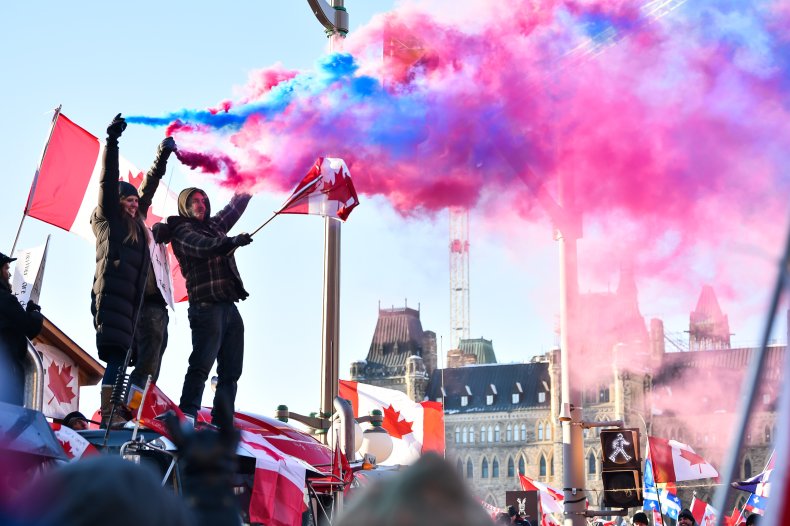 The ongoing protests have taken a toll on the city, which went into a state of emergency on Sunday.
Residents and businesses in Ottawa's downtown core have reported a difficult week as protesters remained in the city after the initial rally.
The gridlock created by the influx of trucks and vehicles has blocked many businesses from receiving supplies and caused a number to temporarily shut down.
People living in the city have also reported that protesters are excessively honking their vehicle's horns, setting off fireworks and playing loud music at all hours.
An Ontario court is scheduled to hear arguments on Monday in a proposed multi-million-dollar class-action lawsuit filed by Ottawa residents who want an end to the honking.
Over the weekend, Ottawa police issued more than 550 tickets, including those for noise violations.