Internet Backs Teen Whose Dad Wants to Skip Graduation for 13-Year-Old Stepbrother's
One Redditor took to "Am I the A**hole" after she learned that her father is considering skipping her high school graduation to attend her stepbrother's elementary school graduation.
In her viral post, which has garnered 17,000 votes and more than 1,500 comments, AITA_graduation00 explained that her parents divorced when she was eight years old. Her father remarried when she was 12, and she noticed that her father seemed to "prefer" her stepbrother.
"They did more things together and started to ditch me to go to his games, his plays, his tournaments," she wrote. "For every 10 things I invited him, he only attended 1 maybe 2."
An article published with Verywell Family noted it can be difficult to bring two families together and there are several challenges that face them. One challenge that the piece noted was how parents can balance attention toward the children.
It suggested creating a set schedule with activities for all the kids in the family.
"Additionally, both adults should attend each child's activities, such as sporting games, plays, or concerts, so it doesn't feel like any child is being favored over another," the piece reads.
AITA_graduation00 wrote that her stepmother said the Redditor's father and stepbrother were close and her father was willing to "share his love."
However, the Redditor claimed that in her final year of high school, many of her achievements were missed by her father. She wrote that her graduation ceremony fell on the same day as her stepbrother's graduation, and her father told her that "he would see if he could make it."
Frustrated, AITA_graduation told her father that if he chose to attend her stepbrother's graduation ceremony instead of attending her high school graduation, "he better forget about me."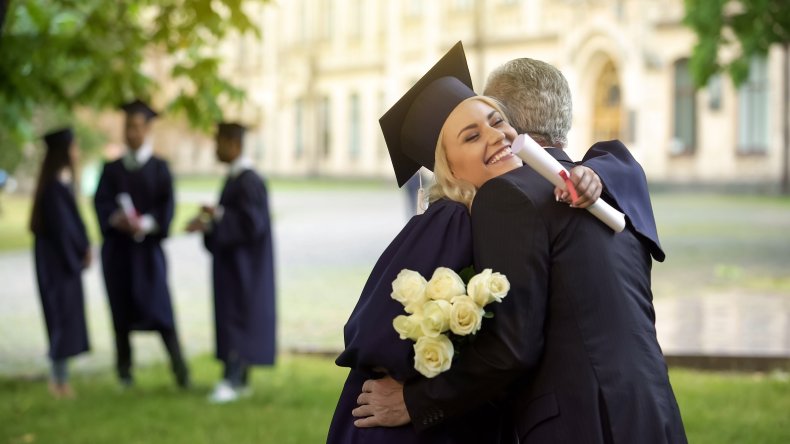 "My dad looked shocked so I said that he could be there for once or he can miss forever and left," she wrote.
After some time, she wrote that she felt guilty.
"I love my dad to pieces I just want him there for me too and I surely don't want to hurt a little kid," AITA_graduation. "I was wondering if I was an AH for acting how I did because he's paying for half of my college fund and I gave him an ultimatum, plus my dad is not prone to confrontation while my mother and I are."
Although the Redditor felt guilty, many commenters supported her but had different pieces of advice to offer.
"This is your high school graduation? And he's considering missing it for your [stepbrother's] elementary school graduation? That's messed up," one of the top comments read.
One wrote that while AITA_graduation00 had a right to be frustrated with her father, she should think about her future and remember that he is paying for half of her college tuition.
"I'm not saying forgive him," the comment read. "I'm just saying bide your time. Ride that gravy train to low or not college debt; maybe even see if you can get some grad school funds before SB graduates and they need to direct money to his schooling. THEN peace out."
The Redditor continued and wrote that AITA_graduation00's father will not change.
Another commenter disagreed and wrote that her father's money should not influence her decision of whether he remains in her life.
"Don't try to unhappily stick things out until you're 'more comfortable' because it's an indefinite amount of time and the resentment will not slow," the commenter wrote. "If you're feeling this way about your dad and you genuinely think cutting him out of your life will improve your own wellbeing, do so now."
They wrote that AITA_graduation00 should speak with her father that it was hurtful that he may miss her graduation and it will have a major effect on their relationship.
A comment in the forum echoed the sentiment and noted that while the ultimatum was intense, they didn't blame the Redditor for it.
"If you feel you need to clear the air with your dad, I would suggest speaking to him in a place free of your stepmom and being ready to lay all of this on the table for him to see," they wrote. "He must have had the impression that his absence hasn't been bothering you, but I think it's time he woke up."