Internet Backs Wife for 'Clinging' to Husband at Party in Viral Post
A woman received the support of her fellow Redditors after she said she attended a party with her husband and, despite being expected to leave while he discussed business with colleagues, stuck by his side most of the night.
In her Reddit post on the "Am I the A**hole" forum, which received more than 10,000 votes, aitaclingywife explained she and her husband were invited to a party she did not want to attend. She said during these parties, there comes a time that certain people are asked to leave the room for business colleagues to discuss work.
"I hate it because when my husband is around everyone is perfectly nice but the second I'm alone some people can be extremely catty," she wrote.
Although she did not want to attend the party, aitaclingywife wrote that her husband promised her that he would not leave her side.
Susan Orenstein, Ph.D., a licensed psychologist and relationship expert, told PsychCentral that she's met with clients who have difficulties when they attend parties together because one person may feel neglected or abandoned by the other.
She said couples can take care of one another at parties by agreeing on a time to leave, being attentive to each other and creating signals that indicate you need to be "rescued" from a situation or if someone wants to leave.
When the time came for certain people at the party to leave, aitaclingywife said her husband kept his arm around her waist. Though she said it became "awkward" when colleagues wanted to speak with her husband privately, she wrote he carried on like nothing was out of the ordinary.
"It happened a few times during the night but he kept his promise and stayed near me the entire time," she wrote. "This one man, Frank, was getting visibly frustrated that I wasn't disappearing and he kept trying to tell my husband he wanted to speak to him privately but my husband was acting like he didn't get the hint."
During a break in the restroom, aitaclingywife was confronted by Frank's wife who criticized her for "clinging" to her husband throughout the night and not allowing any time for Frank or her husband to speak privately. She continued and said Frank's wife asked that the two men have 30 minutes alone, but aitaclingywife went back to her husband.
"Frank and his wife were giving me dirty looks for the rest of the evening and the next morning my sister-in-law told me Frank's wife was complaining about me to people for how I behaved," aitaclingywife wrote.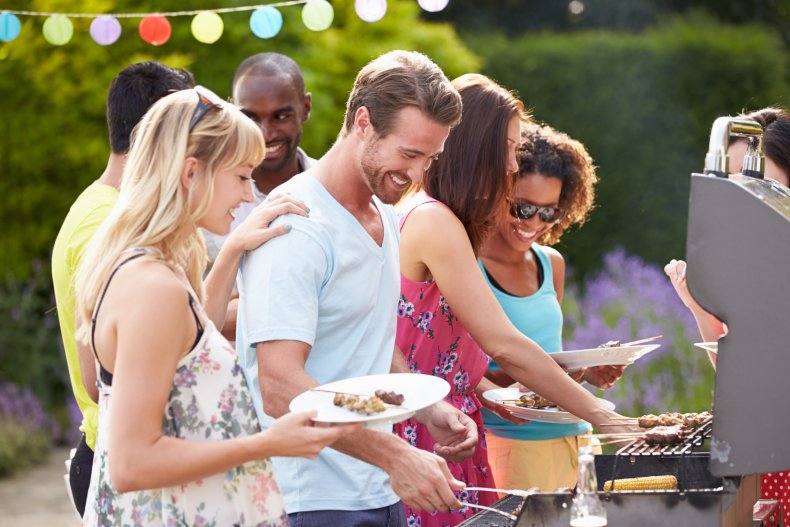 Although the Redditor said she may have been able to give her husband some time to chat with colleagues, most commenters said she wasn't wrong for not leaving. Many even speculated on the type of party they attended and said it was odd for certain people to have to leave when others started discussing business.
"Frank and his wife need to get over themselves," one comment with more than 18,000 votes read. "If Frank wants to talk business and it's that important he can have it over coffee, a phone call, an email, the list goes on."
Another Redditor wrote that Frank should have accepted that aitaclingywife's husband would not speak with him privately, and others said it was inappropriate to have work-related discussions with significant others present.
"[Frank] has a party and then randomly tells people to leave so he can have private talks," a comment read. "Either have a party or a meeting, but not both. Anything work related [sic] can wait for work."