A woman asked her brother to uninvite her future ex-husband from his wedding, but that request caused a bit of a rift between the two siblings.
Taking to Reddit's "Am I The A**hole forum, u/Hopeful-Cry-7158 wrote in her post, which received more than 10,000 interactions, that she recently learned her husband was cheating on her for four months. The Redditor wrote that she and her husband were in the same friend group, and those friends covered up and encouraged his infidelity. She immediately filed for divorce.
"I came clean to my family about it [a] few days after I found out," she wrote. "They were all shocked and angry."
Redditor u/Hopeful-Cry-7158 noted that her brother was close to her husband and was upset by the news. During a conversation about his wedding, he asked her if she would be comfortable sitting next to her soon-to-be ex-husband and their friend group.
"I looked at him in disbelief and told him he shouldn't even be asking that question," she wrote. "I'm also upset that he's inviting them after all, especially my friends since they're not his friends at all and he just knows them by association."
The Redditor wrote that her brother claimed it would be rude to uninvite them with just one month left before the wedding, though he said he understood why she would feel "uncomfortable."
"I reminded him how my husband cheated on me and I got lied on by all my friends who were enabling him," u/Hopeful-Cry-7158 wrote. "He says he's aware but I should not insist on him uninviting them because it's his wedding and he makes the rules."
Couples may run into issues when organizing their wedding guest list. A post published to marthastewart.com outlined etiquette when putting a guest list together. Specifically, the article stated that if someone in the wedding party gets a divorce, there is not necessarily a gracious way to withdraw an invite.
There may be a chance that the ex will not attend the wedding, but if they do go, the piece encouraged the couple to seat the splitting couple as far apart from one another as possible.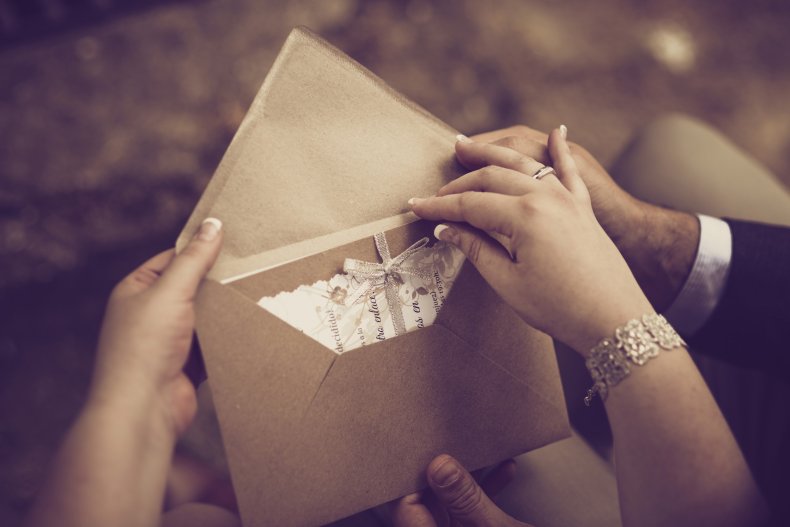 Commenters, however, wrote her brother should uninvite her future ex.
"I would make this my hill to die on," u/MrsJonesy2012's comment with more than 15,000 votes read. "'Brother [it's] fine if you want to invite them, but I will no longer be attending. I value my mental health, and do not want to spend time with them. I hope you have a lovely wedding.'"
Fellow commenters echoed the advice and were shocked that u/Hopeful-Cry-7158's brother would allow her ex-husband and former friends at the celebration.
Commenter u/sun_flower_shine encouraged her to not attend the wedding at all.
"His refusal to take back the invitation to them shows that he approves of their actions," they wrote. "It is his day but that does not mean he gets to make you miserable because of it."
Another wrote that u/Hopeful-Cry-7158's brother cannot be neutral to avoid conflict.
"You are doing so over your sister's body. You are doing so at the cost of her mental health," u/Atty_Aveline's comment directed toward the Redditor's brother read.