Internet Backs Woman Who Doesn't Want to Live With Partner in House She Doesn't Co-Own
A woman is at a crossroads with her partner over their living situation, as detailed in her post published to Reddit's "Am I the A**hole" channel.
In her post, which has so far received more than 10,000 votes, u/Fearless_File_8971 wrote that she and her partner "Ben" agreed to keep their finances separate when they started dating nearly a year and a half ago.
Ben currently owns a five-bedroom house that his friends live in and pay him rent. To calculate the monthly rent payment, u/Fearless_File_8971 wrote that Ben divided the mortgage by the number of people living in the house.
However, she noted that he has a high mortgage payment because it is a 15-year mortgage, his credit score is poor and he paid a small down payment.
"This also doesn't give Ben any money to maintain the house," u/Fearless_File_8971 wrote. "He uses credit cards and payday loans for urgent house repairs."
The poster wrote that Ben told her she should focus on paying her debts off, rather than contributing to a 401K and her checking, savings and an investment account.
"Ben has suggested I drain these accounts and use the money for debt repayment," u/Fearless_File_8971 wrote. "He thinks I need to be more like him; at the end of the month all of his extra money goes towards debt."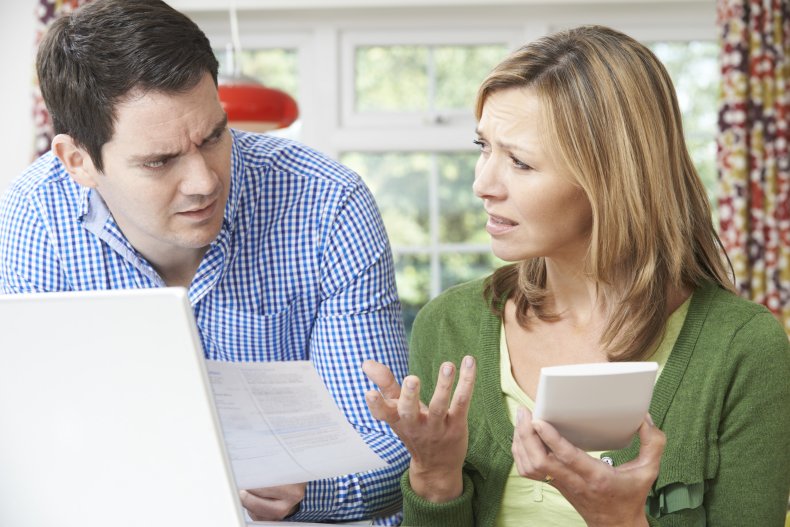 She explained that her credit score is strong and her debt to income ratio is low.
When the couple had a conversation about living together, they discovered they were on two different pages.
u/Fearless_File_8971 wrote she wanted to keep her apartment rather than move in with him.
"He argues the money I spend on rent is money we could be saving," she wrote. "I wouldn't be saving money and I'd need to buy a car. The house is expensive for reasons I wouldn't benefit from and it's big."
She said she did not want to live with someone unless there was an opportunity for equal contribution through rent, or if she was the co-owner of a house.
u/Fearless_File_8971 explained she would be uncomfortable with Ben being the sole owner of the house they live in because he would control what changes and upgrades are made.
Ben told her that renting would be a waste of money and they could not own a house together because they would need to combine finances to make it possible. When u/Fearless_File_8971 told him that she could own a house and he can move in, he told her it was "ridiculous" because they were unsure when she would be able to buy a house.
"He said I have no valid reason for refusing to live in a house just because he owns it and this would force him to either go back to renting or combine finances with me," she wrote.
Although u/Fearless_File_8971 wrote that she felt guilty because she may have changed her mind about combining finances with a significant other, many commenters assured her she was not wrong for how she felt.
"He's just told you that you two are incompatible financially," u/thirdtryisthecharm commented. "It's time to seriously consider the longevity of this relationship."
Some suggested that Ben may have hoped that if u/Fearless_File_8971 moved into his house, some of his financial strain may ease, despite having "separate finances."
"I'm guessing he's looking at OP's emergency fund as just a lump of $$$ that he could spend," u/_higglety commented.
Echoing the sentiment, u/Few-Cable5130 wrote, "Honestly [it] sounds like he's drowning with his oversized mortgage and sees you as a way to pay his OWN debt down."
A piece published by Experian acknowledged the difficulties a relationship may face due to financial incompatibility.
One person in the relationship may be extremely frugal, while the other person finds it difficult to live on their budget. On the other hand, one may have extreme spending habits that make it difficult to pay bills.
The article encourages couples to create and stick to a realistic budget both people agree to. They should also have clear goals of their finances together and set ground rules for their budget.
To make it all work, the couple should maintain open communication with one another and check in on spending and saving.
Newsweek reached out to u/Fearless_File_8971 for comment.