Internet Can't Cope With 'Unit' of Dachshund's Impressive Abs
A viral video that shows a sausage dog's supposedly impressive abs has earned plaudits online.
Dogs are well known for being active and willing to put their physicality to the test, and this particular sausage dog appears to have gone all out on his fitness.
TikTok user nicolagbsnn shared a video of Maximus as he balanced on her stomach. The video starts with Maximus lying on his back on a bed, seemingly without a single care in the world.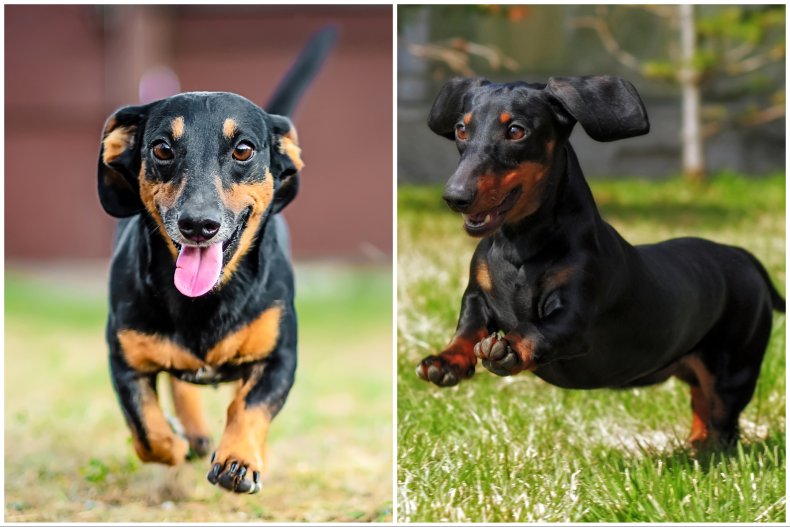 But seconds later, the clip cuts to Maximus standing on his hind legs while showing off his lean physique.
The post was captioned: "Maximus's ab workout dropping soon."
Another caption on the video stated: "The internet when I posted my 'unit' of a dog balancing on my tummy."
The American Kennel Club (AKC) said Dachshunds are known for their iconic looks describing the breed as having an "unmistakeable long-backed body" with little legs and a "big personality."
It added: "Dachshunds aren't built for distance running, leaping, or strenuous swimming, but otherwise these tireless hounds are game for anything.
"Smart and vigilant, with a big-dog bark, they make fine watchdogs. Bred to be an independent hunter of dangerous prey, they can be brave to the point of rashness, and a bit stubborn, but their endearing nature and unique look has won millions of hearts the world over."
The AKC also found that Dachshunds were very popular among Americans and were the 10th favorite dog breed in 2021.
Labradors, French bulldogs, and golden retrievers were among the most popular breeds that year, according to the AKC.
Since being shared on February 21, the post has attracted more than 95,000 views online and another clip that also included Maximus' pose was seen some 125,400 times.
The overwhelming majority of people who commented on the video praised Maximus' physique, with others stating that they wanted to have the pooch as a companion.
TikTok user Spring said: "Mine always sits up like this I always tell her she's sitting pretty."
Joseph Piece added: "That's the cutest chonk I've ever seen."
Billi Shears commented: "What balance - sausage dog abs."
Meanwhile Gary McCarthy simply said: "What a handsome long boy."
Newsweek has contacted nicolagbsnn for comment via TikTok.
Do you have funny and adorable videos or pictures of your pet you want to share? Send them to life@newsweek.com with some details about your best friend and they could appear in our Pet of the Week lineup.