Internet Drags Boss Who Wants Employee to Work at Retirement Home Amid COVID Scare
Redditors were shocked when one user posted that they were being asked to come into work at a retirement home, despite the fact that they had been in close contact with someone who had tested positive for COVID-19.
In a viral post on Reddit's r/antiwork subreddit that has received nearly 30,000 votes and more than 1,300 comments, u/abighairybaby said that their mother (that they live with) tested positive for COVID, and that they were feeling sick themselves. Explaining that they currently work at a retirement home, the Redditor said that despite their close contact with their COVID-positive mother, their boss still requested they come into work for their scheduled shift.
"I live with my mom. My mom tested positive for covid. I'm feeling sick," u/abighairybaby wrote. "I'm asked to still come into work. I work at a retirement home."
According to the CDC, close contact is when someone is less than six feet away from a person who is confirmed to have contracted the coronavirus for a cumulative total of 15 minutes or more over a 24-hour period. Those who have experienced close contact, like the original poster, are encouraged to quarantine for 14 days after their last exposure, unless they are fully vaccinated and not showing COVID symptoms.
Fully-vaccinated people who meet close contact criteria are instructed to still wear a mask indoors for 14 days after their last exposure or until a negative test, and the CDC recommends people get tested and isolate immediately if they begin to experience any COVID symptoms.
While u/abighairybaby did not reveal their vaccination status, the recent surge in COVID cases across the country and increasing prevalence of the more-easily spread Omicron variant has put many Americans back on high alert when it comes to detecting symptoms, and the original poster did reveal that they were feeling sick. In a pair of updates, they explained that they were going to get tested and that they decided to stay home from work until they receive their results.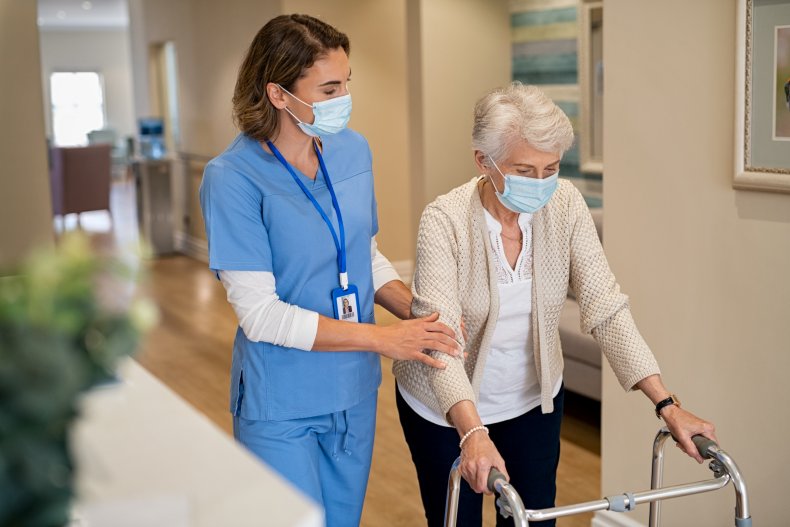 u/abighairybaby explained that they need the health insurance provided by their employer for their psychiatric medications, and wrote: "Going to get tested now, thanks everyone for the support...Won't get results till Saturday, so I told my boss that I don't feel comfortable endangering the residents and my coworkers, and now I'm going tf to sleep."
"If they have a problem with that, I won't find out till after it matters," they added.
Despite their boss's seeming neglect for CDC guidelines, many Redditors came to the defense of u/abighairybaby, and commended them for staying home from work to avoid any potential transmission to the retirement home's elderly population.
"You do not want dead old people on your mind," u/DowntownAd9011 wrote in the post's top comment, which has received 5.1K votes. "If you have to, tell your boss you're showing symptoms and waiting on your test to come back. For the love of god, do not go in!"
u/importvita, who said they have multiple loved ones living in retirement homes, thanked the original poster for what they said was "doing the right thing."
"As someone with two 90+ year old Grandparents in assisted living thank you OP for doing the right thing and f**k your bosses for putting loved ones at risk," they commented.
Echoing u/imporvita's sentiments, u/summonern0x said that if they knew one of their elderly loved ones was exposed to someone who had been in close contact with someone who had tested positive, they would want to take extreme action.
"I have a 70+ year old grandma who has lived 20+years after a liver transplant and if I heard some idiot boss deciding his staff should work while infected with COVID-19 resulted in her getting it, I'd want that person's head," they wrote. "Some of these people are immunocompromised."
In a final update to their original post, u/abighairybaby said that their shifts were being covered until they got their test results backed, and returned the gratitude to the commenters that had their back against their boss.
"I'm sure I'm not the only one in this sub who has trouble with conflict and a deep, unreasonable sense of responsibility to their employers," they wrote. "Y'all can do a lot of good for them like you did for me, keep it up."