Thousands of commenters sided with one upset wife whose explanation of how they inadvertently caused a waitress to lose her job went viral in a popular internet forum.
In a post published on Reddit's r/AmITheA**hole, an anonymous Redditor recounted their experience with a waitress she accused of flirting with her husband and detailed the unexpected aftermath of a nasty online review she left as a result. Titled "AITA for leaving a bad review on a diner and ruining the waitress' life just because she was 'complementing' my husband's eyes?," the viral post has received 11,400 votes and more than 3,100 comments in just 12 hours.
Explaining that she, her husband and her in-laws were eating at a new diner, the Redditor said that, throughout the meal, the party's waitress "didn't take her eyes off my husband," and even "threw some inappropriate comments at him." The Redditor also said that, when the waitress brought drinks to the party's table, the "20ish" year-old woman made a potentially-suggestive remark to her husband.
"She puts [the drinks] on the table, leans close enough towards my husband thinking no one would hear but we heard what she said," the Redditor wrote. "It was 'the sparkle of those eyes is igniting me!'"
The Redditor told the waitress she was being inappropriate and to stop, before returning home to leave a "very bad" review on the restaurant's Facebook page. But after leaving the review, the Redditor said they were contacted by the restaurant's manager via the phone number on her public Facebook profile.
"The next day I'm contacted by the manager asking me to specify the bad experience I had at their diner and I tell him," she wrote. "He then calls back and tells me their business is new and this kind of review might harm their reputation."
According to the Harvard Business School (HBS), digital reputation management is everything for business, including restaurants. In a study examining the value of digital reputation management and the financial impact of negative online reviews, the HBS reported that a single-star improvement (in a five-star online rating system) can increase a business's revenue from 5 to 9 percent — and the difference between a three and five-star rating can drive that figure to 18 percent.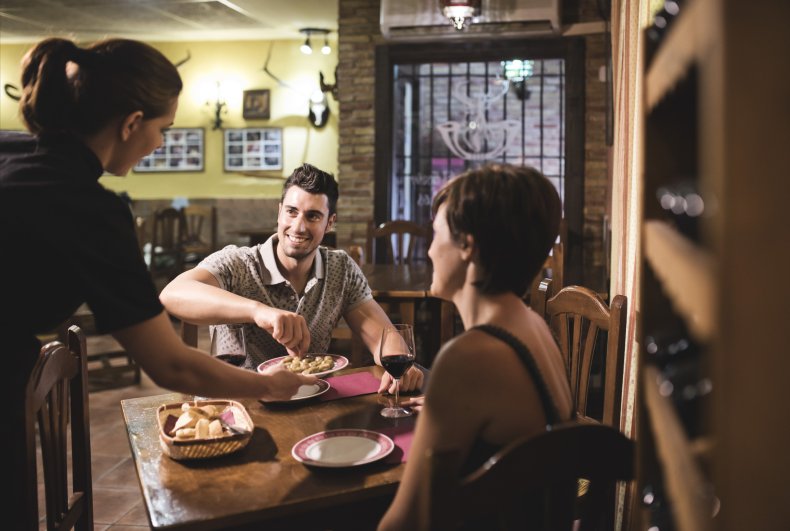 These percentage changes are a direct result of a major consumer dependence on online reviews and a business's digital reputation. The Local Consumer Review Survey revealed that in 2020, 93 percent of consumers used the internet to find local businesses, and 34 percent reported searching every day.
The survey also revealed that restaurants — above hotels, healthcare providers, auto repair shops and retail stores — are scrutinized more than businesses in any other industry, and that only 48 percent of consumers would even consider using a business with fewer than four stars.
In her original post, the Redditor said she understood the restaurant's desperation to have the negative review removed, and told the manager who contacted her that she would remove the review if there were consequences for the flirtatious waitress' inappropriate comment. Following their initial phone call, she said the manager called back and informed her that the waitress had been fired, but because the Redditor left the review on Facebook, the waitress (like the manager) was able to contact her directly.
"Before I take down the review, I'm contacted by the waitress on my [social media] telling me that she didn't mean to cause disturbance and was just 'complementing' my husband's eyes, but I ruined her career and caused her to potentially lose her apartment and become homeless after getting fired from the diner," she wrote.
While the Redditor maintained that she had no intention of getting the waitress fired, she said her in-laws accused her of overreacting, causing "irreparable" damage to a young woman's life and they speculated it was because she was jealous. However, Redditors commenting on the viral post provided an alternative perspective, and stood firmly behind the original poster.
In the post's top comment, which has received 25.6K votes, Redditor u/throwracloudd agreed that the waitress was flirting and said her decision to contact the Redditor was out of line.
"'Your eyes ignite me' = your eyes turn me on," they wrote. "She should have known better and the fact that she reached out after you filed a complaint (even if she was fired) is extremely inappropriate too."
Echoing those sentiments, Redditor u/MsOldSoul18 said the waitress' comment was not just a compliment and assured that certain workplace actions — like flirting with a customer's husband — come with strict consequences.
"She didn't say 'you have such nice eyes,' she specifically said that his eyes were igniting her," they wrote.
"She was inappropriate at work. Being inappropriate at work has consequences," they added. "If she can't deal with the consequences of her behavior she should learn how to behave at work."