Internet Drags Woman For Stopping Boyfriend From Being Best Friend's Best Man
Thousands of commenters vehemently disagreed with one internet poster on Friday after she explained why she doesn't want her boyfriend to serve as his best friend's best man for his upcoming wedding.
Posted on Reddit's popular r/AmITheA**hole, Redditor u/aitaconflicted1234's explanation has received over 7,200 votes and 3,000 comments in just 13 hours. Titled "AITA for telling my boyfriend not to be his best friend's best man in his wedding?," the viral post drew the attention of Reddit users — many of whom felt strongly about u/aitaconflicted1234 and her major demand.
Explaining that she is pregnant and that she and her boyfriend are excited for the arrival of their child, the original poster said a conflict recently arose when her boyfriend was asked to be his best friend's best man at his wedding in May. The Redditor claims that the two couples used to be close, but that the soon-to-be groom's fiancé went behind her back with personal information and said she felt "betrayed" by her.
u/aitaconflicted1234 says that her boyfriend wants to be his best friend's best man, and has expressed how important it is to him. Despite the original poster not being included in the wedding party, her boyfriend offered to bring her to the wedding, in case issues arose with her pregnancy — but u/aitaconflicted1234 refused.
"I told him that I wasn't going to sit through and watch someone who betrayed me celebrate love," she wrote. "I lost it and told him that if I'm not going to the wedding, then he shouldn't be his best man and should prioritize me and the baby."
"It'd be awkward with his fiancé if I went, and his best friend can find someone else to be his best man," she added.
According to Brides.com, the best man serves as "the groom's right-hand throughout the planning process and on the day of the wedding." In a daunting list of best man duties, the bridal magazine compiled everything the groom's closest confidant is responsible for — before and during the wedding.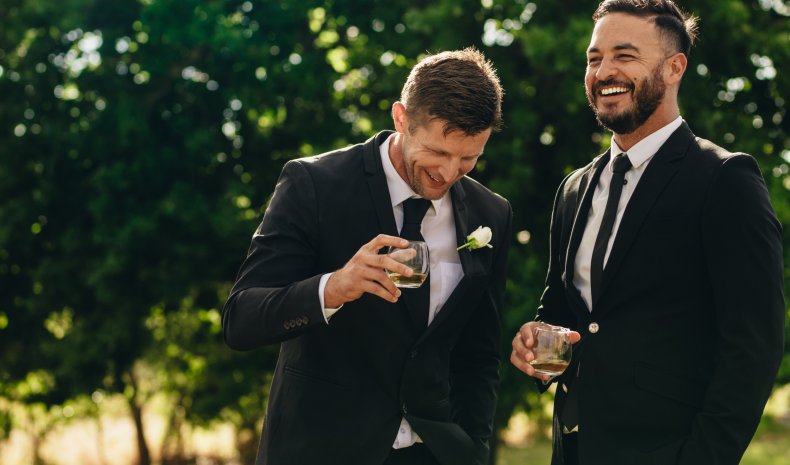 From assisting with outfit details to planning the bachelor party, the best man plays a crucial role in the weeks and months leading up to weddings. However, the big day is what's most important. On the day of a wedding, Brides.com recommends that the best man be responsible for keeping the groom and groom's people on schedule, holding the rings, giving a toast during reception, and any clean up or outfit returns that need to be completed after the wedding is over.
Although the "best man" title carries a lot of weight on wedding day, the many responsibilities and obligations can present problems for best men whose partners are not members of wedding parties. In an article published by Loverly, author Kellee Khalil wrote that "going to a wedding as a plus one is tons of fun — unless your date is in the wedding party. Then, it can put you in a pretty awkward position."
Despite Loverly's list of recommendations for people whose partners are in wedding parties when they are not, u/conflictedaita1234 was firm that they will not be attending the wedding because of their issues with the bride-to-be, and made it clear she wanted her boyfriend to stay away, too.
Adding that she sought out multiple opinions, u/conflictedaita1234 said her friends understood her argument, but ultimately disagreed.
"I told some of my friends this, and they said though the pregnancy is important for him to be attentive to, I should move on from the drama and let him be there for his best friend's big day," she wrote.
In the post's top comment, that has received over 28.5K votes, Redditor u/NUT-me-SHELL echoed those sentiments, and directly called out the original poster.
"[You're the a**hole]," they wrote. "You can sit at home pregnant and pissy, but you have no right to tell your boyfriend he can't be the best man in his best friend's wedding."
Redditor u/Temporary_Badger said the the original poster's demand that her boyfriend not be his best friend's best man was an attempt to control him, and that it was a misdirection of anger.
"This is best friend's wedding, and his best friend hasn't done sh*t to you. You refuse to go to the wedding, but think he shouldn't be best man at a wedding where you aren't there," they wrote, calling the maneuver "controlling and childish."
While many Redditors berated u/conflictedaita1234, one commenter said her demand was a potential precursor to relationship trouble in the future, and encouraged her to find an alternative solution.
"If you don't want to go to the wedding, fine, but stop being a micro-manager of his friendships ... controlling isn't cute, and it's long term poison for a relationship," Redditor u/FilthyDaemon wrote.
"Book yourself a spa day on the day of an enjoy yourself, but don't do this," they added.