The internet has been left scratching their collective heads over a viral photo of a bedroom that supposedly has a cat hiding somewhere in it.
Felines are masters of deception, and are gifted at sneaking up on unsuspecting people, but it seems they're also pros at camouflaging themselves.
Owner Gabi Smith snapped a photo of her bedroom, which was shared to Twitter account @Thereisnocat_, last month. It has since amassed 26,000 likes.
People fielded wild guesses as to the moggy's whereabouts, with some claiming the photo didn't contain the animal.
Berklos simply commented: "I can't find the cat."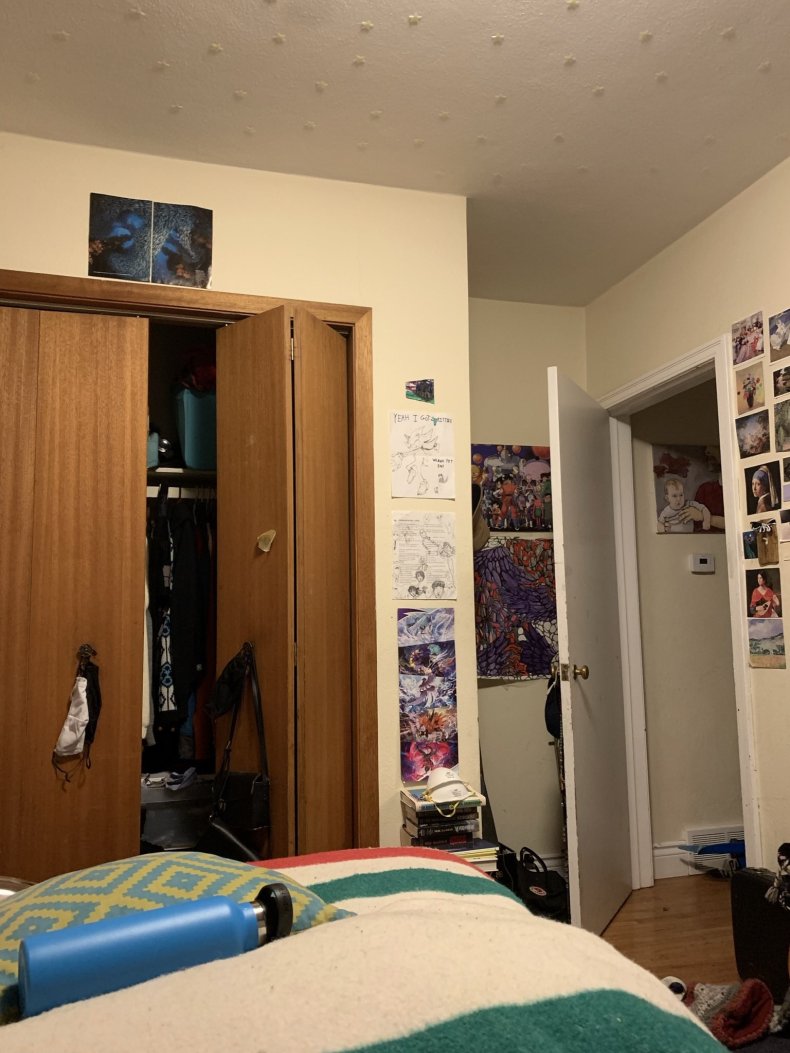 Thegrobelnoff commented: "First attempt ever... I see a grey cat with the head over the box, exposing the ears..."
Lots Of Whatever said: "Why was my first thought to look on the top of the door?"
C Ríe admitted: "This one was hard to find."
While Joe joked: "This is my Wordle."
Smith, from Canada, told Newsweek the star of the photo was their pet, Aggie, who she's had since summer 2021.
"The picture was taken in my bedroom, and she loves to hide," Smith said.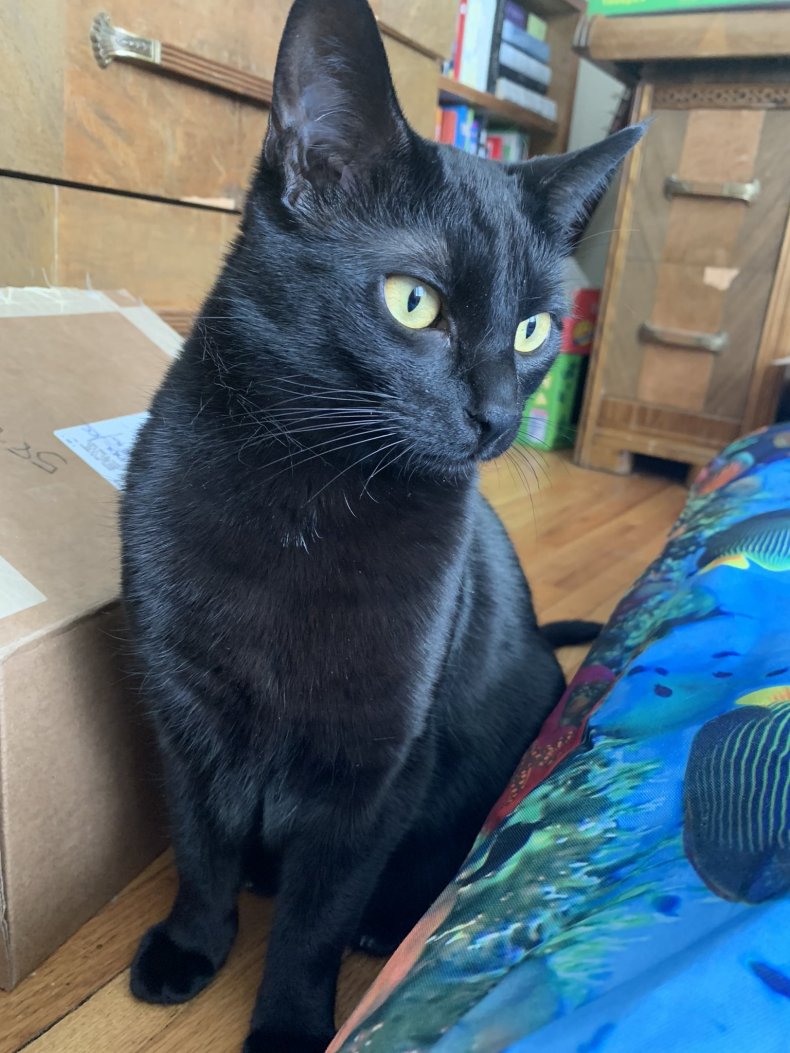 Cats' hiding abilities are legendary, with Battersea Dogs and Cats Home explaining felines shouldn't be disturbed when in their secluded spot.
Their website said: "For a cat to choose a hiding place it must feel both private and secure. Some cats will choose an elevated position to hide, such as on top of a wardrobe. This has the added benefit that they can still observe what is going on without being seen. Other cats prefer to retreat to a ground level hiding place, somewhere as far away as possible from any activity, or other cats, usually in a dark, enclosed space."
They advised: "Your cat might also use their hiding places as sleeping or resting areas when they are relaxed and not feeling in any danger. It's a good idea to follow some basic 'cat etiquette' and not to disturb your cat while they are using one of their hiding places (unless it is essential to do so) and to avoid disrupting or cleaning the areas too frequently."
Smith raved about her pet, saying: "Her personality is so unique, it's incredible. She gets the zoomies too much but she's so loving when she wants to be (usually when I'm busy or late at night when I'm trying to sleep) and she loves to make noise and hang off of chairs.
"My favorite guesses I've seen are ones that have nothing to do with the actual cat and rather all about my room because I forgot to clean it when the picture was taken!"
And revealing where she was in fact hiding, Smith said: "She often goes up into the top of my closet and screams at me until I come get her down, but in this photo she's in the lower part of the closet under all the clothes and all you can see are her eyes."
Although some still weren't convinced, as Amvi reckoned: "Where tf is the cat? Because the thing in the closet is not a cat, those are the button sleeves."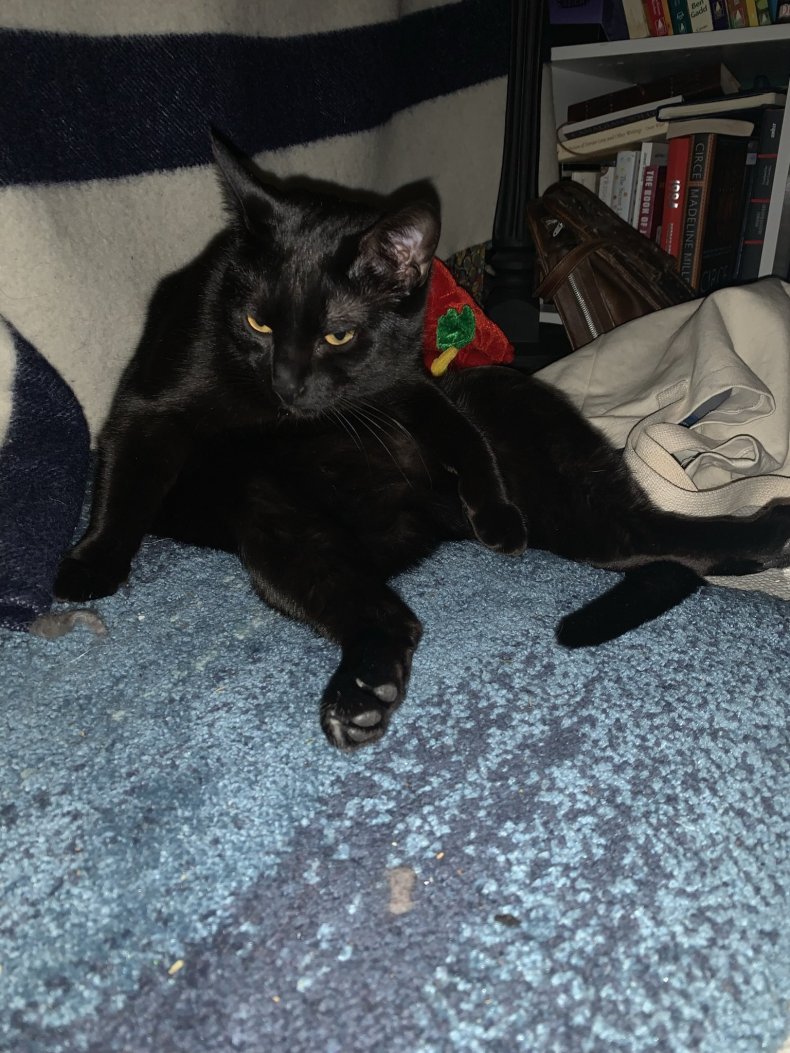 While KTPeriPeri agreed, saying: "They look like buttons on the sleeve though."
While @mofu_mofu0528 went one step further, saying: "Are there two cats in there? One in closet for sure, and another one under the pillow, it looks cat's tail tho! Only me??"
@tinyprat spied the feline, saying: "He's the void in the closet."
Brazzlefrat reckoned: "There may not be a cat but there is a monster in the closet."
While Borgz the Dutch Cyborg bragged: "Closet on the left, top shelf. Found it in under 5 seconds."
If you're still struggling to find Aggie, we circled her in the photo below.