The Internet Isn't Impressed With Melania Trump's White House Redecoration
Online reactions to Melania Trump's redecoration of the White House have arrived, and they appear to be mostly negative.
The makeover of three key rooms in the White House — the Blue Room, the Red Room and the Green Room — was recently completed under Mrs. Trump's direction.
The changes to the themed rooms include restored furniture, updated draperies and new wallpaper. The refresh comes ahead of a state visit by Australian Prime Minister Scott Morrison on September 20.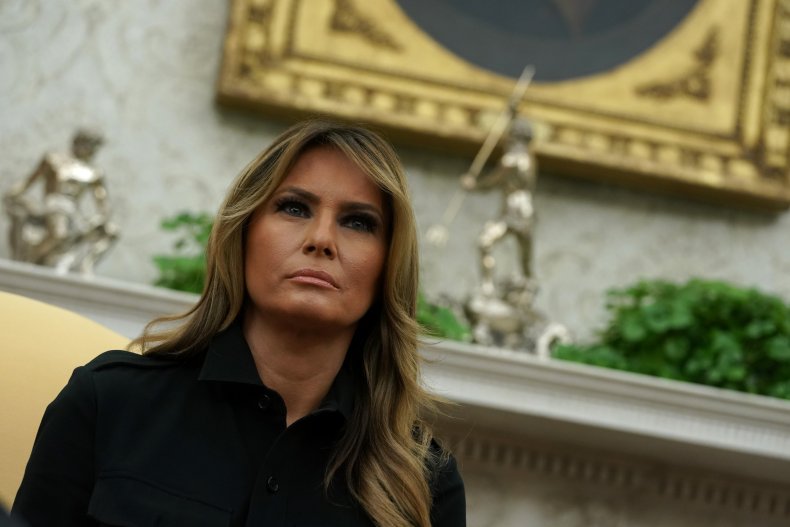 Peoria Journal Star columnist Phil Luciano opined that the First Lady's renovations were reminiscent of the style of former U.S. Representative Aaron Schock (R-Ill).
Schock was forced to resign his position in 2015 after a scandal involving allegations that he had misappropriated public and campaign funds to finance an often lavish lifestyle. In contrast to the usually understated look of Congressional offices, Schock had that year redecorated his offices in a manner that Luciano says "copycatted Downton Abbey."
Luciano singled out the White House bowling alley for particular disdain,"Imagine my disappointment when I peered at photos of the first lady's handiwork with the interior of the White House bowling alley. It looks like it belongs in a Chuck E. Cheese. There's no grit or character, just ... yellowness."
Reaction on Twitter was also mostly negative, with some users describing the new look as "ugly" and "tacky."
"Omg nothing new about each president giving makeovers to the White House but this is ugly," stated Twitter user @CelesteMRice.
Twitter user @tlwtexas described the new look as "resembling a Russian palace."
Tweets from Twitter users @baalat1 and @psychdr100 suggested the look was evocative of an antique bordello — a particularly popular, and savage, critique on the forum.
User @sunkist11 employed a critique similar to columnist Luciano, by comparing the look to that of former Rep. Schock.
Not all the reactions were negative, however, with some calling the redecoration an "upgrade."
Marc Lotter, Director of Strategic Communications for the Trump 2020 re-election campaign praised FLOTUS for "stunning work" to "restore America's house."
Some Twitter users pointed out that, despite the focus of much of the social media reaction, the White House's "Red Room" has in fact been red for a quite some time.
"No, Melania did not redecorate with red wallpaper. The Red Room has been red since 1845. Some faded wallpaper was replaced," wrote Twitter user @nanzani14.
This is not the first interior refit for the White House under the Trump administration. Trump previously spent a reported $1.75 million on renovations and redecorations in 2017.
Presidential administrations are typically allotted $100,000 in public funds for redecoration. The amount actually spent is usually considerably more than that figure. In 2009, Obama declined to use any of the public money, instead financing his remodel with personal funds.