Internet Laughs as Woman Has Her Park Picnic Invaded by 'Cute' Ducklings
Wouldn't everyone like to have a picnic in the company of a family of little ducklings? One woman was lucky enough to experience it, and she shared a video of the encounter that the internet is loving.
In the video, shared by the woman, known as Ines Gastmans, she can be seen sitting by a wooden pier, having a picnic with berries and drinks when all of a sudden, out of nowhere a family of three ducklings and their mother duck started jumping on her, looking for food.
The video started with a note that said: "I was having a [picnic] and this happened." And the caption on the TikTok post read: "Now I'm their mother."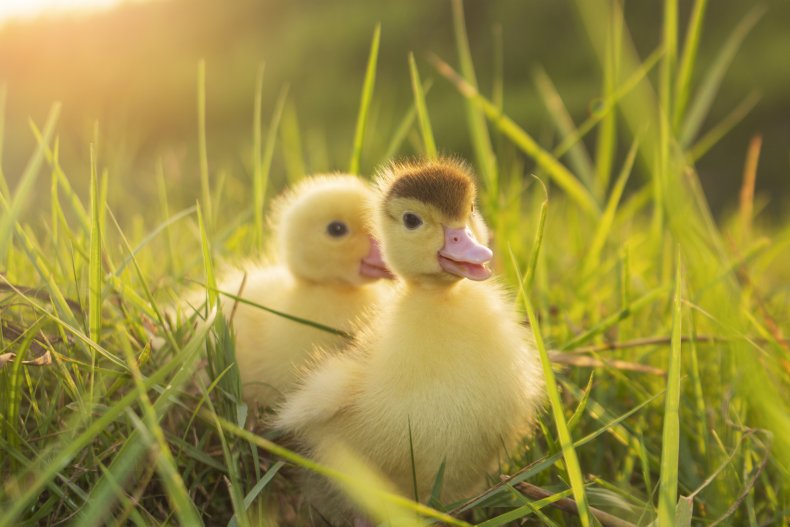 According to People for the Ethical Treatment of Animals (PETA), ducks should not be kept as pets. The charity's website said that in nature, ducks are outgoing, social animals who prefer the company of many duck friends.
They spend their days looking for food in the grass or in shallow water, and they sleep with their paddling mates at night. Many of them migrate hundreds of miles each year. They fly in formation for protection and to reduce air resistance, and they can speed up to 60 mph.
The video, which was first shared on TikTok earlier in June, has gone viral, receiving over 545,600 likes, 3,122 comments and 11,200 re-shares.
One user km_863, joked: "Mom dropped them off to babysit." And N3V3RLVND added: "The moms like: good you're here!! I'll be back at 22:00 to pick them up. Stay safe."
Cassandra said: "It hurts seeing someone else live your dream." And Sayoridot added: "How does it feel to live my DREAM ??" Ashbashbanana said: "couldn't have imagined a better turn out for a picnic lol"
"You're living the Disney Princess dream," said Marloes Geltink. And Der_Andere963 ADDED: "Guess you're a Disney princess now."
Alanis Gabrielle said: "You just got ambushed by cuteness." BoldBratz added: "Being covered in mud, totally worth it." And Apricot_the_kitten said: "I don't see the problem."
Another user, irmina jasinska commented: "I'd probably cry from the cuteness overload." And Juna said: "I hope this happens to me as well." Alanna added: "Aww this is the cutest they definitely choose you as their new mum."
Do you have funny and adorable videos or pictures of your pet you want to share? We want to see the best ones! Send them in to life@newsweek.com and they could appear on our site.