Parents are being praised for winning Easter by hiding mini alcohol bottles instead of Easter eggs for their adult children during the popular holiday.
The TikTok recounting events, captioned, "Much better than Easter eggs #fyp #foryoupage #boostofhope #foryou," has been viewed 6.5 million times and liked 1.3 million times since it was posted on April 17.
According to the National Institute on Alcohol Abuse and Alcoholism, in the 2019 National Survey on Drug Use and Health, 85.6 percent of people 18 and older have consumed alcohol at some time in their life. Of those, 69.5 percent said they drank during the past year.
The 34-second clip, posted by TikToker @marlilemons, was accompanied by the song Gonna Fly Now by Bill Conti. The family gathered around in the house ahead of the big hunt along with presumably the parents.
"Our parents told us they hid stuff around the yard," the screen read in text overlay that was also said out loud.
Next, the adult kids went out onto the property in search of what was hidden. Numerous dogs followed suit as the group hunted down the surprises waiting throughout the yard.
"We were expecting an Easter egg hunt," the TikToker said.
Each of the people participating in the hunt had a paper bag to collect the mini alcohol bottles with, and a woman walked up to the camera with the first bottle, which was a Malibu rum variety. She smiled while showing the camera her prize.
Next, the TikToker spotted a small bottle of Fireball Cinnamon Whisky hidden in a small bed of plants on the ground, and she picked it up.
A man found another bottle located under the flap of a hot tub covering on the porch outside, and he smiled while claiming his reward.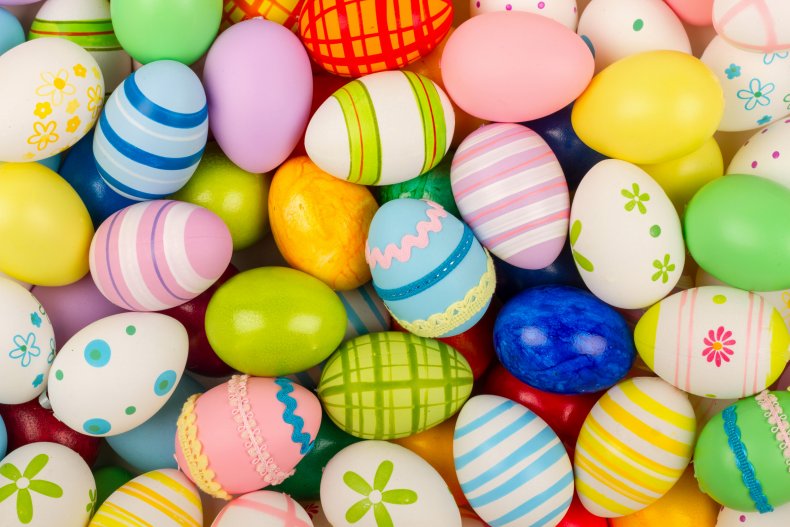 The same woman who found the Malibu bottle discovered yet another bottle under some firewood, and she lifted it up to show the TikToker filming above.
Another woman spotted a mini bottle on the roof of a boat dock while standing on an overlooking balcony. She held it up with a smile on her face before the clip moved onto the next bottle.
This time, a bottle of Fireball was concealed in a bucket of sunflower seeds on a dock by the water, and one of the participants held it up for the camera after pulling it out from inside a cup.
Three paper bags full of mini alcohol bottles were highlighted showing the score each of the adult kids earned. Another man, who was also involved, had his bottles all stacked together on a table before the video cut off.
Over 4,900 comments came in over the viral Easter egg hunt like no other, and people were intrigued by the concept.
A TikToker seemed to approve of the idea. "I'm so going to do this when my kids are older," they said.
Others would like to be taken into the now-viral family. "Can they adopt me for next Easter?" a viewer inquired.
One person wished they had been able to participate. "I just wish for one time in my life to be invited to an adult Easter egg hunt," a TikToker said. "Y'all are lucky."
Apparently, it isn't a new concept, and other people do the same thing. "I work at a wine store, and the amount of parents that bought their adult kids alcohol for Easter hunts was great," a viewer pointed out.
Some people had questions after watching the viral clip. "OK, but did y'all sit down and exchange for your favorites?" The creator of the video replied back saying, "Of course we did. I cannot get stuck with that Fireball."
Comments of approval included things like, "Awesome parents," "This is the adult version of Easter, Lol," and "Best Easter egg hunt."
However, one viewer thought the participants are "doing it wrong," adding, "You're supposed to drink it as soon as you find it."
Newsweek reached out to TikToker @marlilemons for comment.
This isn't the only viral moment that occurred involving Easter. A group of "terrified" children was surprised by the Easter Bunny, and it didn't go as planned. A person dressed as the Easter Bunny kept interrupting President Joe Biden in a few clips. In addition, people can learn more about Easter with a brief history of why it's celebrated.