Internet Melts For Cat And Dog With Birth Abnormalities Looking For Furever Homes
Not every animal is lucky enough to find a good home. Some spend their lives in shelters, hoping for someone to love them. Two special needs animals with stories that broke the internet are now looking for their own happy endings — just in time for the holidays.
A sweet 5-and-a-half-year-old kitten named Kaya arrived at TO Rescue in Ontario, Canada at just 4 weeks old when a Good Samaritan stepped in. Kaya was "dehydrated, malnourished and covered in fleas and ticks," according to The Dodo. The rescue gave Kaya all she needed to grow and eventually, her true self to come out.
"She is very talkative and spunky," TO Rescue wrote on Facebook. "She's incredibly smart and only wants to be around people and [be] held."
Despite getting a second chance, the kitten — born with a congenital facial abnormality that makes her face look "squished — received zero adoption applications. Still, rescue founder Odelkis Barrera told The Dodo she's a good girl.
"Her personality is beyond awesome," Barrera said. "All she wants to do is be petted, all she wants is to be loved on and caressed. She can't get enough — so if you're not petting her, she's petting herself against you."
Kaya's eyesight isn't 100% but she's had corrective surgery and knows how to navigate everything around her.
"We want a nice environment and a home that could dedicate the time to her that she needs," Barrera said. "She would do well with other animals — she finds comfort looking around for other cats and dogs, and likes playing with them. And she needs someone who's in it for the long haul."
Kaya isn't the only special needs pet the internet is lifting up.
Thousands of miles away in Stanwood, Washington at The NOAH Center, a pup named Zeke is also looking for his forever home.
"I cannot express how lovely he is," Katrina Wedin, dog care coordinator with The NOAH Center, told The Dodo. "Zeke, beyond all else, is people-oriented and loves to have attention and interaction with people."
"He now has a massive fan club at our shelter — staff and volunteers included," she added. "He wants to be as close to you as possible. If you go into his suite at the shelter, the first thing he wants to do is lean and sit in your lap. Even though he's a large dog, he does truly believe that he's a lap dog."
When Zeke first arrived at the rescue, he was seven months old with a uniquely crooked smile that reveals some of his teeth.
"He had to have some corrective dental surgeries," Wedin said. "But it otherwise does not affect his day-to-day life in the slightest!"
Zeke was lucky enough to find a home but when his family couldn't afford to care for him, he found his way back to the shelter.
"He is such a big, lovely, dorky gentleman with a face that no one can help but fall in love with," Wedin said.
Much like Kaya, there's been little interest in Zeke, likely due to the ongoing costs for their veterinary care. Still, Zeke (and Kaya) patiently await a home for the holidays.
"He is a lovely, goofy man who desperately wants to be loved and be loyal to a forever person," Wedin said.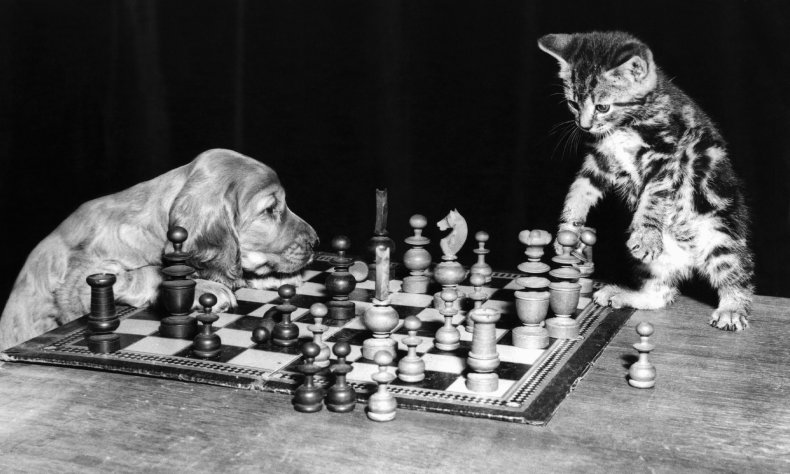 "I rescued in my prior life. The dogs I have were unadoptable to most. Diabetic, leg deformities, etc. This cat is perfect. Reminds me of my shih Tzu. I'd love it!" one reader tweeted.
"I would burn down entire cities for this beautiful lady! Please let the internet know if she's adopted, I need to know that she's gonna be okay," another wrote.
We reached out to TO Rescue about Kaya's adoption status but did not hear back at the time of this posting. However, The NOAH Center stated that Zeke is still available and ready to find his family for the holidays.
For more information on Zeke, go to thenoahcenter.org.
For more information on Kaya, go to torescue.org.