Internet Nazis May Be 'Better Funded in the Future,' New Report Warns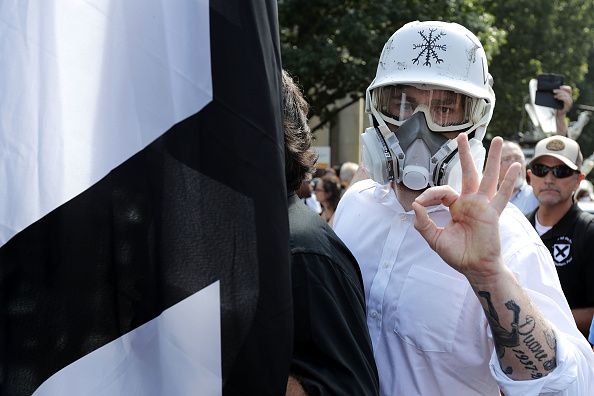 Neo-Nazis and white supremacists have money. Precisely how much money they have and, more urgently, who gives it to them are questions that many Americans want to see answered—particularly after a series of high-profile rallies that culminated in violence this year.
A new report written by Mark Pitcavage, a senior research fellow in the Anti-Defamation League's Center on Extremism, deepens our understanding of where and how organized racists get their funding. His expansive study paints a portrait of a movement that is "poorly funded" heading into 2018, but has potential opportunities for growth—largely through the help of the internet.
"As American political and social movements go, the white supremacist movement is particularly poorly funded," Pitcavage notes in the report, adding that the fundraisers in this community have "a weak base for raising money compared to many other causes."
Pitcavage goes on to warn that crowdfunding and other trends enabled by the internet have given organized racists advantages that they may not have enjoyed in the era when such people were mostly synonymous with wearing white pointy hoods. These advantages raise, in Pitcavage's words, "the disturbing possibility that some white supremacists may become better funded in the future than they have been in the past."
For those who monitor the so-called alt-right movement, GoyFundMe, Hatreon and WeSearchr are familiar names, but they may be unknown to many Americans. These websites are essentially crowdfunding sites—like GoFundMe or Patreon—but ones that focus on causes that benefit neo-Nazi, white supremacist or far-right movements. An example is The Daily Stormer, a sophomoric, Nazi propaganda website that glorifies terrorism and the abuse of women. It pulls in thousands of dollars per month in donations on Hatreon.
When Tony Hovater, a neo-Nazi who was profiled in The New York Times, lost his job working in a pub, organized racists helped to secure between $5,000 and $10,000 for him on GoyFundMe, a site that builds its name from a paranoid, anti-Semitic conspiracy.
WeSearchr has an entire series of crowdfunding pages labeled "WANTED," asking for the identities of antifa protesters accused of either injuring or embarrassing alt-right protesters at rallies that took place in 2017.
Expanding on the study, Pitcavage told Newsweek that even if crowdfunding benefits these groups, they still face "big hurdles" to raising significant amounts of money, including a shortage of "tech expertise, labor and money." He said that they also have problems in dealing with internet service providers (ISPs) and credit card processors. (One example of that is Daily Stormer, which has lost more than a dozen domain hosts since the violence that transpired at the Unite the Right rally in Charlottesville, Virginia this August.) He added that despite these obstacles, crowdfunding benefits "celebrity" white supremacists, like Andrew Anglin and Andrew "Weev" Auernheimer, two men associated with Daily Stormer.
"And those are people you don't want to have more money," Pitcavage told Newsweek.
Auernheimer, a neo-Nazi from Arkansas who rights groups believe is currently hiding in Ukraine, is a bitcoin millionaire, by some estimates. Auernheimer is extremely influential in the "alt-right" both because of his reputation for trolling and his extreme rhetoric—which frequently creates challenges for advocates of internet free speech. Auernheimer explicitly glorifies terrorists and mass murderers, like Oklahoma City bomber Timothy McVeigh and Dylann Roof, the white supremacist convicted of murdering nine people in a black church in Charleston, South Carolina in 2015. Most recently, Auernheimer—a cruel and bitter misogynist—took to his podcast to voice support for rape: a prime example of the type of thing most Americans don't want to see rewarded with crowdfunding money.