Internet Praises Man for Rescuing Fox Cub in Danger: 'Legend'
A man has been praised online for saving a fox cub that was struggling to swim in a canal.
User stylewithseycha shared the incredible video on TikTok on Monday, where it has now been viewed over 9 million times, and has more than 1.2 million likes and thousands of comments.
The rescue took place in Market Harbrough, England. Local newspaper The Harborough Mail reported that Russ Bellamy, 57, was the man who jumped into the canal fully clothed to save the fox cub.
Bellamy told the newspaper: "Luckily, I was in the right place at the right time. I didn't think twice as soon as I saw the poor thing in the water.
"I'd like to think the vast majority of people would have done exactly the same as me."
With no parents in sight, Bellamy took the fox cub to a nearby wildlife sanctuary.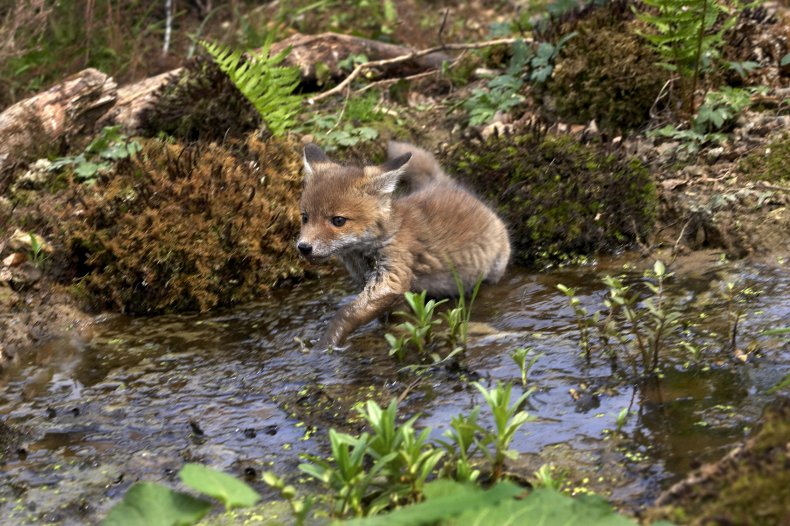 The U.K.'s Royal Society for the Protection of Animals (RSPCA) says that if you do find a fox cub alone, in most cases the best thing is to leave them alone. However, sometimes it may be necessary to intervene, for example, if the cub is in immediate danger.
Cubs taken into captivity to be cared for should be handled as little as possible and it is important to note the exact location they were found so they can be returned whenever possible.
The RSPCA says: "Please don't try to rear a cub yourself - they need expert care and foxes used to humans do not survive well in the wild."
Delighted by the video and the man's heroic actions, TikTok users shared their thoughts in the comments.
"The way he accepted your help so easily—poor thing must be so grateful," wrote one viewer.
Another commenter said: "My faith in humanity is restored. Thank you."
"That's the type of people we need running the country," said one comment. While another viewer wrote: "This deserves some serious credit amongst all the evil and bad in the world! True gentleman."
In a later update video, stylewithseycha explained: "In the video, he doesn't look good, but in the car he got a lot brighter. When taking the fox back to the car, the little guy bit him on the finger so Russ had to go and see if his tetanus jabs were up to date—they luckily all were.
"They've taken the little fox to a wildlife sanctuary nearby, he's in a stable condition on antibiotics for a week and hopefully will be released very soon."
Another commenter on the viral video said: "That's awesome. Poor little fox, such beautiful creatures."
One TikToker joked: "What does the fox say? Thank you."
"Your uncle is a legend," said another commenter: "Thank you for updating us all."
Sadly, on May 9, the local wildlife sanctuary reported the sad news that the fox had died. They said: "After improving since his arrival, he suddenly collapsed again in the last hour and was in a critical condition again and passed away. We suspect him suffering from pneumonia had led to heart failure and caused his death."
Last week, another wildlife rescue captured hearts online after a woman adopted a pigeon that came to sit with her while she was on a night out.
Newsweek has reached out to stylewithseycha for comment.
UPDATE 05/12/2022 03:20 a.m EDT: This story was updated with additional information about Russ Bellamy and the fate of the fox cub.