Internet Disrupted in Colombia as Protesters Killed During Rally Against Iván Duque Márquez
Accounts of internet problems in Colombia during anti-government protests have been reportedly confirmed. The internet watchdog organization NetBlocks found service disruptions in Cali, Colombia, beginning at approximately 4:30 p.m. local time on Tuesday and that they were still ongoing as of Wednesday morning.
Cali has been the sight of some of the bloodiest protests against Colombia President Iván Duque Márquez and his tax plan that was aimed at helping the economy recover from the COVID-19 pandemic. Thus far, there have been at least 19 people killed during the nationwide protests and hundreds of others sustaining injuries.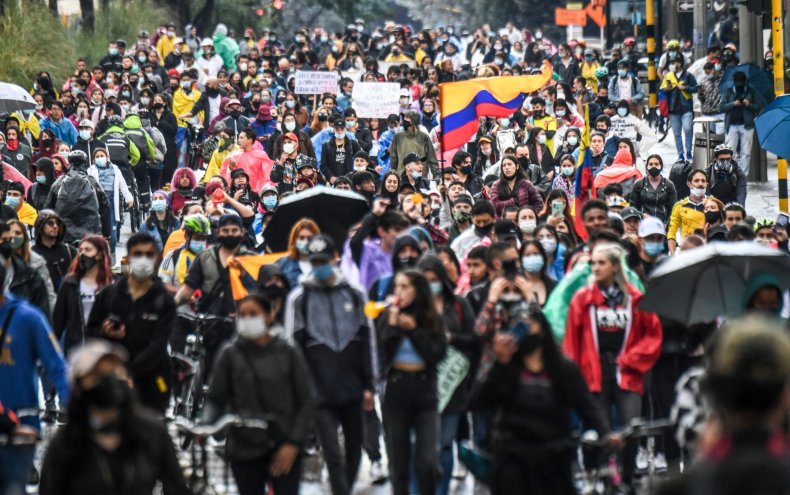 NetBlocks analyzed network metrics to affirm service was disrupted during Tuesday's protests. Fixed-line and cellular services were also reportedly affected in recent days. NetBlocks states that the internet disruption "has partial impact at the present time but likely to significantly limit the free flow of information from the scene of the protests. Work is ongoing to monitor the situation."
There had been calls by some people in Colombia's media to censor the internet, particularly social media, in an effort to calm the violent protests that began a week ago. Others, though, rallied for communicating freely on the internet.
The United Nations human rights office has expressed concern about the protests, particularly in Cali, where the military has been deployed and there were reports of police opening fire on protesters.
The protests began on April 28 as opposition to a proposed tax reform. The reform would have lowered the threshold at which salaries are taxed; eliminated many of the current exemptions enjoyed by individuals; and increased taxes on businesses. With many citizens in the country suffering financially due to the COVID-19 pandemic, the tax reform sparked outrage and people from the country's lower and middle classes took to the streets.
Márquez announced on Sunday that he would not go forth with the tax reform, but the protests persisted on in Colombia's major cities. At that point, protesters began calling for pension improvements, as well as health and education reform. Soon, many were also protesting against police brutality and the excessive force employed by the security forces.
In its scanning for internet disruptions, NetBlocks mapped the IP address of Colombia in real time and checked connectivity levels and corresponding outages. NetBlocks then shared its discoveries of Colombia's internet service issues on Twitter.
Newsweek contacted NetBlocks for comment and updates regarding the situation but has not heard back as of press time.