Internet Rallies Behind Woman Kicked Out of Church After Cilantro Is Mistaken for Drugs
The latest viral TikTok video shows what happened when an Oklahoma City woman brought cilantro to church and it was mistaken for marijuana. Ashley — who goes by @alimamii23 on TikTok — posted the 2-minute video that revealed an uncomfortable confrontation.
In the video — which garnered nearly 3 million views over a two-day period — church members from Redemption United Methodist Church in Oklahoma City can be seen and heard confronting Ashley for bringing drugs to the congregation. She said it was cilantro meant to be used for her Mexican soup (menudo).
"They didn't even let me explain! They automatically just accused me!!" the video caption reads. In the comments, she further described a church member going through her food.
In the heated video, Ashley explained to the church members: "That's cilantro, that's for the food. That's for the menudo. I promise you. Smell it, I promise you. I'm not like that, that's why I'm so mad."
As the seconds passed, Ashley continued begging them to confirm she didn't, in fact, bring drugs to church. She also repeated multiple times that she's a regular attendee and wouldn't do something like that but merely wanted to top her menudo with cilantro.
According to LatinoFoodie.Com, menudo is made with tripe, typically signifies a celebration of sorts, and takes many hours to perfect. It's an important piece of the culture and is topped with seasonings like cilantro.
It's not until the pastor came into view and asked Ashley to "chill" so he could finish his sermon that the comments section went wild in the TikToker's defense.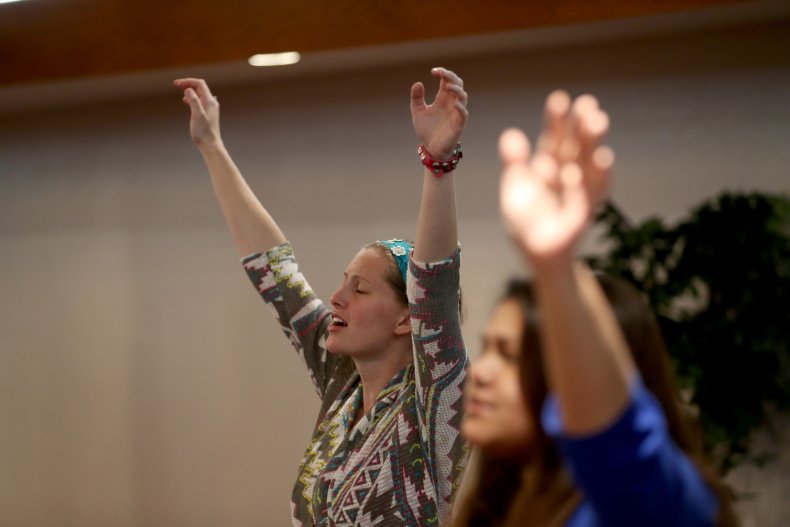 Commenters chimed in to show support of the young woman and her right to her food without discrimination.
"THE FACT THEY CAN'T RECOGNIZE SEASONINGS," user @Keke wrote.
"The pastor and his 'chill chill chill' CAN GO ALL THE WAY TO HELL," @Briannita said.
"The way they're racially profiling yall is crazy they didn't even try to smell the food like," @lilycarrizales added.
"I'm smellinngggg a whole lawsuit instead of that menudo," @davidimagiine said.
Ashley posted a second video that showed her returning to the church to get her confiscated food but the visit proved just as confrontational.
"Threatened to call the police just because I asked for the garnish back. I was so happy to go to church and then this happens to us! #Fyp #okc #church" she captioned the clip which has amassed over 500,000 views and over 60,000 likes so far.
Correction (11/17/2021, 4:32 p.m.): An earlier version of this article cited a TikTok video in which a woman's cilantro was reportedly mistaken for marijuana. Redemption Mission Penn Avenue released a statement regarding the incident.