A TikTok video has gone viral showing a monkey eating a strawberry with his owner as he's held. The content has been viewed 95.2 million times on the platform in just over two weeks.
TikTokers @vet.crew are a pair of vets named Leonid and Valentina Stoynov. They have a large social media following with 1.5 million followers on TikTok. Their videos have gone viral before, including those showing their monkey named Tosya. Some of them are similar to the viral video of Tosya and his owner eating.
In the video shared on January 4, Valentina held Tosya, who was wrapped in a blanket as he held a strawberry, eating it. In front of Valentina is a glass of strawberries on a table, and she picked one up and ate it as Tosya could be seen taking another few bites of his own strawberry. Valentina looked at her rescue monkey, who ate his food, then touched his hand to Valentina's and looked up at her face. His paw rested on Valentina's hand who held him during the 11-second clip.
According to Live Science, there are greater than 260 types of monkeys in the world. The Humane Society of the United States reported monkeys can even live to be 40 years old.
The sweet and viral moment has been liked 6.5 million times with 100,000 comments. People really seem to appreciate the content, and they are loving the monkey Tosya.
A lot of people reacted positively to the video showing Tosya and Valentina eating together. "So cute Omg," a TikToker said about the content.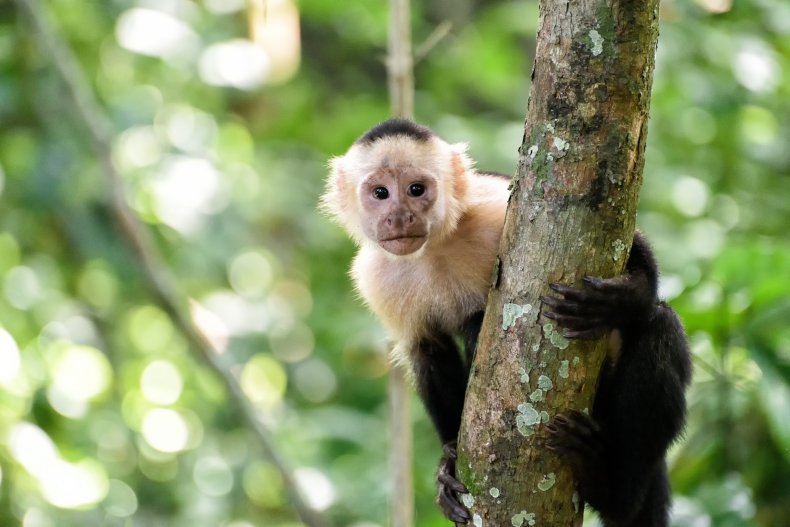 Another viewer brought up a point about the way the monkey looked at Valentina in the video. "I adore the way he looks at you, he feels completely safe," they said.
One viewer joked around saying, "Don't be silly...I did not watch this 20 times in a row."
While a TikToker brought up the bond Tosya shared with his owner. "You can tell he loves you so much," they wrote.
Other people had comments like, "I can't handle the cuteness," and "Aww he knows you're his mommy."
A TikToker admitted they're "almost speechless" over it, adding, "That has to be the cutest most adorable thing I've seen thus far."
Another viewer thinks the monkey "looks so happy." They also said, "I can watch the baby all day."
"This is all I've ever wanted in a pet," a TikTok user also pointed out.
Newsweek reached out to TikTokers @vet.crew for comment, who revealed they "rescued" Tosya "from a contact [petting] zoo." The couple also added, "He was in a very bad condition and was practically dying."
He also lives with the pair full-time, who have been exotic and wildlife veterinarians for over 10 years.
The couple also said: "Tosya has become a truly amazing monkey with an incredible story that inspired millions of people to pay attention to animals suffering from human cruelty. He taught people to love and respect animals around the world."
Updated 01/20/2022, 1:58 p.m. ET: This story has been updated with comments from the TikTokers and the verified video of the incident.