The Internet Remembers John Barron and Trump's Other Aliases After Republicans Criticize Mitt Romney's Fake Twitter Account
People online quickly called out President Donald Trump's previous use of aliases on Monday, after the president's son Donald Trump Jr. and former GOP Governor Mike Huckabee criticized Republican Senator Mitt Romney's fake Twitter account.
Romney confirmed late on Sunday evening that he was behind the previously public Twitter account Pierre Delecto, admitting that he used the account to be a "lurker" on the social media platform for nearly a decade. While some Trump allies have criticized Romney for using the account, the president is known to have used various aliases for several decades to share information with journalists and the media.
"If Mitt Romney had any guts he would would take on media directly rather than with a fake twitter account, but he doesn't," Trump Jr. wrote on Twitter Monday morning after news broke that Romney had a Twitter account under the name Pierre Delecto. "He only says things that will ingratiate him to the same MSM that destroyed him during his failed run. They're using him and he doesn't even get it. Sad!"
Huckabee, who served as the governor of Arkansas, criticized Romney as well. "How sad. A US Senator created a fake name for Twitter and became 'Pierre Delcto.' Hiding behind a pseudonym is what kids, cowards, couch potatoes, or perverts like 'Carlos Danger' do," he tweeted.
But many on Twitter were quick to remind Huckabee, Trump Jr. and other Romney critics that the president has repeatedly used pseudonyms and fake names in the past. Trump has been known to call up reporters, using a fake name, to act as a source sharing positive or interesting news about his businesses.
"Pierre Delecto, John Barron and Carlos Danger walk into a bar...," CNN anchor Jake Tapper tweeted, mocking the bizarre controversy. Carlos Danger was the pseudonym used by former Democratic Congressman Anthony Weiner from New York, who resigned, pled guilty and went to prison over charges of sending sexual material to a minor.
Seth Abramson, an author who is also a Newsweek columnist, shared the same joke: "Stop me if you've heard this one: Pierre Delecto, Carlos Danger, and John Barron walk into a bar..."
"Donald Trump: 'John Barron', 'John Miller', 'David Dennison', 'Individual One', 'POTUS', 'Commander in Chief'...." CNN contributor Ana Navarro tweeted, referring to the list as "fictional names in politics."
"Is John Barron having Thanksgiving with your family this year?" Twitter user Amee Vanderpool asked Trump Jr.
"Excited for the upcoming fight between Pierre Delecto and John Barron," Jerry Dunleavy, a reporter at the DC Examiner, wrote.
"Donald 'John Barron' Trump has made up so many fake names in order to hype himself there is a list of them on Wikipedia," Twitter user JRehling wrote, sharing a link to the Wikipedia article.
The president used the pseudonym John Barron in the 1980s, while he was a real estate developer. Trump would introduce himself as Barron, a spokesperson for himself. It was a "go-to alias when [Trump] was under scrutiny, in need of a tough front man or otherwise wanting to convey a message without attaching his own name to it," The Washington Post previously reported. Trump also used the aliases John Miller, Carolin Gallego and David Dennison for similar interactions with the media over the following decades.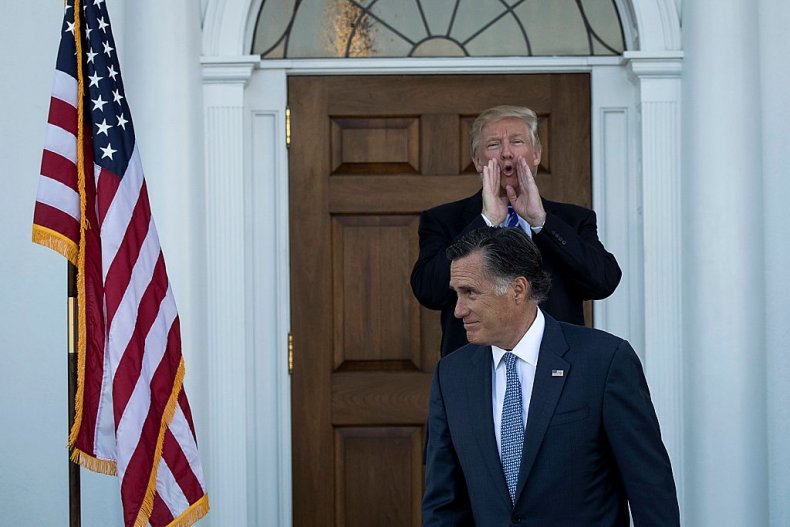 Romney appears to have largely used his fake public Twitter account to reply to tweets that are critical of his job as senator. He also liked numerous tweets that were critical of Trump, as well as former Democratic presidential candidate Hillary Clinton and former GOP Speaker of the House New Gingrich.