Reddit users could not believe that a woman was kicked off her flight because of an argument with a flight attendant in an airport Starbucks.
In a viral post on Reddit's r/antiwork that has received 10,000 votes and nearly 700 comments, one user explained that she was removed from her flight departing Denver International Airport because of an earlier incident at the airport's Starbucks location.
"It's 6:55 a.m. and I'm currently sitting at an airport Chili's in my hometown (America) drinking a Bailey's and coffee, 'cause I just got kicked off my flight," u/Dry_Investigator5020 wrote.
Explaining that she was in line at Starbucks when she noticed an "antsy" customer who insisted a barista "speed things up" with their order so they could catch their flight, u/Dry_Investigator said other customers commended the barista before she took things "one step further."
"I was in-line at Starbucks waiting for my drink and saw a lady getting all antsy because she had to get to her flight and didn't have her drink. She started asking the barista if she could speed things up, because her flight left in 2 minutes," u/Dry_Investigator wrote, adding that the barista made a sarcastic remark about everyone in line needing to catch a flight.
"Antsy Lady pulled (what I assume) the manager aside and started complaining about the barista. Other customers took notice and loudly thanked the barista. I took it one step further and told Antsy Lady that she was a 'd**k head' and 'the rude one,'" she said.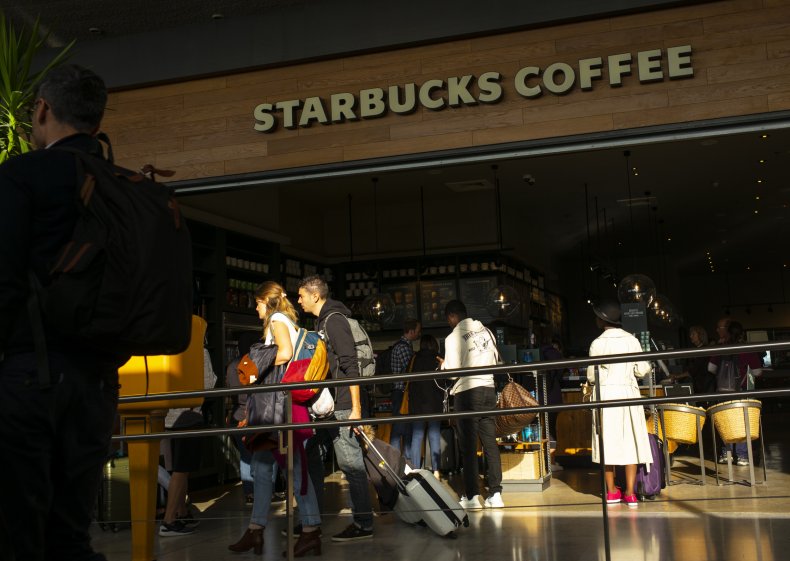 While the original poster made it clear she was trying to stand up for the barista, she said things took a turn for the worse when she boarded her flight.
"I thought that was the end of it; until I boarded my flight," they wrote. "Turns out, Antsy Lady was a flight attendant and immediately called out 'ma'am' once I boarded. She told me she feels 'uncomfortable on the flight and I needed to wait outside the plane.' Someone else came and took me to a ticket desk to reschedule my flight."
u/Dry_Investigator said she was shocked at her removal, but according to the Federal Aviation Administration, 2021 has been a record year for on-flight incidents and investigations into reports of "unruly passengers."
This year, the FAA has responded to 5,779 unruly passenger reports and 4,156 mask-related incident reports, per faa.gov. As of December 21, 2021, they've launched 1,054 investigations and 325 enforcement cases have been initiated.
Those 1,054 investigations are a huge jump from 183 in 2020, 146 in 2019, and 159 in 2018, respectively. The FAA notes that any interference with on-flight crew members "violates federal law."
However, despite the flight attendant's claims that they were uncomfortable with u/Dry_Investigator5020 remaining on board, other Redditors were dumbfounded that she was removed from the flight, and said the attendant was to blame for the Starbucks argument.
"Is no one gonna address the fact that you've got to be thick as sh*t to even consider getting coffee anywhere near the '2 minutes left' mark for a flight?," u/TheFinalOwl wrote in the post's top comment, which has received 5.1K votes. "How did she not know that was a p*ss poor idea and that it was entirely on her?"
Another user, u/Papakeely wrote that they had previously worked at a bakery near a train station, and said that many travelers expect expedited service because they are in a hurry.
"People would order their bagel/CC and coffee. Immediately would see the train pulling up, and start demanding their items. Who is the one who came 5 seconds before the train arrives and expects an immediate breakfast sandwich/bagel? Plan better moron, not going to placate your lack of planning. Not to mention the other people ahead of you waiting patiently for their orders," they wrote.
u/SilverstoneOne, a Redditor who said they previously worked for an airline, asserted that the flight attendant was wrong to remove the original poster from the flight.
"Some Flight attendants think the world revolves around them," they wrote to u/Dry_Investigator 5020. "She had no right to take you off that flight. None whatsoever."