Internet Slams Dad for Refusing To Walk Daughter Down the Aisle
The internet has slammed a man's refusal to walk his daughter down the aisle in a viral post shared to Reddit on Tuesday.
The poster, named throw_dad7755, shared that he had two daughters—Julie and Marie. Julie is currently living with him and his wife, and is getting married in October. He had agreed to walk her down the aisle and had been helping with wedding preparations. He also adds that Julie is not his biological daughter, but that he adopted her when she was 2 years old, and they have always been very close.
In the post that currently, which currently has over 9,000 upvotes, throw_dad7755 explains that two weeks earlier, his other daughter Marie had invited him for coffee: "[She] let me know she's currently pregnant and will soon get married. To be honest this got me off guard since I didn't even know she had a boyfriend.
"She apparently will have quite a fast wedding since she doesn't want to show too much, meaning her wedding will be in 3 months. She says it'll be a small ceremony and asked me to walk her down the aisle."
throw_dad7755 admitted he "felt a little weird about it" since he does not know her fiancé and it all felt a little sudden.
He explained that he then went home to speak to his wife and daughter: "Julie asked me to please decline since she wanted to be the first to be walked down the aisle and since she asked first, thinks that I have a stronger commitment to her. I agreed since this is more of an 'Us' thing rather than an after-thought like Marie's wedding."
After this, he messaged his daughter to let her know he would not be walking her down the aisle, along with a brief explanation and suggesting that her mom or stepdad walk with her.
"She almost immediately called me crying and telling me how much of a horrible father I am," said throw_dad7755: "She ended up hanging up and my ex has been sending me tons of texts berating me." He also maintained that: "I love both my daughters the same."
The user ended the post with "AITA?"–a common phrase used on the subreddit r/AmITheA**hole, meaning "Am I the a**hole?" The post has since received over 3,000 responses.
In 2021, a YouGov poll of 700 U.S. adults found just 64 percent felt a father should give away the bride on her big day.
throw_dad7755 told Newsweek: "The answers hit harder than I expected. But it was the wakeup call I needed. I did talk to her and she surprisingly was able to forgive me. Sadly I did ruin the idea of walking down the aisle for her and doubt she'll want to do it.
"To be fair, this post helped me see how much I failed my daughter and the only thing I hope is that I can somehow fix our relationship."
Responses on the popular discussion site sided with the daughter. User FuriousPottah said: "YTA. You should be walking them both down the aisle instead of just picking one over the other. Julie wanting to be the first to be walked down the aisle is frankly a ridiculous request and if you explained that as your reasoning to your daughter no wonder she was crying down the phone."
Another user wrote: "Imagine how Marie has always felt – not close to her Dad who is her legal and biological father, while Julie was adopted by him and is his favorite."
Other users pondered that the poster would likely regret his decision, with one commenter writing: "OP will be back here in a year crying about not being a part of his grandchild's life."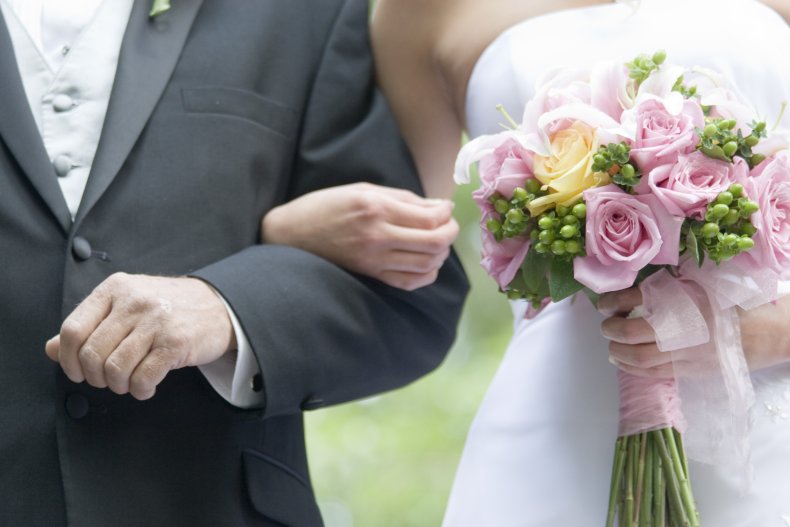 Update 02/17/22, 4:08 a.m. ET: This article was updated to include comment from the original poster.