Internet Slams Man Who Told Widow that Keeping Husband's Ashes Is 'Weird'
A post has gone viral after a man explained an uncomfortable conversation that occurred at a recent family dinner between him and his brother's girlfriend.
Redditor u/ Elijah2022xx wrote about the faux pax in a post to the subreddit "Am I The A**hole" that has been voted on over 10,000 times and has received over 4,000 comments.
In the post, u/ Elijah2022xx explained that his brother's girlfriend, whom his brother had recently moved in with, is a widow. He said while at dinner in their home, he remembered her mentioning that she kept the ashes of her late husband.
"[I] looked at my brother and asked him quietly if he was comfortable with having his girlfriend's late husband's urn in the house," the Redditor wrote. "[H]e gave me a long stare so I figured the answer was yes but maybe, he couldn't tell his girlfriend about it fearing she'd misunderstand maybe?"
The Redditor took this as a cue to open up the conversation and ask the woman directly about her husband's ashes.
In January 2020, USA Today reported that the insurance firm Choice Mutual found that 44 percent of 1,500 Americans surveyed plan on being cremated—a 40 percent increase from the 1960s.
Beyond the increasing number of people opting to be cremated, Americans are also choosing more "unique arrangements for their cremated remains, including launching them into space or having them compressed into a diamond," the outlet said.
According to the report, 26 percent of those who said they will get cremated want their ashes to be kept by a family member.
The Redditor said he told his brother's girlfriend he found it "weird" that she kept her husband's ashes in her home.
"She looked at me and was apparently caught off guard by what I said. she said that she didn't think so and that it wasn't like the urn was on display, also said this is her late husband's house and where the urn should be," the Redditor wrote. "I told her it felt weird especially, since she just had my brother move in with her and he must be feeling uncomfortable with the idea, his girlfriend looked upset and got quiet."
He said his brother promptly scolded him telling him the matter was none of his "business."
"I responded with 'I mean...personally I wouldn't be cool with my girl keeping an urn of her ex within close approximate, at best it'd make me feel uncomfortable, at worst it'd make me feel creeped out.' [H]is girlfriend then replyed [sic] by saying that I have no business dating a widow then and I shrugged."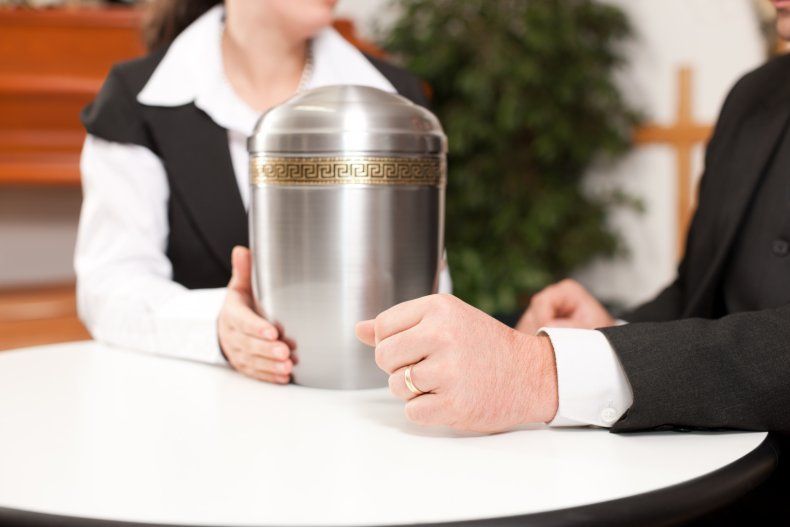 Commenters on the post were quick to tell the Redditor that he was indeed in the wrong for making his opinions on the matter known.
"You should feel guilty. It wasn't her ex, it's her late HUSBAND. And how was this any of your business? What did you think you would accomplish? You sound extremely immature and rude. YTA."
"Seriously, 'an urn of her ex' turned my stomach," another added, commenting not only on the man's comment but the way he addressed the woman's late husband.
"YTA—WHAT DO YOU EXPECT HER TO DO WITH HER HUSBAND?" said another.
At the end of his post, the Redditor said that after he and his parents left the dinner they said the woman was being "hypersensitive" but said he had gone too far and probably sparked an argument between the couple.
In an edit to the post, the Redditor said that it was not his intention to be hurtful and that he feels "kind of guilty for how the situation played out."
Newsweek reached out to u/ Elijah2022xx for comment.