Internet Slams Mom Who Makes Kids Celebrate Her On Their Birthdays
A mother was heavily criticized online after her child revealed in a Reddit post that she makes all her kids celebrate her on their birthdays.
In the post titled "AITA for not wanting to celebrate my mom on MY birthday?" the anonymous Reddit user who goes only by u/ThrowawayBirthdayx96 explained that their birthdays felt more like a celebration of their mother.
The post received more than 17,500 votes and 3,200 comments since it was posted on Thursday morning. Many of the comments called out the Redditor's mother for being a narcissistic parent.
Some narcissistic parents engage in competitive behavior against their children. Other common behaviors of narcissistic parents include only acknowledging their own achievements, constantly needing the conversation to be about them, and making children feel guilty or making them feel like they owe something to them.
In the post, the Redditor wrote that they are 25 and have three younger siblings between the ages 10 and 18.
"Every year on every single one of our birthdays, we're expected to celebrate my mom as well," the Redditor wrote. "We've done it since we were little. It was taught to me as 'giving thanks for carrying + giving birth to us'. Which I'm all for, I am grateful as we wouldn't be here without her."
But the Redditor explained that this makes it feel less like their birthday and more like the anniversary of the day their mom gave birth to them. They explained that their mom gets gifts on their birthday every year and that as they've gotten older, she's started expecting store-bought gifts rather than cards or homemade presents.
"Just recently was my birthday and I was gifted some much needed clothes and dishware for my new apartment. My dad however got my mom a new macbook," the Redditor wrote. "My siblings all got her gifts too."
The Redditor explained that their youngest brother isn't expected to give much but their sister, 16, and another brother, 18, are. They wrote that before their birthday, their sister apologized for not being able to gift them much because their mom was pressuring her to gift her a specific necklace.
"Apparently my mom had been dropping hints for months and my sister was worried our mom would be upset and feel underappreciated if she didn't get it," the post read.
After learning the necklace was $300, the Redditor "lost it" on their mom when she was opening gifts later that afternoon.
"I think she's ridiculous for even wanting my sister to spend so much on a gift," they wrote.
The Redditor said their mom started crying and their dad kicked them out of the house. They explained that their mom won't answer any of their calls but that their aunt called and said they were a "piece of sh*t" and a "selfish narcissist" who was just jealous of the gifts their mom received.
The mother hasn't returned any of the phone calls since the incident two weeks ago and the Redditor said she'd been posting inspirational quotes on Facebook about letting go of the toxicity in your life, how blood doesn't equal family, and how hard it is to be a mother."
Several family members including an aunt, uncle, grandma, and cousins replied to the posts and directed obvious yet vague comments about the Redditor being a horrible daughter.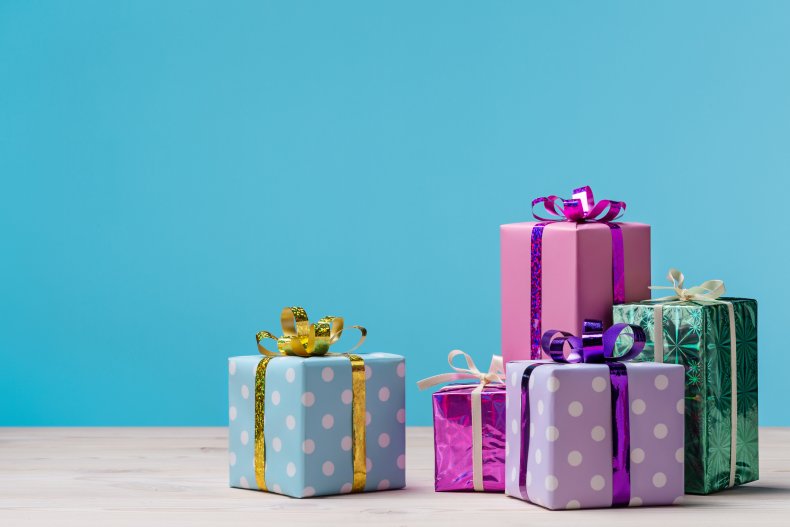 The Redditor explained in the comments that their mother does not hold the same tradition for their parents and that on her birthday she does not buy a gift for her mother.
More than 3,200 users felt compelled to comment on the Redditor's post, many to criticize their mother's behavior.
"NTA. It was her choice to carry 4 children and give birth to them," one user wrote. "Your mother sounds self-centered and [sic] selfish. As far as toxicity in one's life and how blood doesn't equal family, I think you should apply that to your mother, not to you."
"Your mother is a narcissist," one comment read.
"Celebrating your mom for being a mom is what Mothers Day is for," another user wrote. "It sounds like your mom might be a narcissist."
Other users also suggested the Redditor seek support in the popular subreddits r/narcissisticparents and r/raisedbynarcissists.
Kimberly Perlin, a licensed clinical social worker based in Maryland, told WebMD that it is important to set boundaries with the parent and be clear about what is and isn't appropriate for the relationship.
Perlin also recommends planning out responses beforehand in order to avoid an argument such as "I have to get going, Mom," or "We'll have to just agree to disagree."
In an update, the Redditor said that the comments left by thousands of users were "eye-opening" and that she is going to try to find a therapist to unpack the trauma with.
Newsweek reached out to u/ThrowawayBirthdayx96 for comment but did not hear back in time for publication.