Internet Slams Parents 'Routinely' Leaving Kids Unattended at Water Park
A parent has sparked outrage online after asking if it's negligent to leave your children at a water park alone.
The viral discussion comes after reports earlier this month of a girl's death in a suspected drowning incident at a popular water park in Kansas City, Missouri. Lifeguards and EMT staff had been unable to save her.
In June, scorching heat sent families to the water, and two other children were reported to have died in drowning incidents. At California's Lake Elsinore a nine-year-old boy was found dead by divers hours later, while a 13-year-old boy was reported to have drowned while swimming in Washington's Lake Stevens.
On Thursday, Mumsnet user Rainallnight wrote: "We're on holiday at a place with an on-site water park. My daughter has made friends with a little boy who's 5, with an older brother who is 8.
"Their parents routinely leave them unattended in the swimming pool for 3-4 hours at a time, just showing up to get them for meals," they explained.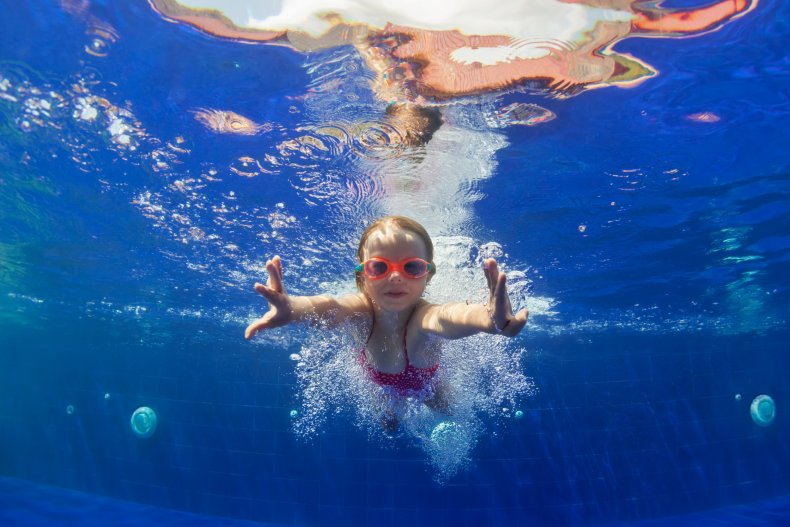 The parent was left feeling uneasy after seeing the young children alone in the water for such long periods of time. They wrote: "My partner and I are quite anxious about water safety generally so I am wondering if I'm being uptight or if this is genuinely weird?"
According to the Center for Disease Control and Prevention (CDC), drowning is the second leading cause of unintentional death for children ages 1–14 in the United States.
The U.S. Consumer Product Safety Commission (CPSC)'s Pool Safely campaign is a national public education campaign that aims to reduce childhood drowning, submersion injuries and entrapments.
On its website, Pool Safely says: "Vigilance is paramount when children are in or near the water." The campaign urges parents and guardians to assign a Water Watcher during water-based activities with children. Assigned to watch children in the water and never leave them unattended.
The Water Watcher should regularly scan the pool, avoid talking on the phone or engaging in distracting poolside conversations, be aware of where to locate and how to use pool safety equipment, and be prepared to call 911 and administer CPR in the event of an emergency.
"If a group of adults is present, they can take turns being Water Watchers, rotating shifts every 15 minutes," suggests Pool Safely: "This allows everyone to have an enjoyable time at the gathering while still ensuring children are safer in and around the water."
Replies on Mumsnet were quick to condemn the parents' actions. One commenter said: "Very unreasonable. So dangerous."
Another Mumsnet user wrote: "You don't leave a five-year-old unattended anywhere, much less somewhere they could easily drown."
Others suggested that the Mumsnet user report the unattended children to staff at the pool.
"That's entirely negligent and an accident waiting to happen," said one reply. While another commenter wrote: "You must tell the staff."
"Report it definitely, totally negligent parents. Poor kids," said another reply.
In a later update, the poster thanked others for their input and said: "Telling that staff is a really good idea. I'll do that today."
"It is never, ever a good idea to leave anyone by a pool or body of water without keeping an eye on them," said another Mumsnet user: "Child or not."
If you have a similar family dilemma, let us know via life@newsweek.com. We can ask experts for advice, and your story could be featured on Newsweek