Internet Slams Plus-Size Influencer Who Criticized Airline for Tight Space
A plus-size traveler who posted a video about the challenges of being on a specific airline soon found out that most of the viewers were not on her side.
The United Kingdom-based passenger Kirsty Leanne, 29, recently posted a video about "flying while plus size" on Ryanair. It has garnered over 1.3 million views and features the music of Harry Styles.
Leanne, who wears a size 26, manages the blogs Kirsty Leanne Travels and Plus Size Travel Too. Along with TikTok and Instagram accounts for those blogs, her individual TikTok account has 48,000 followers.
In the video, she detailed her journey on Ryanair "with no upgrades" as she travels from London to Hamburg, Germany. The video showed her booking her flight, including finding out she's been assigned a middle seat.
"Uh-oh, a middle seat," she said.
After making a quip about onboard luggage, she heads to the airport and boards the plane. She tapes the space around her seat, saying, "Very little leg room but doable for a 1.5 hour flight."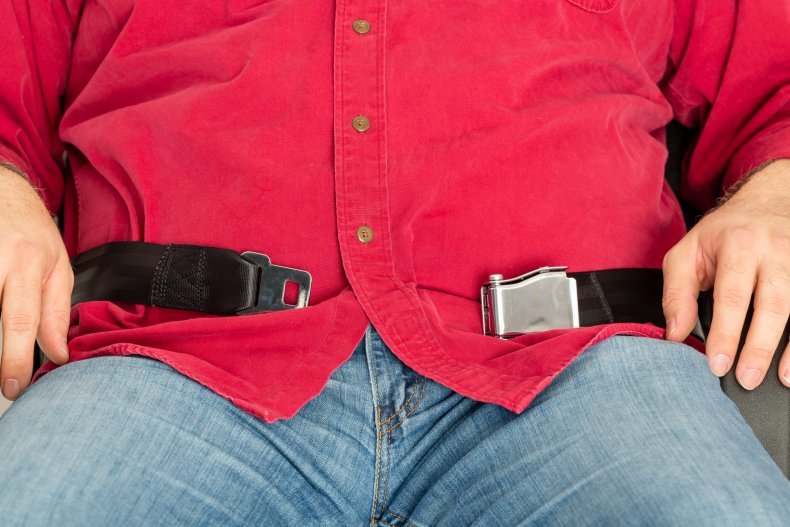 After successfully requesting a seatbelt extender, Leanne said the aisle seat was open so she sat there instead. She showed how much space she had with the armrest up or down.
"The tray table was a big fat no," she said. "I tried."
The bathrooms "were also a no go," she added, saying she waited until she arrived at the airport at her destination.
TikTok users did not mince words in the video's comments section. Many asked how she could blame the airline, with one user saying, "There's only one person to blame."
"Do we really live in a society where people expect the world to change around them instead of them bending to the world around them?" a TikToker commented.
Others said "this should be a massive wake-up call" or "If this ain't a sign IDK what is." Others hoped the video "surely motivates" her to make a change.
But Leanne, in her multiple retorts to viewers, continually blamed the airline. She even responded to many of the comments attacking her.
"Wow, okay. So this got way more views than I thought and I think people missed the point entirely," she later commented. "I'm sharing my experience as a plus size person on Ryanair so others can see what it's like but yes, I do think airlines should do more to be accessible for plus size people. That doesn't mean I'm blaming them for me being fat. It's pretty simple."
"I'm sorry but why is everyone commenting on someone else's body?" one user said in support of Leanne. "Girl you're beautiful, please ignore any hate."
Air travel has ramped up in the post-pandemic world, as United Airlines announced Tuesday that it would increase flights across the Atlantic by a 25 percent margin compared to 2019. But as The Motley Fool reported, brass at the massive London's Heathrow airport said the aviation industry should be ready for this "summer travel bubble" to be met with a "winter freeze."
Heathrow reportedly raised its 2022 passenger forecast from 45.5 million to 52.8 million, which equals about only 65 percent of pre-pandemic traffic. The airline has lost over $4 billion pounds and expects to lose more towards the latter part of the calendar year.
Leanne's Plus Size Travel Too Instagram account features posts about body positivity, seat belt extenders and how losing weight is not her "life purpose."
On February 15 of this year, she also made headlines when she posted a TikTok video about having difficulty fitting into a plane seat. In that video viewed 2.9 million times, Leanne mentions "emotional damage" and the perils of "flying while fat."
Newsweek reached out to Leanne and Ryanair for comment.