Men taking weeks off for paternity leave is "absolutely ridiculous," according to conservative Kimberly Klacik.
Klacik, who unsuccessfully ran for Maryland's 7th Congressional District in two separate elections in 2020, tweeted Monday: "Remember when men serving our country would come home to see their child born & then left for war again within 48 hours? Those kids turned out fine."
The founder of the Red Renaissance PAC said the context behind her tweet was due to reading a news story about U.S. Secretary of Transportation Pete Buttigieg potentially running for president in 2024.
"If the DNC has to resort to the guy that sat at home on paternity leave while we had serious supply chain issues, they are in deep doo-doo," Klacik wrote. "The Secretary of Transportation literally sat at home on paternity leave during a supply chain crisis."
It's not the first time conservatives have mentioned Buttigieg and paternity leave in talking points. Last year, outspoken conservative Candace Owens tweeted that his taking paternity leave was "sickeningly pathetic," adding that the "little boy" should be removed from office.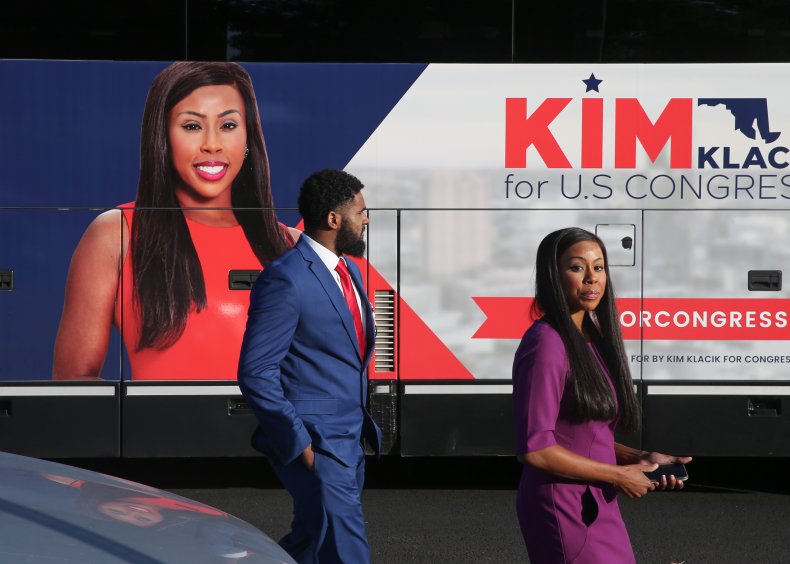 The Family and Medical Leave Act (FMLA), according to the U.S. Department of Labor (DOL), provides some American employees with up to 12 weeks of unpaid, job-protected leave per year. However, tens of millions of Americans are not covered by FMLA due to certain job conditions, including the size of companies or the number of hours worked before requesting leave.
"FMLA is designed to help employees balance their work and family responsibilities by allowing them to take reasonable unpaid leave for certain family and medical reasons," the department says. "It also seeks to accommodate the legitimate interests of employers and promote equal employment opportunity for men and women."
A policy brief issued by the DOL, titled "Why Parental Leave For Fathers Is So Important For Working Families," reports: that about 2 million fathers were stay-at-home dads in 2012 and that nine out of ten U.S. fathers took some time off work for the birth or adoption of a child.
Although, seven of 10 fathers took 10 days of leave or less as part of their leave.
"Even where men have access to paid leave, they might still cut their leaves short to avoid being perceived as less dedicated employees," the report mentions. "One recent survey of highly educated professional fathers—who had more access to paid parental leave than most U.S. workers—found a substantial portion took less than the full amount of paid leave available."
While a few states and private companies offer paid leave, the U.S. currently does not have a national policy for either paternity or maternity leave.
According to the website Fatherly, only five states as of November 2021 mandated paid parental leave:
New York State,
California,
New Jersey,
Rhode Island and
Washington.
Washington, D.C. also had laws in place.
The website Baby Center reports that according to one study, less than 5 percent of American fathers took two or more weeks of paid leave off after welcoming a new baby. Those who refused to take time off cited fear of retaliation or discrimination by employers; a potentially negative effect on salary or career trajectories; or simply not being able to afford a temporary lack of income—especially if their female partners are already taking unpaid maternity leave.
Klacik's tweet was not met with a glowing endorsement.
"Nah. This is a terrible take," one Twitter user replied. "If women can get tons of time off for maternity leave, men can have some as well. It's our kid too. I figured an extra pair of helping hands would be welcome in the hardest times of raising a child."
"Remember when that same father came home from the war with PTSD and was too much of a 'man' to get help, and it resulted in drinking, drugs, divorce, or suicide?" another user said. "Those kids probably turned out fine huh?"
One user used Klacik's own words against her, referencing a 2020 tweet in which Klacik said, "If Baltimore truly wanted to do something about the crime/violence the leaders would address the issue of fatherless homes. Release the fathers doing time for minor drug offenses & offer incentives for fathers living in the home w/their children. Tax dollars well spent!"
Klacik's recent tweet also went viral on Reddit, where it has been upvoted over 30,000 times.
"The men or the kids weren't 'fine,' one Redditor said regarding the tie between paternity leave and war. "Many kids grew up without a father or if he was lucky enough to come back then many of them suffered in silence for the rest of their lives turning to alcohol, drugs, or violence in an attempt to cope with rejoining a society that failed to understand what they had been through."
Penn State University recently published a study sampling post-9/11 veteran fathers, which examined factors that were associated with "positive parenting"—such as providing a healthy environment, being a good example, and meeting children's emotional needs.
Data noted that veteran fathers who reported positive social functioning within their community were 61 percent likelier to engage in positive parenting, or higher than those who reported lower social functioning.
Newsweek reached out to Klacik for comment.
One father, however, took to the internet to admit that he "hates" fatherhood, and the internet was unsupportive.
And one teacher fresh off of maternity was bombarded with questions from her young students in a funny clip.